Articles | Volume 23, issue 13
https://doi.org/10.5194/acp-23-7479-2023
© Author(s) 2023. This work is distributed under
the Creative Commons Attribution 4.0 License.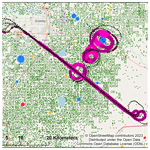 Technical note: Isolating methane emissions from animal feeding operations in an interfering location
Agricultural emissions, including those from concentrated animal feeding operations (CAFOs) for beef and dairy cattle, make up a large portion of the United States' total greenhouse gas (GHG) emissions. However, many CAFOs reside in areas where methane (CH4) from oil and natural gas (ONG) complicates the quantification of CAFO emissions. Traditional approaches to quantify emissions in such regions often relied on inventory subtraction of other known sources. We compare the results of two approaches to attribute the CAFO CH4 emission rate from the total CH4 emission rate derived from an aircraft mass balance technique. These methods make use of the mixing ratio data of CH4, ethane (C2H6), and ammonia (NH3) that were collected simultaneously in-flight downwind of CAFOs in northeastern Colorado. The first approach, the subtraction method (SM), is similar to inventory subtraction, except the amount to be removed is derived from the observed C2H6 to CH4 ratio rather than an inventory estimate. The results from this approach showed high uncertainty, primarily due to how error propagates through subtraction. Alternatively, multivariate regression (MVR) can be used to estimate CAFO CH4 emissions using the NH3 emission rate and an NH3 to CH4 ratio. These results showed significantly less uncertainty. We identified criteria to determine the best attribution method; these criteria can support attribution in other regions. The final emission estimates for the CAFOs presented here were 13 ± 3 g of CH4 per head per hour and 13 ± 2 g of NH3 per head per hour. These estimates are higher than the inventory of the US Environmental Protection Agency (EPA) and previous studies highlighting the need for more measurements of CH4 and NH3 emission rates.
Received: 22 Sep 2022 – Discussion started: 14 Nov 2022 – Revised: 15 Apr 2023 – Accepted: 09 May 2023 – Published: 10 Jul 2023
Livestock produce large amounts of greenhouse gases (GHGs) and reactive nitrogen species, including methane (CH4) and ammonia (NH3), through enteric fermentation and waste generation. Ruminant animals (e.g., cattle, buffalo, sheep, goats, and camels) constitute a significant source of CH4 as their digestive systems break down coarse plant material through microbial fermentation in their rumen stomach (large frontal stomach) and subsequently release the produced gas (CH4). From 1990 to 2019, CH4 emissions from enteric fermentation grew 8.4 % in the United States, making agriculture the largest source of US anthropogenic CH4 emissions in 2020 (EPA, 2022). Waste and manure management are also significant emission sources of CH4 and NH3. Together, enteric fermentation and manure management account for more than 30 % of US anthropogenic CH4 emissions (Maasakkers et al., 2016; EPA, 2022); CH4 is a crucial GHG due to its high global warming potential (Myhre et al., 2013; Moumen et al., 2016; Smith et al., 2021).
Large uncertainty remains around the magnitude of livestock emissions. Beef and dairy cattle are confined to feedlots where they are fed and kept in tight areas to process the animals efficiently. These feedlots are known as concentrated animal feeding operations (CAFOs). The compactness of CAFOs has been shown to create significant emissions (Golston et al., 2020; Hacker et al., 2016; Eilerman et al., 2016; Staebler et al., 2009). However, observations indicated large variability in these CH4 emissions, which creates uncertainty in cumulative estimates of agricultural emissions (Golston et al., 2020). There are many different factors determining the amount of CH4 released from enteric fermentation and manure management, and practices may vary from farm to farm (EPA, 2022; Maasakkers et al., 2016). However, interfering sources of CH4 and NH3, such as oil and natural gas (ONG), waste pools, and landfills, may also complicate measurements from individual CAFOs. Improving the methodology for isolating CAFO signals from other interfering sources will allow more accurate measurements and provide new information to constrain greenhouse gas emissions from the agriculture sector.
When CH4 concentration data are used alone for the quantification of emissions in regions with multiple CH4 sources, there is not enough information to distinguish the contributing sources. However, previous studies have attributed CH4 emissions in complicated regions using a variety of methods. A few examples include attribution by subtracting inventory data (Caulton et al., 2014; Peischl et al., 2015, 2018), collecting ground-based isotope data to attribute CH4 signals (Townsend-Small et al., 2016), using C2H6 as a tracer to subtract or attribute the ONG fraction (Mielke-Maday et al., 2019), and using multivariate regression (MVR) with independent gas tracers to attribute sectors (Kille et al., 2019; Pollack et al., 2022).
There are many considerations when determining which attribution method is most appropriate, and often attribution is done based on the data available rather than the ideal methodology. Attribution using the subtraction of a value determined by inventory or calculated ratio is best done for larger regions due to the variability of emissions from individual sources. For ONG, individual sites can release different amounts of CH4 and ethane (C2H6) compared to other wells and compressors (Yacovitch et al., 2014; Zimmerle et al., 2022). When quantifying emissions in a small region (as in this work), an estimate of emissions from each type of ONG source or a local C2H6 : CH4 ratio near the CAFO is required to accurately separate the CH4 emissions into contributions from the CAFO and nearby ONG activities.
Another concern with using a tracer like C2H6 in isolation to estimate the contribution of ONG is that in complicated regions, individual CH4 signals become mixed, making it possible that the ratio observed by the aircraft is not representative of the original ratio at the ground. This is the theory behind tracer release, for example, where a tracer gas is released at a known rate near a source of interest and used to back out the source emission rate (Roscioli et al., 2015). The added gas does not have to be introduced exactly at the source emission point (which may be unknown), provided sampling occurs far enough downwind where the species are well mixed. Typically, this means that the tracer gas must be released within 100 m of the source and measured > 500 m downwind (Roscioli et al., 2015). For airborne data, there are many situations where we would expect signals to be mixed, complicating the use of airborne ratio analysis. Townsend-Small et al. (2016) circumvented this by combining ground-based isotope ratios (which show distinct ratios for particular sources) with aircraft data (which showed only one ratio). However, because they used a single isotope ratio, there is large uncertainty in their results stemming from the single isotope ratio that must be attributed to multiple contribution signals (one equation, multiple unknowns). This is similar to the difficulties that Smith et al. (2015) encountered using C2H6 as a tracer in a complicated region with multiple C2H6 : CH4 ratios.
On the other hand, an approach like MVR, which makes use of multiple tracer gases, requires sufficient data and is subject to its own sensitivities (Kille et al., 2019). MVR is best used when there are multiple tracer gases that can be treated as independent variables and one dependent variable (i.e., CH4). The more independent variables that are included, the more data are needed to produce statistically significant results. These independent variables can be thought of as independent source terms. Although MVR is generally an effective method, it is important to note that it may not be appropriate in all situations. Specifically, using MVR with too many independent variables in a region where there are only a few sources may result in misleading or inaccurate results. However, using MVR with a limited number of independent variables that correspond to known sources can yield reliable results for those specific sources. Even in cases where there is a possibility of additional sources, fewer independent variables will produce more robust results and other sources can be treated in the extra term or background.
Here, we demonstrate a methodology to isolate and quantify emission rates for CAFOs in the northeastern Colorado Front Range (NCFR) using airborne measurements of CH4, C2H6, and NH3. We investigated two methods for CAFO CH4 emission isolation: (1) a subtraction method (SM) using the C2H6 : CH4 ratio and (2) an MVR method using CH4, C2H6, and NH3. This study focuses on the NCFR, where there is a high density of large CAFOs. Figure 1 shows a map of the NCFR with CAFOs for beef cattle, dairy cattle, chickens, sheep, and swine in the area. The area is dominated by CAFOs for beef cattle and dairy cattle. However, the NCFR contains a large mixture of CH4 emissions due to the high production of ONG. In this region, prior estimates indicate that natural gas accounts for 38.5 % of the state-wide CH4 emissions, while agriculture accounts for 22.3 % of the state-wide CH4 emissions (Arnold et al., 2014). The NCFR is home to the Denver–Julesburg Basin (DJB), with over 52 000 ONG wells, and it has an abundance of compressors and processing plants, many of which are in close proximity to CAFOs (Higley and Cox, 2007).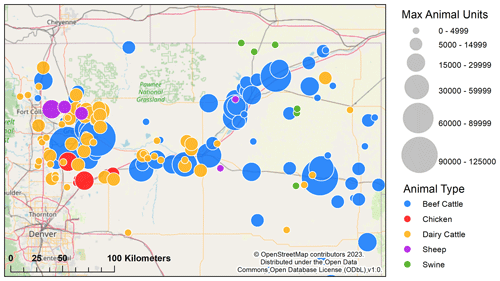 3
 Results and discussions
We demonstrate an approach to isolate and quantify CH4 plumes of agricultural CAFO sources with interfering sources by using the SM and MVR. The SM uses NH3 as a tracer to identify a CAFO plume before using a C2H6 : CH4 ratio to remove any ONG CH4 emissions interfering with the CAFO source. It is an optimal method when there is little ONG influence to keep the error introduced from subtraction small. The MVR method uses C2H6 and NH3 as tracers and provides lower uncertainty of emission estimates. This approach is appropriate when tracer data are available and there is enough signal to produce statistically significant relationships and thus site-specific ratios. The criteria to identify the best approach may be useful for isolating and attributing emissions from specific sources in other regions. Overall, our best estimates of emissions from the observed CAFOs are 13 (±2) g per head per hour for CH4 and 13 (±2) g per head per hour for NH3. These findings are significantly higher than EPA inventory estimates and previous studies highlighting the need for more observations and estimates of CAFO CH4 and NH3 emission rates.
The merged data file for the F2 data are available from WyoScholar https://doi.org/10.15786/22677718 (Caulton, 2023). This long-term repository is open-access and provides freely available data stewarded by the University of Wyoming Libraries. The RF13 data collected as part of the Trans2Am campaign are publicly available via the National Center for Atmospheric Research Earth Observing Laboratory.
MEM: writing – original draft, formal analysis, visualization, data acquisition and curation. IBP: writing – reviewing and editing, data acquisition and curation, funding acquisition. EVF: writing – reviewing and editing, funding acquisition. KMS: formal analysis, data acquisition and curation, writing – reviewing and editing. DRC: conceptualization, supervision, writing – reviewing and editing, funding acquisition, data collection.
The contact author has declared that none of the authors has any competing interests.
Publisher's note: Copernicus Publications remains neutral with regard to jurisdictional claims in published maps and institutional affiliations.
We would like to thank the University of Wyoming King Air facility for their support of this project. We would also like to thank Kristen Pozsonyi for help with instrument installation and data collection.
This research has been supported by the National Science Foundation (grant no. 2020151).
This paper was edited by Eleanor Browne and reviewed by two anonymous referees.
Archimède, H., Eugène, M., Marie Magdeleine, C., Boval, M., Martin, C., Morgavi, D. P., Lecomte, P., and Doreau, M.: Comparison of methane production between C3 and C4 grasses and legumes, Anim. Feed Sci. Tech., 166–167, 59–64, https://doi.org/10.1016/j.anifeedsci.2011.04.003, 2011. a
Arnold, S., Dileo, J., and Takushi, T.: Colorado Greenhouse Gas Inventory — 2014 Update Including Projections to 2020 & 2030, Department of Public Heath & Environment, https://oitco.hylandcloud.com/pop/docpop/docpop.aspx (last access: 26 April 2021), 2014. a
Bjorneberg, D. L., Leytem, A. B., Westermann, D. T., Griffiths, P. R., Shao, L., and Pollard, M. J.: Measurement of Atmospheric Ammonia, Methane, and Nitrous Oxide at a Concentrated Dairy Production Facility in Southern Idaho Using Open-Path FTIR Spectrometry, T. ASABE, 52, 1749–1756, 2009. a
Cambaliza, M. O. L., Shepson, P. B., Caulton, D. R., Stirm, B., Samarov, D., Gurney, K. R., Turnbull, J., Davis, K. J., Possolo, A., Karion, A., Sweeney, C., Moser, B., Hendricks, A., Lauvaux, T., Mays, K., Whetstone, J., Huang, J., Razlivanov, I., Miles, N. L., and Richardson, S. J.: Assessment of uncertainties of an aircraft-based mass balance approach for quantifying urban greenhouse gas emissions, Atmos. Chem. Phys., 14, 9029–9050, https://doi.org/10.5194/acp-14-9029-2014, 2014. a, b, c
Caulton, D.: Ammonia phase PARtitioning and Transport-lite (APART-lite), University of Wyoming [data set], https://doi.org/10.15786/22677718.v1, 2023. a
Caulton, D. R., Shepson, P. B., Santoro, R. L., Sparks, J. P., Howarth, R. W., Ingraffea, A. R., Cambaliza, M. O., Sweeney, C., Karion, A., Davis, K. J., Stirm, B. H., Montzka, S. A., and Miller, B. R.: Toward a better understanding and quantification of methane emissions from shale gas development, P. Natl. Acad. Sci. USA, 111, 6237–6242, https://doi.org/10.1073/pnas.1316546111, 2014. a, b
CDPHE: Colorado Department of Public Health and Environment CAFO Permit Database, http://www.colorado.gov/pacific/cdphe/animal-and-livestock-feeding-operations (last access: 27 January 2021), 2017. a, b
CDPHE: Colorado Department of Public Health and Environment CAFO Permit Database 2021, http://www.colorado.gov/pacific/cdphe/animal-and-livestock-feeding-operations (last access: March 2022), 2022. a
Colorado Department of Natural Resources Oil & Gas Conservation Commission: Colorado Oil and Gas Information System (COGIS), http://www.colorado.gov/pacific/cdphe/animal-and-livestock-feeding-operations (last access: April 2016), 2016. a, b, c
Crosson, E. R.: A cavity ring-down analyzer for measuring atmospheric levels of methane, carbon dioxide, and water vapor, Appl. Phys. B-Lasers O., 92, 403–408, https://doi.org/10.1007/s00340-008-3135-y, 2008. a
Eilerman, S. J., Peischl, J., Neuman, J. A., Ryerson, T. B., Aikin, K. C., Holloway, M. W., Zondlo, M. A., Golston, L. M., Pan, D., Floerchinger, C., and Herndon, S.: Characterization of Ammonia, Methane, and Nitrous Oxide Emissions from Concentrated Animal Feeding Operations in Northeastern Colorado, Environ. Sci. Technol., 50, 10885–10893, https://doi.org/10.1021/acs.est.6b02851, 2016. a, b, c
EPA: Inventory of U.S. Greenhouse Gas Emissions and Sinks: 1990–2020, U.S. Environmental Protection Agency, Epa 430-R-18-003, 1–205, https://www.epa.gov/system/files/documents/2022-04/us-ghg-inventory-2022-main-text.pdf (last access: 9 May 2022), 2022. a, b, c, d
EPA Annex: U.S. Green House Gas Emissions and Sinks 1990–2019 Annex 3 Part B, 4, 1–71, https://www.epa.gov/sites/default/files/2021-04/documents/us-ghg-inventory-2021-annexes.pdf (last access: 29 February 2021), 2021. a, b
Golston, L. M., Pan, D., Sun, K., Tao, L., Zondlo, M. A., Eilerman, S. J., Peischl, J., Neuman, J. A., and Floerchinger, C.: Variability of Ammonia and Methane Emissions from Animal Feeding Operations in Northeastern Colorado, Environ. Sci. Technol., 54, 11015–11024, https://doi.org/10.1021/acs.est.0c00301, 2020. a, b, c, d, e, f
Gordon, M., Li, S.-M., Staebler, R., Darlington, A., Hayden, K., O'Brien, J., and Wolde, M.: Determining air pollutant emission rates based on mass balance using airborne measurement data over the Alberta oil sands operations, Atmos. Meas. Tech., 8, 3745–3765, https://doi.org/10.5194/amt-8-3745-2015, 2015. a
Griffith, D. W., Bryant, G. R., Hsu, D., and Reisinger, A. R.: Methane emissions from free-ranging cattle: Comparison of tracer and integrated horizontal flux techniques, Aust. J. Exp. Agr., 48, 582–591, https://doi.org/10.2134/jeq2006.0426, 2008. a
Hacker, J. M., Chen, D., Bai, M., Ewenz, C., Junkermann, W., Lieff, W., McManus, B., Neininger, B., Sun, J., Coates, T., Denmead, T., Flesch, T., McGinn, S., and Hill, J.: Using airborne technology to quantify and apportion emissions of CH4 and NH3 from feedlots, Anim. Prod. Sci., 56, 190–203, https://doi.org/10.1071/AN15513, 2016. a, b, c
Higley, B. D. K. and Cox, D. O.: Oil and Gas Exploration and Development along the Front Range in the Denver Basin of Colorado, Nebraska, and Wyoming, USGS Province 39: U.S. Geological Survey Digital Data Series, Ch. 2, http://www.usgs.gov/pubprod (last access: 11 April 2021), 2007. a
Karion, A., Sweeney, C., Pétron, G., Frost, G., Michael Hardesty, R., Kofler, J., Miller, B. R., Newberger, T., Wolter, S., Banta, R., Brewer, A., Dlugokencky, E., Lang, P., Montzka, S. A., Schnell, R., Tans, P., Trainer, M., Zamora, R., and Conley, S.: Methane emissions estimate from airborne measurements over a western United States natural gas field, Geophys. Res. Lett., 40, 4393–4397, https://doi.org/10.1002/grl.50811, 2013. a, b
Karion, A., Sweeney, C., Kort, E. A., Shepson, P. B., Brewer, A., Cambaliza, M., Conley, S. A., Davis, K., Deng, A., Hardesty, M., Herndon, S. C., Lauvaux, T., Lavoie, T., Lyon, D., Newberger, T., Pétron, G., Rella, C., Smith, M., Wolter, S., Yacovitch, T. I., and Tans, P.: Aircraft-Based Estimate of Total Methane Emissions from the Barnett Shale Region, Environ. Sci. Technol., 49, 8124–8131, https://doi.org/10.1021/acs.est.5b00217, 2015. a
Kille, N., Baidar, S., Handley, P., Ortega, I., Sinreich, R., Cooper, O. R., Hase, F., Hannigan, J. W., Pfister, G., and Volkamer, R.: The CU mobile Solar Occultation Flux instrument: structure functions and emission rates of NH3, NO2 and C2H6, Atmos. Meas. Tech., 10, 373–392, https://doi.org/10.5194/amt-10-373-2017, 2017. a
Kille, N., Chiu, R., Frey, M., Hase, F., Sha, M. K., Blumenstock, T., Hannigan, J. W., Orphal, J., Bon, D., and Volkamer, R.: Separation of Methane Emissions From Agricultural and Natural Gas Sources in the Colorado Front Range, Geophys. Res. Lett., 46, 3990–3998, https://doi.org/10.1029/2019GL082132, 2019. a, b, c, d, e, f, g, h, i
Leytem, A. B., Dungan, R. S., Bjorneberg, D. L., and Koehn, A. C.: Emissions of Ammonia, Methane, Carbon Dioxide, and Nitrous Oxide from Dairy Cattle Housing and Manure Management Systems, J. Environ. Qual., 40, 1383–1394, https://doi.org/10.2134/jeq2009.0515, 2011. a
Maasakkers, J. D., Jacob, D. J., Sulprizio, M. P., Turner, A. J., Weitz, M., Wirth, T., Hight, C., DeFigueiredo, M., Desai, M., Schmeltz, R., Hockstad, L., Bloom, A. A., Bowman, K. W., Jeong, S., and Fischer, M. L.: Gridded National Inventory of U.S. Methane Emissions, Environ. Sci. Technol., 50, 13123–13133, https://doi.org/10.1021/acs.est.6b02878, 2016. a, b
Mielke-Maday, I., Schwietzke, S., Yacovitch, T. I., Miller, B., Conley, S., Kofler, J., Handley, P., Thorley, E., Herndon, S. C., Hall, B., Dlugokencky, E., Lang, P., Wolter, S., Moglia, E., Crotwell, M., Crotwell, A., Rhodes, M., Kitzis, D., Vaughn, T., Bell, C., Zimmerle, D., Schnell, R., and Pétron, G.: Methane source attribution in a U.S. dry gas basin using spatial patterns of ground and airborne ethane and methane measurements, Elementa, 7, 13, https://doi.org/10.1525/elementa.351, 2019. a
Miller, D. J., Sun, K., Tao, L., Pan, D., Zondlo, M. A., Nowak, J. B., Liu, Z., Diskin, G., Sachse, G., Beyersdorf, A., Ferrare, R., and Scarino, A. J.: Ammonia and methane dairy emission plumes in the San Joaquin Valley of California from individual feedlot to regional scales, J. Geophys. Res.-Atmos., 120, 9718–9738, https://doi.org/10.1002/2015JD023241, 2015. a
Montes, F., Meinen, R., Dell, C., Rotz, A., Hristov, A. N., Oh, J., Waghorn, G., Gerber, P. J., Henderson, B., Makkar, H. P., and Dijkstra, J.: SPECIAL TOPICS-Mitigation of methane and nitrous oxide emissions from animal operations: II. A review of manure management mitigation options, J. Anim. Sci., 91, 5070–5094, https://doi.org/10.2527/jas.2013-6584, 2013. a
Moumen, A., Azizi, G., ChekrounK, B., and Baghour, M.: The effects of livestock methane emission on the global warming: A review, Int. J. Global Warming, 9, 229–253, https://doi.org/10.1504/IJGW.2016.074956, 2016. a
Myhre, G., Shindell, D., Bréon, F.-M., Collins, W., Fuglestvedt, J., Huang, J., Koch, D., Lamarque, J.-F., Lee, D., Mendoza, B., Nakajima, T., Robock, A., Stephens, G., Takemura, T., Zhan, H., and Zhang, H.: Anthropogenic and Natural Radiative Forcing: Supplementary Material, Climate Change 2013: The Physical Science Basis, Contribution of Working Group I to the Fifth Assessment Report of the Intergovernmental Panel on Climate Change: The Physical Science Basis. Contribution of Working Group I to the Fifth Assessment Report of the Intergovernmental Panel on Climate Change, edited by: Stocker, T. F., Qin, D., Plattner, G.-K., Tignor, M., Allen, S. K., Boschung, J., Nauels, A., Xia, Y., Bex, V., and Midgley, P. M., 1–44, http://www.climatechange2013.org (last access: 4 September 2022), 2013. a
Nathan, B. J., Golston, L. M., Brien, A. S. O., Ross, K., Harrison, W. A., Tao, L., Lary, D. J., Johnson, D. R., Covington, A. N., Clark, N. N., and Zondlo, M. A.: Near-Field Characterization of Methane Emission Variability from a Compressor Station Using a Model Aircraft, Environ. Sci. Technol., 49, 7896–7903, https://doi.org/10.1021/acs.est.5b00705, 2015. a
Peischl, J., Ryerson, T. B., Aikin, K. C., Gouw, J. A., Gilman, J. B., Holloway, J. S., Lerner, B. M., Nadkarni, R., Neuman, J. A., Nowak, J. B., Trainer, M., Warneke, C., and Parrish, D. D.: Quantifying Methane and Ethane Emissions to the Atmosphere From Central and Western U.S. Oil and Natural Gas Production Regions, J. Geophys. Res., 120, 2119–2139, https://doi.org/10.1002/2014JD022697.Received, 2015. a, b, c, d
Peischl, J., Eilerman, S. J., Neuman, J. A., Aikin, K. C., de Gouw, J., Gilman, J. B., Herndon, S. C., Nadkarni, R., Trainer, M., Warneke, C., and Ryerson, T. B.: Quantifying Methane and Ethane Emissions to the Atmosphere From Central and Western U.S. Oil and Natural Gas Production Regions, J. Geophys. Res.-Atmos., 123, 7725–7740, https://doi.org/10.1029/2018JD028622, 2018. a, b, c
Picarro: G2401 Analyzer Datasheet, https://www.picarro.com/support/library/documents/g2401_analyzer_datasheet (last access: 12 August 2022), 2023. a
Pollack, I. B., Lindaas, J., Roscioli, J. R., Agnese, M., Permar, W., Hu, L., and Fischer, E. V.: Evaluation of ambient ammonia measurements from a research aircraft using a closed-path QC-TILDAS operated with active continuous passivation, Atmos. Meas. Tech., 12, 3717–3742, https://doi.org/10.5194/amt-12-3717-2019, 2019. a, b, c
Pollack, I. B., McCabe, M. E., Caulton, D. R., and Fischer, E. V.: Enhancements in Ammonia and Methane from Agricultural Sources in the Northeastern Colorado Front Range Using Observations from a Small Research Aircraft, Environ. Sci. Technol., 56, 2236–2247, https://doi.org/10.1021/acs.est.1c07382, 2022. a, b, c, d, e, f, g, h, i, j, k, l, m, n, o, p, q
Richardson, S. J., Miles, N. L., Davis, K. J., Crosson, E. R., Rella, C. W., and Andrews, A. E.: Field testing of cavity ring-down spectroscopy analyzers measuring carbon dioxide and water vapor, J. Atmos. Ocean Tech., 29, 397–406, https://doi.org/10.1175/JTECH-D-11-00063.1, 2012. a
Roscioli, J. R., Zahniser, M. S., Nelson, D. D., Herndon, S. C., and Kolb, C. E.: New Approaches to Measuring Sticky Molecules: Improvement of Instrumental Response Times Using Active Passivation, J. Phys. Chem. A, 120, 1347–1357, https://doi.org/10.1021/acs.jpca.5b04395, 2015. a, b
Shonkwiler, K. B. and Ham, J. M.: Agr. Forest Meteorol. Ammonia emissions from a beef feedlot: Comparison of inverse modeling techniques using long-path and point measurements of fenceline NH3, Agr. Forest Meteorol., 258, 29–42, https://doi.org/10.1016/j.agrformet.2017.10.031, 2017. a
Skoog, D. A., West, D. M., Holler, F. J., and Crouch, S. R.: Fundamentals of Analytical Chemistry, 8th Edn., Thomson-Brooks/Cole, ark:/13960/t6vx0xq3j, 2004. a, b
Smith, C., Nicholls, Z., Armour, K., Collins, W., Forster, P., Meinshausen, M., Palmer, M., and Watanabe, M.: The Earth's Energy Budget, Climate Feedbacks, and Climate Sensitivity Supplementary Material, https://www.ipcc.ch/ (last access: 2 November 2021), 2021. a
Smith, M. L., Kort, E. A., Karion, A., Sweeney, C., Herndon, S. C., and Yacovitch, T. I.: Airborne Ethane Observations in the Barnett Shale: Quantification of Ethane Flux and Attribution of Methane Emissions, Environ. Sci. Technol., 49, 8158–8166, https://doi.org/10.1021/acs.est.5b00219, 2015. a
Staebler, R. M., McGinn, S. M., Crenna, B. P., Flesch, T. K., Hayden, K. L., and Li, S. M.: Three-dimensional characterization of the ammonia plume from a beef cattle feedlot, Atmos. Environ., 43, 6091–6099, https://doi.org/10.1016/j.atmosenv.2009.08.045, 2009. a, b, c
Strauss, L., Serafin, S., Haimov, S., and Grubišić, V.: Turbulence in breaking mountain waves and atmospheric rotors estimated from airborne in situ and Doppler radar measurements, Q. J. Roy. Meteor. Soc., 141, 3207–3225, https://doi.org/10.1002/qj.2604, 2015. a
Townsend-Small, A. E., Botner, C., Jimenez, K. L., Schroeder, J. R., Blake, N. J., Meinardi, S., Blake, D. R., Sive, B. C., Bon, D., Crawford, J. H., Pfist, G., and Frank, F. M.: Using stable isotopes of hydrogen to quantify biogenic and thermogenic atmospheric methane sources: A case study from the Colorado Front Range Amy, Geophys. Res. Lett., 31, 1–8, https://doi.org/10.1002/2013GL058740.Received, 2016. a, b
United States Department of Agriculture [USDA]: Colorado Annual Bulletin Colorado Agricultural Statistics, National Agricultural Statistics Service 1, 1–58, https://www.nass.usda.gov/Statistics_by_State/Colorado/Publications/Annual_Statistical_Bulletin/Bulletin2018.pdf (last access: 5 January 2021), 2018.  a
Yacovitch, T. I., Herndon, S. C., Roscioli, J. R., Floerchinger, C., McGovern, R. M., Agnese, M., Pétron, G., Kofler, J., Sweeney, C., Karion, A., Conley, S. A., Kort, E. A., Nähle, L., Fischer, M., Hildebrandt, L., Koeth, J., McManus, J. B., Nelson, D. D., Zahniser, M. S., and Kolb, C. E.: Demonstration of an Ethane Spectrometer for Methane Source Identification, Environ. Sci. Technol., 48, 8028–8034, https://doi.org/10.1021/es501475q, 2014. a, b
Yacovitch, T. I., Daube, C., Vaughn, T. L., Bell, C. S., Roscioli, J. R., Knighton, W. B., Nelson, D. D., Zimmerle, D., Pétron, G., and Herndon, S. C.: Natural gas facility methane emissions: measurements by tracer flux ratio in two US natural gas producing basins, Elementa, 5, 69, https://doi.org/10.1525/elementa.251, 2017. a
Zimmerle, D., Duggan, G., Vaughn, T., Bell, C., Lute, C., Bennett, K., Kimura, Y., Cardoso-Saldaña, F. J., and Allen, D. T.: Modeling air emissions from complex facilities at detailed temporal and spatial resolution: The Methane Emission Estimation Tool (MEET), Sci. Total Environ., 824, 153653, https://doi.org/10.1016/j.scitotenv.2022.153653, 2022. a, b