Articles | Volume 22, issue 9
https://doi.org/10.5194/acp-22-6231-2022
© Author(s) 2022. This work is distributed under
the Creative Commons Attribution 4.0 License.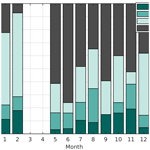 New particle formation in coastal New Zealand with a focus on open-ocean air masses
Even though oceans cover the majority of the Earth, most aerosol measurements are from continental sites. We measured aerosol particle number size distribution at Baring Head, in coastal New Zealand, over a total period of 10 months to study aerosol properties and new particle formation, with a special focus on aerosol formation in open-ocean air masses. Particle concentrations were higher in land-influenced air compared to clean marine air in all size classes, from sub-10 nm to cloud condensation nuclei sizes. When classifying the particle number size distributions with traditional methods designed for continental sites, new particle formation was observed at the station throughout the year with an average event frequency of 23 %. While most of these traditional event days had some land influence, we also observed particle growth starting from nucleation mode in 16 % of the data in clean marine air, and at least part of this growth was connected to nucleation in the marine boundary layer. Sub-10 nm particles accounted for 29 % of the total aerosol number concentration of particles larger than 1 nm in marine air during the spring. This shows that nucleation in marine air is frequent enough to influence the total particle concentration. Particle formation in land-influenced air was more intense and had on average higher growth rates than what was found for marine air. Particle formation and primary emissions increased particle number concentrations as a function of time spent over land during the first 1–2 d. After this, nucleation seems to start getting suppressed by the pre-existing particle population, but accumulation mode particle concentration keeps increasing, likely due to primary particle emissions. Further work showed that traditional NPF events were favoured by sunny conditions with low relative humidity and wind speeds. In marine air, formation of sub-10 nm particles was favoured by low temperatures, relative humidity, and wind speeds and could happen even during the night. Our future work will study the mechanisms responsible for particle formation at Baring Head with a focus on different chemical precursor species. This study sheds light on both new particle formation in open-ocean air masses coming from the Southern Ocean and local aerosol properties in New Zealand.
Received: 01 Oct 2021 – Discussion started: 11 Oct 2021 – Revised: 07 Mar 2022 – Accepted: 01 Apr 2022 – Published: 13 May 2022
Marine aerosols are a core component of the global climate system. The oceans cover over 70 % of the Earth and can be considered to be a relatively dark surface. Aerosol concentrations and properties largely determine how much of the oceans is covered by haze or clouds and how bright the clouds are. A recent study showed that aerosols can explain 75 % of low-level marine clouds' cooling effects (Rosenfeld et al., 2019). While primary sea spray aerosols are important and at high wind speeds, they can dominate the marine cloud condensation nuclei (CCN) budget (Fossum et al., 2018); globally more than half of the CCN form in the atmosphere as a result of new particle formation (NPF) (Gordon et al., 2017). NPF refers to the formation of new clusters from gases and their subsequent growth to larger sizes (Kulmala et al., 2012). A combination of observations and modelling work has suggested that marine NPF and growth have a cooling effect on the climate in the North Atlantic region, especially through aerosol indirect effects (Croft et al., 2021).
The climatic importance of NPF in the marine boundary layer (MBL) has been studied since it was first proposed by Charlson et al. (1987). The so-called CLAW hypothesis suggested that oceanic phytoplankton could have an influence on climate because the dimethyl sulfide (DMS) that it emits can be oxidised and form new sulfate aerosol particles that could make the marine clouds brighter. If DMS emissions by plankton increased with increasing temperature, this could lead to a negative feedback loop that would slow down climate warming. In practice, the process is less straightforward, and the hypothesis has been under debate (Quinn and Bates, 2011).
More recent research has shown that DMS is not the only possible aerosol precursor gas in marine air. Studies have shown that amines (Brean et al., 2021) and ammonia (Jokinen et al., 2018) can be important stabilisers for sulfuric acid in particle formation in marine conditions. In addition to sulfate species, organic compounds can play a big role in the marine CCN budget (Mayer et al., 2020; Zheng et al., 2020), and iodine, which has been shown to be important for NPF in coastal conditions (He et al., 2021), is ubiquitous in marine aerosols (Gómez Martín et al., 2021).
Another reason why the CLAW hypothesis has been argued against is that nucleation would be more likely to occur in the free troposphere (FT) rather than within the MBL because sea spray aerosols can act as a sink for aerosol precursors in the MBL, inhibiting NPF. Airborne measurements near Tasmania and around the Atlantic and the Mediterranean have shown nucleation occurring in the FT (Clarke et al., 1998; Sanchez et al., 2018; Rose et al., 2015b). Even with nucleation occurring only in the FT, sulfate originating from DMS could contribute to the CCN budget both by particles transported down from the FT and by growth of pre-existing particles by sulfate condensation (Sanchez et al., 2018). Recently, Zheng et al. (2021) showed that around the Atlantic Ocean, NPF can occur in the upper decoupled layer of the MBL rather than the FT after the passage of cold fronts. They explain this by convective clouds associated with drizzle and precipitation, both removing large particles and transporting aerosol precursor gases to the upper decoupled layer. There, between clouds, low pre-existing aerosol surface, high radiation levels, and low temperature favour NPF. Nucleation occurring after cold fronts has also been observed at Cape Grim, in Tasmania (Gras et al., 2009). These events contributed little to the CCN population, but they increased the concentration of Aitken mode particles. Other work at Cape Grim has also observed increased particle concentrations at altitudes above 2000 m compared to ground level and their likely transport to ground level (Bigg et al., 1984).
A coastal field campaign in eastern Australia observed new particle formation and growth of nucleation mode particles in clean marine air and attributed this to sulfate and organics, hypothesising that the source of these species was likely marine or coastal (Modini et al., 2009). A recent study showed that at Cape Grim, sulfate from marine biological sources dominates the CCN population during the summer, but during winter the role of wind-generated sea spray aerosols is highlighted (Gras and Keywood, 2017). Another recent study at Cape Grim showed that part of the secondary organic aerosol in the marine air masses was derived from isoprene and monoterpene and associated with marine biological activity, but this accounted for less than 1 % of the total organic aerosol mass (Cui et al., 2019).
Previous studies in the Southern Ocean have shown that at high wind speeds of above 16 m s−1, the CCN budget can be dominated by sea spray aerosol, but at lower wind speeds, secondary aerosol can contribute between 49 %–92 % of the CCN (Fossum et al., 2018). It has also been shown that biological activity is important for marine cloud droplet number concentrations, and this has been attributed to both organics and sulfate (McCoy et al., 2015; Mayer et al., 2020). On the other hand, a recent voyage going around the whole of Antarctica did not observe evidence of NPF acting as an important source for CCN (Schmale et al., 2019)
Despite the importance of marine aerosols, most continuous aerosol size distribution measurements are from continental sites and from the Northern Hemisphere (Kerminen et al., 2018; Nieminen et al., 2018). New Zealand is a contrasting environment as it is in the Southern Hemisphere, in the middle of the ocean, far from major pollution sources other than the sources on the islands themselves. It is thus a compelling place for studying marine air. Despite the beneficial location, most aerosol measurements in New Zealand have focused on particulate matter mass concentrations for regulatory purposes, and only a few direct observations of NPF in this country exist (Coulson et al., 2016). Baring Head station, located on the southern coast of New Zealand's North Island, has been used for greenhouse gas measurements since 1972. The location of the site was chosen because it regularly receives clean air masses from the Southern Ocean that have not been in touch with land in days (Stephens et al., 2013).
Previous aerosol measurements at Baring Head have focused on aerosol chemical composition measured with filter samples (Allen et al., 1997; Sievering et al., 2004; Li et al., 2018, 2021) and sulfate aerosol precursors, SO2 and DMS (de Bruyn et al., 2002). Some of the previous work has shown that both DMS (Harvey et al., 1993) and non-sea-salt sulfate concentrations in fine aerosols (Li et al., 2018) are higher during the summer than during the rest of the year. Another factor making Baring Head special is the closeness of the biologically active Chatham Rise region (Murphy et al., 2001; Nodder, 1997), described in detail by Law et al. (2017). One previous study showed that coarse mode aerosols originating from this biologically active area had high alkalinity caused by high calcium concentrations originating from plankton debris (Sievering et al., 2004). This alkalinity enhanced aqueous-phase sulfate formation by ozone oxidation in the coarse sea spray aerosol. The plankton was thus not only a source of DMS but also a source of calcium, which enhanced SO2 uptake to coarse mode aerosols. As mentioned earlier, on a global level high biological activity has been also connected to larger emissions of particle precursor gases.
We study NPF at Baring Head station in New Zealand over a total period of 10 months covering late autumn, winter, spring, and summer. We report typical aerosol concentrations in climate-relevant size ranges and statistics for NPF event occurrence and properties and study the conditions favouring NPF. Our focus is on separating the marine signal from land-influenced air masses to study NPF in marine air. Since measurements in the Southern Hemisphere and especially in marine air and in New Zealand are relatively rare, our measurements are highly valuable for the aerosol community.
2.1

 Measurements

Baring Head (41.4083∘ S, 174.8710∘ E) is the longest-running measurement station in the Southern Hemisphere for background CO2 measurements. The site was chosen because it enables marine air masses coming from the Southern Ocean that have not been influenced by land in several days to be captured (Stephens et al., 2013). This is the same reason we chose the station to study aerosol formation in pristine marine air. The site, surrounding land areas, and typical air masses are described by Stephens et al. (2013), and the location of the station is also shown in Fig. 10 of this article. Our aerosol measurements were conducted in a separate hut 20 m east and uphill from the main buildings. Our main inlets were 7 m from the cliff edge at 110 cm height off the ground.

New Zealand sits in a maritime mid-latitude westerly airflow. The southern Alps present a barrier to these westerlies, but this is broken by the Cook Strait between the North Island and South Island. For a range of prevailing synoptic situations which bring westerlies from the north-west through to the south-west, air is funnelled through the strait as a north-westerly or northerly wind at Baring Head, located on the north-eastern side of the strait. These directions result in air masses that have been impacted by the land to the north of the station. There are two main types of situations that cause wind direction to switch and arrive from the south at Baring Head. Firstly, cyclonic situations where low centres pass to the north of the North Island drive southerlies or south-easterlies into the strait. Secondly, there are anticyclonic flows when an anticyclone passes to the south of the South Island or builds in the Tasman Sea to the west of New Zealand. As pressure builds, and the ridge moves east, air is deflected around the South Island and arrives at Baring Head as an anticyclonic southerly. These air masses have typically spent several days over the sea and are considered clean marine air. According to Stephens et al. (2013) south and south-eastern air mass trajectories are observed on average 27 % of the time, being more frequent during the winter than summer. Out of this 27 %, part is still contaminated by land influences and after filtering, fewer than 10 % of the data are used for baseline CO2 calculations (Brailsford et al., 2012; Stephens et al., 2013). This section describes the measurements and data analysis methods used specifically for this study.
2.1.1

 Aerosol measurements

To characterise the aerosol properties at Baring Head, we measured aerosol and air ion number concentrations in different size ranges using several different instruments. A scanning mobility particle sizer (SMPS) was used to measure the aerosol number size distribution in the 10–450 nm size range during 20 April–13 June 2018 and in the 10–500 nm size range during 12 June 2020–1 March 2021 with a time resolution of 13 min. The fact that the upper limit of the SMPS was lower during the earlier measurement period should not make a significant difference for total particle concentrations as particle number concentrations are typically dominated by smaller particles. In fact, during the later measurement period, particles larger than 450 nm contributed only 2 % of the number concentration of particles above 100 nm and 0.3 % of total particles. The total length of the SMPS's  inlet was 312 cm, containing a 73 cm silica gel dryer. To accompany the SMPS, we used one condensational particle counter (CPC) to measure the total concentration of aerosols above 10 nm. From 22 July to 24 December 2020 the used model was TSI 3010, and from 24 December 2020 to 17 February 2021 it was model TSI 3760A. The inlet to the CPC was in total 268 cm long and  thick, with the first 103 cm stainless steel and the rest conducting silicon tubing.

To obtain aerosol concentrations in smaller size ranges, we used a particle size magnifier (PSM; Vanhanen et al., 2011). During 12 June–17 September 2020, we used a model A09 with supersaturation fixed at 1 L min−1. Then, during 17 September 2020–17 February 2021, we used an A11 PSM in stepping mode with saturation flow rate switching between 0.1 and 1 L min−1 every 60 s. To assure that changing the instrument did not affect our results, we compared the two PSMs in the laboratory over 3 d. During the intercomparison, the median relationship of model A09 and A11 number concentrations at 1 L min−1 supersaturation was (25th and 75th percentiles: 0.75 and 1.24), meaning that the concentrations were on average close to each other, but the relationship varied in both directions. The inlet to the PSM was a 122 cm long  stainless steel tube. The first 103 cm of this inlet was shared with the CPC to increase the flow rate through the inlet because increasing the total flow rate from 2.5 to 3.5 L min−1 decreases the particle losses due to diffusion in an inlet with this diameter. This is important because the smallest particles are the most sensitive to diffusion losses. With this inlet set-up, the diffusion losses in the PSM inlet were 80 % for 1 nm particles and 6 % for 10 nm particles. For the CPC and SMPS, the inlet diffusion losses of 10 nm particles were estimated to be 18 % and 21 %, respectively, while for 100 nm particles the losses are only 1 % for both instruments.

In addition to the SMPS and PSM, we used a neutral cluster and air ion spectrometer (NAIS; Mirme and Mirme, 2013) from 7 August 2020 to 28 February 2021. The NAIS measures the size distribution of particles in 2–42 nm and ions in the electric mobility range from 3.2 to 0.0013 cm2 V−1 s−1. The inlet of the NAIS was 3 m closer to the cliff edge than the other instruments and at 70 cm height. The data availability from all particle instruments during the 2020–2021 period can be seen in Fig. 1 and Table A1. For 2018, we only had SMPS data, and they were available for the whole measurement period of 20 April–13 June 2018.
2.1.2

 Ancillary data

In addition to aerosol measurements, we used the station's permanent ozone, radon, and meteorological measurements for temperature, global radiation, relative humidity, and wind. The meteorological data can be downloaded from https://cliflo.niwa.co.nz/ (last access: May 2021). Ozone data are from long-term measurements of the station conducted with a Thermo Scientific Model 49i ozone analyser. Radon data were used to assess land influence. The measurements were done with a high-sensitivity site background radon detector designed by ANSTO (Australia; https://www.ansto.gov.au/, last access: May 2021) (Chambers et al., 2014).

As the station is coastal, tides and wave heights can also have an effect on the atmospheric composition. This is why we also used wave height data from the Greater Wellington Regional Council (http://graphs.gw.govt.nz/, last access: May 2021; data available only for 2020–2021) and estimated tide heights for Wellington/Te Whanganui-a-Tara from Land Information New Zealand https://www.linz.govt.nz/sea/tides/tide-predictions (last access: May 2021). The tide height data were interpolated with a piecewise cubic hermite interpolating polynomial to obtain data with higher time resolution.
2.2

 Air mass back trajectories

Air mass back trajectories were calculated with HYSPLIT (Stein et al., 2015; Rolph et al., 2017) for 72 h with 1 h time resolution. The input meteorological data are from the Global Data Assimilation System (GDAS) model with a 1∘ resolution.
To give an overview of new particle formation at Baring Head, we begin this section by classifying all days as event and non-event days with traditional methods and characterise these events. Then we look at aerosol concentrations in more detail and study aerosol formation and growth. Finally, we focus on the special characteristics of new particle formation in marine air masses.
We studied new particle formation and typical aerosol number concentrations at Baring Head, New Zealand. The site is remote and enables the study of clean marine air masses. During our 10 month measurement period, the average event frequency was 23 %, with the fewest events observed during the winter. These events detected with a traditional method designed for continental sites occurred primarily in land-influenced air and were favoured by high global radiation levels, low relative humidity, and low wind speeds. Aerosol number concentrations in all size ranges were significantly higher in land-influenced air compared to clean marine air. The concentrations increased when the air mass spent more time over land, with accumulation mode particle concentrations doubling in 1 d, showing that aerosol production over New Zealand could have an effect on the regional cloud formation and properties.
In clean marine air, clear new particle formation events, when detected according to the NPF classification methods made for continental sites, were rare. However, we observed both sub-3 nm particles and particle growth starting from the nucleation mode in air masses that had only spent time within the marine boundary layer, showing that nucleation can happen within the marine boundary layer. Whilst these events do occur, they are weaker than terrestrially influenced NPF events. Unlike at some other coastal sites, coastal sources did not seem to play a significant role in aerosol formation at Baring Head. Formation of sub-10 nm particles was favoured by low temperatures, relative humidity, and wind speeds. Our results highlight the need to study marine NPF with different criteria than continental NPF.
During our measurements, only 7.3 % of the data could be classified as clean marine air. In the future, it would be good to continue the measurements over longer periods to obtain more information on the importance of new particle formation in open-ocean air. Our future work will focus on identifying the chemical precursors of new particle formation and growth at the site to provide a more complete picture of factors driving the particle concentrations both at the site in general and specifically in open-ocean air.
Appendix B:
 Extra figures
The meteorological data can be downloaded from https://cliflo.niwa.co.nz/ (CliFlo, 2022) and tide height data from https://www.linz.govt.nz/sea/tides/tide-predictions (Land information New Zealand, 2021). Wave height data are available from the Greater Wellington Regional Council (http://graphs.gw.govt.nz/, Greater Wellington Regional Council, 2021). The aerosol data are available on the AERIS database (https://sea2cloud.data-terra.org/en/catalogue/, Sea2Cloud, 2022), the CPC data are found at https://doi.org/10.25326/354 (Sellegri, 2022a), the SMPS data are found at https://doi.org/10.25326/356 (Sellegri, 2022b), and PSM data are found at https://doi.org/10.25326/355 (Sellegri, 2022c).
MP, JVT, and KS performed the aerosol measurements. MP and CR analysed the data. SG processed the radon data. MP wrote the paper with contributions from all authors. KS, CR, and MH supervised the work.
The contact author has declared that neither they nor their co-authors have any competing interests.
Publisher's note: Copernicus Publications remains neutral with regard to jurisdictional claims in published maps and institutional affiliations.
This article is part of the special issue "Sea2Cloud (ACP/OS inter-journal SI)". It is not associated with a conference.
The Sea2Cloud project is endorsed by SOLAS. The authors gratefully acknowledge the NOAA Air Resources Laboratory (ARL) for the provision of the HYSPLIT transport and dispersion model and READY website (https://www.ready.noaa.gov, last access: 11 May 2022) used in this publication. Sylvia Nichol is acknowledged for processing the ozone data.
These results are part of a project that has received funding from the European Research Council (ERC) under the European Union's Horizon 2020 research and innovation programme (grant agreement no. 771369), and supporting measurements from the Baring Head site are funded through the NZ MBIE Strategic Science Investment Fund programme "Understanding Atmospheric Composition and Change".
This paper was edited by Veli-Matti Kerminen and reviewed by two anonymous referees.
Allen, A. G., Dick, A. L., and Davison, B. M.: Sources of atmospheric methanesulphonate, non-sea-salt sulphate, nitrate and related species over the temperate South Pacific, Atmos. Environ., 31, 191–205, 1997. a, b
Bigg, E., Gras, J., and Evans, C.: Origin of Aitken particles in remote regions of the Southern Hemisphere, J. Atmos. Chem., 1, 203–214, 1984. a, b, c
Boulon, J., Sellegri, K., Venzac, H., Picard, D., Weingartner, E., Wehrle, G., Collaud Coen, M., Bütikofer, R., Flückiger, E., Baltensperger, U., and Laj, P.: New particle formation and ultrafine charged aerosol climatology at a high altitude site in the Alps (Jungfraujoch, 3580 m a.s.l., Switzerland), Atmos. Chem. Phys., 10, 9333–9349, https://doi.org/10.5194/acp-10-9333-2010, 2010. a
Brailsford, G. W., Stephens, B. B., Gomez, A. J., Riedel, K., Mikaloff Fletcher, S. E., Nichol, S. E., and Manning, M. R.: Long-term continuous atmospheric CO2 measurements at Baring Head, New Zealand, Atmos. Meas. Tech., 5, 3109–3117, https://doi.org/10.5194/amt-5-3109-2012, 2012. a
Brean, J., Dall'Osto, M., Simó, R., Shi, Z., Beddows, D. C., and Harrison, R. M.: Open ocean and coastal new particle formation from sulfuric acid and amines around the Antarctic Peninsula, Nat. Geosci., 14, 383–388, 2021. a
Burkart, J., Hodshire, A. L., Mungall, E. L., Pierce, J. R., Collins, D. B., Ladino, L. A., Lee, A. K., Irish, V., Wentzell, J. J., Liggio, J., Papakyriakou, T., Murphy, J., and Abbatt, J.: Organic condensation and particle growth to CCN sizes in the summertime marine Arctic is driven by materials more semivolatile than at continental sites, Geophys. Res. Lett., 44, 10725–10734, 2017. a
Burkholder, J. B., Curtius, J., Ravishankara, A. R., and Lovejoy, E. R.: Laboratory studies of the homogeneous nucleation of iodine oxides, Atmos. Chem. Phys., 4, 19–34, https://doi.org/10.5194/acp-4-19-2004, 2004. a
Cainey, J. and Harvey, M.: Dimethylsulfide, a limited contributor to new particle formation in the clean marine boundary layer, Geophys. Res. Lett., 29, 32-1–32-4, 2002. a
Carpenter, L. J., Malin, G., Liss, P., and Küpper, F.: Novel biogenic iodine-containing trihalomethanes and other short-lived halocarbons in the coastal east Atlantic, Global Biogeochem. Cy., 14, 1191–1204, 2000. a
Chambers, S., Williams, A., Crawford, J., Griffiths, A., Krummel, P., Steele, L., and Schoot, V.: A radon-only technique for characterising baseline constituent concentrations at Cape Grim, Paper presented at Atmospheric Composition and Chemistry Observations and Modelling Conference incorporating the Cape Grim Annual Science Meeting, 12–13 November 2014, Aspendale, Victoria, https://apo.ansto.gov.au/dspace/handle/10238/8283 (last access: 6 May 2022), 2014. a
Charlson, R. J., Lovelock, J. E., Andreae, M. O., and Warren, S. G.: Oceanic phytoplankton, atmospheric sulphur, cloud albedo and climate, Nature, 326, 655–661, https://doi.org/10.1038/326655a0, 1987. a
CliFlo: NIWA's National Climate Database on the Web, https://cliflo.niwa.co.nz/, last access: 11 May 2022. a
Clarke, A., Varner, J., Eisele, F., Mauldin, R., Tanner, D., and Litchy, M.: Particle production in the remote marine atmosphere: Cloud outflow and subsidence during ACE 1, J. Geophys. Res.-Atmos., 103, 16397–16409, 1998. a
Coulson, G., Olivares, G., and Talbot, N.: Aerosol size distributions in Auckland, Air Qual. Clim. Change, 50, 23–28, 2016. a, b
Croft, B., Martin, R. V., Moore, R. H., Ziemba, L. D., Crosbie, E. C., Liu, H., Russell, L. M., Saliba, G., Wisthaler, A., Müller, M., Schiller, A., Galí, M., Chang, R. Y.-W., McDuffie, E. E., Bilsback, K. R., and Pierce, J. R.: Factors controlling marine aerosol size distributions and their climate effects over the northwest Atlantic Ocean region, Atmos. Chem. Phys., 21, 1889–1916, https://doi.org/10.5194/acp-21-1889-2021, 2021. a
Cui, T., Green, H. S., Selleck, P. W., Zhang, Z., O'Brien, R. E., Gold, A., Keywood, M., Kroll, J. H., and Surratt, J. D.: Chemical characterization of isoprene-and monoterpene-derived secondary organic aerosol tracers in remote marine aerosols over a quarter century, ACS Earth Space Chem., 3, 935–946, 2019. a
Dada, L., Chellapermal, R., Buenrostro Mazon, S., Paasonen, P., Lampilahti, J., Manninen, H. E., Junninen, H., Petäjä, T., Kerminen, V.-M., and Kulmala, M.: Refined classification and characterization of atmospheric new-particle formation events using air ions, Atmos. Chem. Phys., 18, 17883–17893, https://doi.org/10.5194/acp-18-17883-2018, 2018. a, b, c, d, e, f, g, h, i, j
Dall'Osto, M., Monahan, C., Greaney, R., Beddows, D. C. S., Harrison, R. M., Ceburnis, D., and O'Dowd, C. D.: A statistical analysis of North East Atlantic (submicron) aerosol size distributions, Atmos. Chem. Phys., 11, 12567–12578, https://doi.org/10.5194/acp-11-12567-2011, 2011. a, b, c
Dal Maso, M., Kulmala, M., Riipinen, I., Wagner, R., Hussein, T., Aalto, P. P., and Lehtinen, K. E.: Formation and growth of fresh atmospheric aerosols: eight years of aerosol size distribution data from SMEAR II, Hyytiala, Finland, Boreal Environ. Res., 10, 323–336, 2005. a, b, c, d, e, f, g, h, i, j, k, l
de Bruyn, W. J., Harvey, M., Cainey, J. M., and Saltzman, E. S.: DMS and SO2 at Baring Head, New Zealand: Implications for the yield of SO2 from DMS, J. Atmos. Chem., 41, 189–209, 2002. a, b, c
Forestieri, S., Moore, K., Martinez Borrero, R., Wang, A., Stokes, M., and Cappa, C.: Temperature and composition dependence of sea spray aerosol production, Geophys. Res. Lett., 45, 7218–7225, 2018. a
Fossum, K. N., Ovadnevaite, J., Ceburnis, D., Dall'Osto, M., Marullo, S., Bellacicco, M., Simó, R., Liu, D., Flynn, M., Zuend, A., and O'Dowd, C.: Summertime Primary and Secondary Contributions to Southern Ocean Cloud Condensation Nuclei, Scient. Rep., 8, 13844, https://doi.org/10.1038/s41598-018-32047-4, 2018. a, b
Gómez Martín, J. C., Saiz-Lopez, A., Cuevas, C. A., Fernandez, R. P., Gilfedder, B., Weller, R., Baker, A. R., Droste, E., and Lai, S.: Spatial and temporal variability of iodine in aerosol, J. Geophys. Res.-Atmos., 126, e2020JD034410, https://doi.org/10.1029/2020JD034410, 2021. a
Gordon, H., Kirkby, J., Baltensperger, U., Bianchi, F., Breitenlechner, M., Curtius, J., Dias, A., Dommen, J., Donahue, N. M., Dunne, E. M., Duplissy, J., Ehrhart, S., Flagan, R. C., Frege, C., Fuchs, C., Hansel, A., Hoyle, C. R., Kulmala, M., Kürten, A., Lehtipalo, K., Makhmutov, V., Molteni, U., Rissanen, M. P., Stozkhov, Y., Tröstl, J., Tsagkogeorgas, G., Wagner, R., Williamson, C., Wimmer, D., Winkler, P. M., Yan, C., and Carslaw, K. S.: Causes and importance of new particle formation in the present-day and preindustrial atmospheres, J. Geophys. Res.-Atmos., 122, 8739–8760, 2017. a
Gras, J. L. and Keywood, M.: Cloud condensation nuclei over the Southern Ocean: wind dependence and seasonal cycles, Atmos. Chem. Phys., 17, 4419–4432, https://doi.org/10.5194/acp-17-4419-2017, 2017. a
Gras, J. L., Jimi, S. I., Siems, S. T., and Krummel, P. B.: Postfrontal nanoparticles at Cape Grim: observations, Environ. Chem., 6, 508–514, 2009. a
Greater Wellington Regional Council: Live Data Viewer, http://graphs.gw.govt.nz/, last accessed: 31 May 2021. a
Greene, C.: landmask, MATLAB Central File Exchange, https://www.mathworks.com/matlabcentral/fileexchange/48661-landmask, last access: 11 May 2022. a
Hamed, A., Korhonen, H., Sihto, S.-L., Joutsensaari, J., Järvinen, H., Petäjä, T., Arnold, F., Nieminen, T., Kulmala, M., Smith, J. N., Lehtinen, K. E. J., and Laaksonen, A.: The role of relative humidity in continental new particle formation, J. Geophys. Res.-Atmos., 116, D03202, https://doi.org/10.1029/2010JD014186, 2011. a
Harvey, M., Wylie, D., Martin, R., Clarkson, T., and de Mora, S.: Dimethylsulphide measurements at Baring Head, New Zealand, in: Dimethylsulphide, Oceans, Atmosphere and Climate, edited by: Restelli, G. and Angeletti, G., Kluwer Academic, Dordrecht, 143–151, WOS:A1993BA12A00015, 1993. a, b
He, X.-C., Tham, Y. J., Dada, L., Wang, M., Finkenzeller, H., Stolzenburg, D., Iyer, S., Simon, M., Kürten, A., Shen, J., Rörup, B., Rissanen, M., Schobesberger, S., Baalbaki, R., Wang, D. S., Koenig, T. K., Jokinen, T., Sarnela, N., Beck, L. J., Almeida, J., Amanatidis, S., Amorim, A., Ataei, F., Baccarini, A., Bertozzi, B., Bianchi, F., Brilke, S., Caudillo, L., Chen, D., Chiu, R., Chu, B., Dias, A., Ding, A., Dommen, J., Duplissy, J., El Haddad, I., Gonzalez Carracedo, L., Granzin, M., Hansel, A., Heinritzi, M., Hofbauer, V., Junninen, H., Kangasluoma, J., Kemppainen, D., Kim, C., Kong, W., Krechmer, J. E., Kvashin, A., Laitinen, T., Lamkaddam, H., Lee, C. P., Lehtipalo, K., Leiminger, M., Li, Z., Makhmutov, V., Manninen, H. E., Marie, G., Marten, R., Mathot, S., Mauldin, R. L., Mentler, B., Möhler, O., Müller, T., Nie, W., Onnela, A., Petäjä, T., Pfeifer, J., Philippov, M., Ranjithkumar, A., Saiz-Lopez, A., Salma, I., Scholz, W., Schuchmann, S., Schulze, B., Steiner, G., Stozhkov, Y., Tauber, C., Tomé, A., Thakur, R. C., Väisänen, O., Vazquez-Pufleau, M., Wagner, A. C., Wang, Y., Weber, S. K., Winkler, P. M., Wu, Y., Xiao, M., Yan, C., Ye, Q., Ylisirniö, A., Zauner-Wieczorek, M., Zha, Q., Zhou, P., Flagan, R. C., Curtius, J., Baltensperger, U., Kulmala, M., Kerminen, V.-M., Kurtén, T., Donahue, N. M., Volkamer, R., Kirkby, J., Worsnop, D. R., and Sipilä, M.: Role of iodine oxoacids in atmospheric aerosol nucleation, Science, 371, 589–595, 2021. a
Heintzenberg, J., Wehner, B., and Birmili, W.: `How to find bananas in the atmospheric aerosol': new approach for analyzing atmospheric nucleation and growth events, Tellus B, 59, 273–282, 2007. a
Humphries, R. S., Keywood, M. D., Gribben, S., McRobert, I. M., Ward, J. P., Selleck, P., Taylor, S., Harnwell, J., Flynn, C., Kulkarni, G. R., Mace, G. G., Protat, A., Alexander, S. P., and McFarquhar, G.: Southern Ocean latitudinal gradients of cloud condensation nuclei, Atmos. Chem. Phys., 21, 12757–12782, https://doi.org/10.5194/acp-21-12757-2021, 2021. a
Hussein, T., Martikainen, J., Junninen, H., Sogacheva, L., Wagner, R., Dal Maso, M., Riipinen, I., Aalto, P. P., and Kulmala, M.: Observation of regional new particle formation in the urban atmosphere, Tellus B, 60, 509–521, 2008. a
Jokinen, T., Sipilä, M., Kontkanen, J., Vakkari, V., Tisler, P., Duplissy, E.-M., Junninen, H., Kangasluoma, J., Manninen, H., Petäjä, T., Kulmala, M., Worsnop, D. R., Kirkby, J., Virkkula, A., and Kerminen, V.-M.: Ion-induced sulfuric acid–ammonia nucleation drives particle formation in coastal Antarctica, Sci. Adv., 4, eaat9744, https://doi.org/10.1126/sciadv.aat9744, 2018. a
Jokinen, T., Lehtipalo, K., Thakur, R. C., Ylivinkka, I., Neitola, K., Sarnela, N., Laitinen, T., Kulmala, M., Petäjä, T., and Sipilä, M.: Measurement report: Long-term measurements of aerosol precursor concentrations in the Finnish subarctic boreal forest, Atmos. Chem. Phys., 22, 2237–2254, https://doi.org/10.5194/acp-22-2237-2022, 2022. a
Kerminen, V.-M., Paramonov, M., Anttila, T., Riipinen, I., Fountoukis, C., Korhonen, H., Asmi, E., Laakso, L., Lihavainen, H., Swietlicki, E., Svenningsson, B., Asmi, A., Pandis, S. N., Kulmala, M., and Petäjä, T.: Cloud condensation nuclei production associated with atmospheric nucleation: a synthesis based on existing literature and new results, Atmos. Chem. Phys., 12, 12037–12059, https://doi.org/10.5194/acp-12-12037-2012, 2012. a
Kerminen, V.-M., Chen, X., Vakkari, V., Petäjä, T., Kulmala, M., and Bianchi, F.: Atmospheric new particle formation and growth: review of field observations, Environ. Res. Lett., 13, 103003, https://doi.org/10.1088/1748-9326/aadf3c, 2018. a
Kulmala, M., Maso, M. D., Mäkelä, J., Pirjola, L., Väkevä, M., Aalto, P., Miikkulainen, P., Hämeri, K., and O'dowd, C.: On the formation, growth and composition of nucleation mode particles, Tellus B, 53, 479–490, 2001. a
Kulmala, M., Petäjä, T., Nieminen, T., Sipilä, M., Manninen, H. E., Lehtipalo, K., Dal Maso, M., Aalto, P. P., Junninen, H., Paasonen, P., Riipinen, I., Lehtinen, K. E. J., Laaksonen, A., and Kerminen, V.-M.: Measurement of the nucleation of atmospheric aerosol particles, Nat. Protocol., 7, 1651, https://doi.org/10.1038/nprot.2012.091, 2012. a
Land information New Zealand: Tide predictions, https://www.linz.govt.nz/sea/tides/tide-predictions, last access: 31 May 2021. a
Law, C. S., Smith, M. J., Harvey, M. J., Bell, T. G., Cravigan, L. T., Elliott, F. C., Lawson, S. J., Lizotte, M., Marriner, A., McGregor, J., Ristovski, Z., Safi, K. A., Saltzman, E. S., Vaattovaara, P., and Walker, C. F.: Overview and preliminary results of the Surface Ocean Aerosol Production (SOAP) campaign, Atmos. Chem. Phys., 17, 13645–13667, https://doi.org/10.5194/acp-17-13645-2017, 2017. a, b, c
Li, J., Michalski, G., Davy, P., Harvey, M., Katzman, T., and Wilkins, B.: Investigating Source Contributions of Size-Aggregated Aerosols Collected in Southern Ocean and Baring Head, New Zealand Using Sulfur Isotopes, Geophys. Res. Lett., 45, 3717–3727, 2018. a, b, c, d
Li, J., Davy, P., Harvey, M., Katzman, T., Mitchell, T., and Michalski, G.: Nitrogen isotopes in nitrate aerosols collected in the remote marine boundary layer: Implications for nitrogen isotopic fractionations among atmospheric reactive nitrogen species, Atmos. Environ., 245, 118028, https://doi.org/10.1016/j.atmosenv.2020.118028, 2021. a
Mayer, K. J., Wang, X., Santander, M. V., Mitts, B. A., Sauer, J. S., Sultana, C. M., Cappa, C. D., and Prather, K. A.: Secondary Marine Aerosol Plays a Dominant Role over Primary Sea Spray Aerosol in Cloud Formation, ACS Centr. Sci., 6, 2259–2266, 2020. a, b
McCoy, D. T., Burrows, S. M., Wood, R., Grosvenor, D. P., Elliott, S. M., Ma, P.-L., Rasch, P. J., and Hartmann, D. L.: Natural aerosols explain seasonal and spatial patterns of Southern Ocean cloud albedo, Sci. Adv., 1, e1500157, https://doi.org/10.1126/sciadv.1500157, 2015. a
Mirme, S. and Mirme, A.: The mathematical principles and design of the NAIS – a spectrometer for the measurement of cluster ion and nanometer aerosol size distributions, Atmos. Meas. Tech., 6, 1061–1071, https://doi.org/10.5194/amt-6-1061-2013, 2013. a
Modini, R. L., Ristovski, Z. D., Johnson, G. R., He, C., Surawski, N., Morawska, L., Suni, T., and Kulmala, M.: New particle formation and growth at a remote, sub-tropical coastal location, Atmos. Chem. Phys., 9, 7607–7621, https://doi.org/10.5194/acp-9-7607-2009, 2009. a, b, c
Molloy, S. and Galbally, I.: Analysis and identification of a suitable baseline definition for tropospheric ozone at Cape Grim, Tasmania, Baseline Atmospheric Program Australia, Baseline: 2009–2010, 7–16, http://www.bom.gov.au/inside/cgbaps/baseline/Baseline_2009-2010.pdf (last access: 6 May 2022), 2014. a
Murphy, R., Pinkerton, M., Richardson, K., Bradford-Grieve, J., and Boyd, P.: Phytoplankton distributions around New Zealand derived from SeaWiFS remotely-sensed ocean colour data, N. Zeal. J. Mar. Freshw. Res., 35, 343–362, 2001. a
Nieminen, T., Kerminen, V.-M., Petäjä, T., Aalto, P. P., Arshinov, M., Asmi, E., Baltensperger, U., Beddows, D. C. S., Beukes, J. P., Collins, D., Ding, A., Harrison, R. M., Henzing, B., Hooda, R., Hu, M., Hõrrak, U., Kivekäs, N., Komsaare, K., Krejci, R., Kristensson, A., Laakso, L., Laaksonen, A., Leaitch, W. R., Lihavainen, H., Mihalopoulos, N., Németh, Z., Nie, W., O'Dowd, C., Salma, I., Sellegri, K., Svenningsson, B., Swietlicki, E., Tunved, P., Ulevicius, V., Vakkari, V., Vana, M., Wiedensohler, A., Wu, Z., Virtanen, A., and Kulmala, M.: Global analysis of continental boundary layer new particle formation based on long-term measurements, Atmos. Chem. Phys., 18, 14737–14756, https://doi.org/10.5194/acp-18-14737-2018, 2018. a, b, c, d, e, f, g
Noble, S. R. and Hudson, J. G.: Effects of continental clouds on surface Aitken and accumulation modes, J. Geophys. Res.-Atmos., 124, 5479–5502, 2019. a
Nodder, S.: Short-term sediment trap fluxes from Chatham Rise, southwest Pacific Ocean, Limnol. Oceanogr., 42, 777–783, 1997. a
O'Dowd, C., Monahan, C., and Dall'Osto, M.: On the occurrence of open ocean particle production and growth events, Geophys. Res. Lett., 37, L19805, https://doi.org/10.1029/2010GL044679, 2010. a, b
Paasonen, P., Peltola, M., Kontkanen, J., Junninen, H., Kerminen, V.-M., and Kulmala, M.: Comprehensive analysis of particle growth rates from nucleation mode to cloud condensation nuclei in boreal forest, Atmos. Chem. Phys., 18, 12085–12103, https://doi.org/10.5194/acp-18-12085-2018, 2018. a, b, c, d
Quinn, P. and Bates, T.: The case against climate regulation via oceanic phytoplankton sulphur emissions, Nature, 480, 51–56, https://doi.org/10.1038/nature10580, 2011. a
Ren, L., Nash, S., and Hartnett, M.: Observation and modeling of tide-and wind-induced surface currents in Galway Bay, Water Sci. Eng., 8, 345–352, 2015. a
Rolph, G., Stein, A., and Stunder, B.: Real-time environmental applications and display system: READY, Environ. Model. Softw., 95, 210–228, 2017. a
Rose, C., Sellegri, K., Asmi, E., Hervo, M., Freney, E., Colomb, A., Junninen, H., Duplissy, J., Sipilä, M., Kontkanen, J., Lehtipalo, K., and Kulmala, M.: Major contribution of neutral clusters to new particle formation at the interface between the boundary layer and the free troposphere, Atmos. Chem. Phys., 15, 3413–3428, https://doi.org/10.5194/acp-15-3413-2015, 2015a. a
Rose, C., Sellegri, K., Freney, E., Dupuy, R., Colomb, A., Pichon, J.-M., Ribeiro, M., Bourianne, T., Burnet, F., and Schwarzenboeck, A.: Airborne measurements of new particle formation in the free troposphere above the Mediterranean Sea during the HYMEX campaign, Atmos. Chem. Phys., 15, 10203–10218, https://doi.org/10.5194/acp-15-10203-2015, 2015b. a
Rose, C., Sellegri, K., Velarde, F., Moreno, I., Ramonet, M., Weinhold, K., Krejci, R., Ginot, P., Andrade, M., Wiedensohler, A., and Laj, P.: Frequent nucleation events at the high altitude station of Chacaltaya (5240 m asl), Bolivia, Atmos. Environ., 102, 18–29, 2015c. a, b
Rosenfeld, D., Zhu, Y., Wang, M., Zheng, Y., Goren, T., and Yu, S.: Aerosol-driven droplet concentrations dominate coverage and water of oceanic low-level clouds, Science, 363, eaav0566, https://doi.org/10.1126/science.aav0566, 2019. a, b
Sanchez, K. J., Chen, C.-L., Russell, L. M., Betha, R., Liu, J., Price, D. J., Massoli, P., Ziemba, L. D., Crosbie, E. C., Moore, R. H., Müller, M., Schiller, S. A., Wisthaler, A., Lee, A. K. Y., Quinn, P. K., Bates, T. S., Porter, J., Bell, T. G., Saltzman, E. S., Vaillancourt, R. D., and Behrenfeld, M. J.: Substantial Seasonal Contribution of Observed Biogenic Sulfate Particles to Cloud Condensation Nuclei, Scient. Rep., 8, 3235, https://doi.org/10.1038/s41598-018-21590-9, 2018. a, b
Schmale, J., Baccarini, A., Thurnherr, I., Henning, S., Efraim, A., Regayre, L., Bolas, C., Hartmann, M., Welti, A., Lehtipalo, K., Aemisegger, F., Tatzelt, C., Landwehr, S., Modini, R. L., Tummon, F., Johnson, J. S., Harris, N., Schnaiter, M., Toffoli, A., Derkani, M., Bukowiecki, N., Stratmann, F., Dommen, J., Baltensperger, U., Wernli, H., Rosenfeld, D., Gysel-Beer, M., and Carslaw, K. S.: Overview of the Antarctic circumnavigation expedition: Study of preindustrial-like aerosols and their climate effects (ACE-SPACE), B. Am. Meteorol. Soc., 100, 2260–2283, 2019. a
Schwier, A. N., Rose, C., Asmi, E., Ebling, A. M., Landing, W. M., Marro, S., Pedrotti, M.-L., Sallon, A., Iuculano, F., Agusti, S., Tsiola, A., Pitta, P., Louis, J., Guieu, C., Gazeau, F., and Sellegri, K.: Primary marine aerosol emissions from the Mediterranean Sea during pre-bloom and oligotrophic conditions: correlations to seawater chlorophyll a from a mesocosm study, Atmos. Chem. Phys., 15, 7961–7976, https://doi.org/10.5194/acp-15-7961-2015, 2015. a
Sea2Cloud: Catalogue, https://sea2cloud.data-terra.org/en/catalogue/, last access: 11 May 2022. a
Sellegri, K.: Sea2Cloud – Baring-Head – CPC – Level 0, Dataterra [data set], https://doi.org/10.25326/354, 2022a. a
Sellegri, K.: Sea2Cloud – Baring-Head SMPS – Level 0, Dataterra [data set] https://doi.org/10.25326/356, 2022b. a
Sellegri, K.: Sea2Cloud – Baring-Head – PSM – Level 2, Dataterra [data set], https://doi.org/10.25326/355, 2022c. a
Sievering, H., Cainey, J., Harvey, M., McGregor, J., Nichol, S., and Quinn, P.: Aerosol non-sea-salt sulfate in the remote marine boundary layer under clear-sky and normal cloudiness conditions: Ocean-derived biogenic alkalinity enhances sea-salt sulfate production by ozone oxidation, J. Geophys. Res.-Atmos., 109, D19317, https://doi.org/10.1029/2003JD004315, 2004. a, b
Simon, M., Dada, L., Heinritzi, M., Scholz, W., Stolzenburg, D., Fischer, L., Wagner, A. C., Kürten, A., Rörup, B., He, X.-C., Almeida, J., Baalbaki, R., Baccarini, A., Bauer, P. S., Beck, L., Bergen, A., Bianchi, F., Bräkling, S., Brilke, S., Caudillo, L., Chen, D., Chu, B., Dias, A., Draper, D. C., Duplissy, J., El-Haddad, I., Finkenzeller, H., Frege, C., Gonzalez-Carracedo, L., Gordon, H., Granzin, M., Hakala, J., Hofbauer, V., Hoyle, C. R., Kim, C., Kong, W., Lamkaddam, H., Lee, C. P., Lehtipalo, K., Leiminger, M., Mai, H., Manninen, H. E., Marie, G., Marten, R., Mentler, B., Molteni, U., Nichman, L., Nie, W., Ojdanic, A., Onnela, A., Partoll, E., Petäjä, T., Pfeifer, J., Philippov, M., Quéléver, L. L. J., Ranjithkumar, A., Rissanen, M. P., Schallhart, S., Schobesberger, S., Schuchmann, S., Shen, J., Sipilä, M., Steiner, G., Stozhkov, Y., Tauber, C., Tham, Y. J., Tomé, A. R., Vazquez-Pufleau, M., Vogel, A. L., Wagner, R., Wang, M., Wang, D. S., Wang, Y., Weber, S. K., Wu, Y., Xiao, M., Yan, C., Ye, P., Ye, Q., Zauner-Wieczorek, M., Zhou, X., Baltensperger, U., Dommen, J., Flagan, R. C., Hansel, A., Kulmala, M., Volkamer, R., Winkler, P. M., Worsnop, D. R., Donahue, N. M., Kirkby, J., and Curtius, J.: Molecular understanding of new-particle formation from α-pinene between −50 and +25 ∘C, Atmos. Chem. Phys., 20, 9183–9207, https://doi.org/10.5194/acp-20-9183-2020, 2020. a
Stein, A., Draxler, R. R., Rolph, G. D., Stunder, B. J., Cohen, M., and Ngan, F.: NOAA's HYSPLIT atmospheric transport and dispersion modeling system, B. Am. Meteorol. Soc., 96, 2059–2077, 2015. a
Stephens, B. B., Brailsford, G. W., Gomez, A. J., Riedel, K., Mikaloff Fletcher, S. E., Nichol, S., and Manning, M.: Analysis of a 39-year continuous atmospheric CO2 record from Baring Head, New Zealand, Biogeosciences, 10, 2683–2697, https://doi.org/10.5194/bg-10-2683-2013, 2013. a, b, c, d, e, f
Sulo, J., Sarnela, N., Kontkanen, J., Ahonen, L., Paasonen, P., Laurila, T., Jokinen, T., Kangasluoma, J., Junninen, H., Sipilä, M., Petäjä, T., Kulmala, M., and Lehtipalo, K.: Long-term measurement of sub-3 nm particles and their precursor gases in the boreal forest, Atmos. Chem. Phys., 21, 695–715, https://doi.org/10.5194/acp-21-695-2021, 2021.  a
Vanhanen, J., Mikkilä, J., Lehtipalo, K., Sipilä, M., Manninen, H., Siivola, E., Petäjä, T., and Kulmala, M.: Particle size magnifier for nano-CN detection, Aerosol Sci. Tech., 45, 533–542, 2011. a
Zheng, G., Kuang, C., Uin, J., Watson, T., and Wang, J.: Large contribution of organics to condensational growth and formation of cloud condensation nuclei (CCN) in the remote marine boundary layer, Atmos. Chem. Phys., 20, 12515–12525, https://doi.org/10.5194/acp-20-12515-2020, 2020. a
Zheng, G., Wang, Y., Wood, R., Jensen, M. P., Kuang, C., McCoy, I. L., Matthews, A., Mei, F., Tomlinson, J. M., Shilling, J. E., Zawadowicz,M. A., Crosbie, E., Moore, R., Ziemba, L., Andreae, M. O., and Wang, J.: New particle formation in the remote marine boundary layer, Nat. Commun., 12, 1–10, 2021. a