Articles | Volume 22, issue 19
https://doi.org/10.5194/acp-22-12945-2022
© Author(s) 2022. This work is distributed under
the Creative Commons Attribution 4.0 License.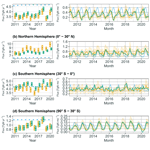 Modelling the growth of atmospheric nitrous oxide using a global hierarchical inversion
Nitrous oxide is a potent greenhouse gas (GHG) and ozone-depleting substance, whose atmospheric abundance has risen throughout the contemporary record. In this work, we carry out the first global hierarchical Bayesian inversion to solve for nitrous oxide emissions, which includes prior emissions with truncated Gaussian distributions and Gaussian model errors, in order to examine the drivers of the atmospheric surface growth rate. We show that both emissions and climatic variability are key drivers of variations in the surface nitrous oxide growth rate between 2011 and 2020. We derive increasing global nitrous oxide emissions, which are mainly driven by emissions between 0 and 30∘ N, with the highest emissions recorded in 2020. Our mean global total emissions for 2011–2020 of 17.2 (16.7–17.7 at the 95 % credible intervals) Tg N yr−1, comprising of 12.0 (11.2–12.8) Tg N yr−1 from land and 5.2 (4.5–5.9) Tg N yr−1 from ocean, agrees well with previous studies, but we find that emissions are poorly constrained for some regions of the world, particularly for the oceans. The prior emissions used in this and other previous work exhibit a seasonal cycle in the extra-tropical Northern Hemisphere that is out of phase with the posterior solution, and there is a substantial zonal redistribution of emissions from the prior to the posterior. Correctly characterizing the uncertainties in the system, for example in the prior emission fields, is crucial for deriving posterior fluxes that are consistent with observations. In this hierarchical inversion, the model-measurement discrepancy and the prior flux uncertainty are informed by the data, rather than solely through "expert judgement". We show cases where this framework provides different plausible adjustments to the prior fluxes compared to inversions using widely adopted, fixed uncertainty constraints.
Received: 20 Jun 2022 – Discussion started: 04 Jul 2022 – Revised: 15 Sep 2022 – Accepted: 16 Sep 2022 – Published: 10 Oct 2022
Nitrous oxide (N2O) is an important greenhouse gas (GHG) that contributes substantially to the increase in radiative forcing of climate by anthropogenic activities (Myhre et al., 2013; Etminan et al., 2016). Additionally, nitrous oxide is currently the largest contributor to stratospheric ozone depletion, when considering ozone depletion potential-weighted anthropogenic emissions (Ravishankara et al., 2009). The amount of nitrous oxide in the atmosphere has risen from about 290 ppb in 1940 to 333 ppb in 2020 (Park et al., 2012; Prinn et al., 2000, 2018; Dlugokencky et al., 2021). This rise is predominantly due to increasing agricultural emissions (Davidson, 2009; Syakila and Kroeze, 2011; Tian et al., 2019). The natural sources of nitrous oxide are natural soils, biomass burning, and oceans, which are all highly uncertain in magnitude and distribution (e.g. Ciais et al., 2013). Nitrous oxide is only slowly removed from the atmosphere by photolysis and reaction with excited oxygen atoms (O(1D)) in the stratosphere, resulting in a lifetime of about 120 years (Ko et al., 2013; Prather et al., 2015).
The atmospheric abundance of nitrous oxide is monitored by several laboratories, and in this work, we use measurements taken by the National Oceanic and Atmospheric Administration (NOAA; Dlugokencky et al., 2021; Sweeney et al., 2021) and the Advanced Global Atmospheric Gases Experiment (AGAGE; Prinn et al., 2000, 2018). Figure 1 shows the atmospheric surface nitrous oxide growth rate from 2011 to 2020 based on these observations. From mid-2017 until 2019, the abundance of nitrous oxide was growing fastest in the Southern Hemisphere. Since 2000, this is only the second extended time period where the surface growth rate was led by the Southern Hemisphere. This pattern may be explained by increasing emissions within this region (Thompson et al., 2019; Tian et al., 2020; Patra et al., 2022), or by climatic variability, (e.g. the quasi-biennial oscillation (QBO)), which have been shown to be key drivers of the growth rate of surface nitrous oxide mole fraction (Ray et al., 2020; Ruiz et al., 2021).
Previous global nitrous oxide inversions that estimated emissions from atmospheric mole fraction data include Wells et al. (2015, 2018), Thompson et al. (2019), Tian et al. (2020), and Patra et al. (2022). The latter three investigated decadal-scale emissions trends, finding that global nitrous oxide emissions have risen over the last 2 decades, with Thompson et al. (2019) attributing this rise to agricultural soils as a result of a non-linear relationship between nitrogen inputs and nitrous oxide emissions.
The agreement between previous inversion studies demonstrates that global total nitrous oxide emissions are well constrained by observations at around 17 Tg N yr−1. However, there is considerable variation on the regional scale. For example, one inversion setup in Thompson et al. (2019) derives oceanic emissions of 7.2 Tg N yr−1 over 1998–2016, whereas Patra et al. (2022) derives oceanic emissions of 2.8 Tg N yr−1 over 2000–2019. The discrepancy is also seen in developed land regions. For example, Wells et al. (2018) derives very different emissions for Europe (0.43–1.05 Tg N yr−1), depending on the inversion setup. These discrepancies suggest that new measurement or modelling approaches are required to constrain fluxes at the regional scale in global inversions.
The limited ability of atmospheric observations within global inversions to partition emissions at the regional scale means that the "bottom-up" inventory and process-modelling estimates used as prior estimates for the "top-down" inversion methods could strongly influence the inversion results. The majority of nitrous oxide emissions come from poorly understood microbial processes in the soil (Butterbach-Bahl et al., 2013), which are controlled by temperature, moisture, nitrogen inputs, and other environmental factors. Most of the remaining emissions are oceanic, and are also derived from microbial processes. Marine nitrous oxide emissions additionally require knowledge of air–sea exchange (Nevison et al., 1995; Manizza et al., 2012; Yang et al., 2020). The complex and poorly understood nature of nitrous oxide emissions means that uncertainties in the prior estimates are difficult to characterize. For example, the posterior solutions of several previous inversions have substantially altered seasonal cycles compared to bottom-up studies (e.g. Thompson et al., 2014a; Nevison et al., 2018; Wells et al., 2018). This discrepancy is thought to be due to missing freeze–thaw processes or fertilizer-application timings in process models (Wagner-Riddle et al., 2017; Nevison et al., 2018; Wells et al., 2018), or inaccuracies in top-down estimates due to model transport (Nevison et al., 2007; Thompson et al., 2014a).
Here, for the first time, we use a hierarchical Bayesian global inversion framework to estimate nitrous oxide emissions from 2011 to 2020. Previous studies investigating nitrous oxide have used either an analytical Bayesian inversion framework (e.g. Thompson et al., 2019; Tian et al., 2020; Patra et al., 2022) or a four-dimensional variational (4D-Var) method (e.g. Wells et al., 2015, 2018; Thompson et al., 2019; Tian et al., 2020). Our hierarchical Bayesian inversion framework is advantageous as both analytical and 4D-Var atmospheric inversions require specification of uncertainties on the prior fluxes and model error, both often assumed to be Gaussian, which are determined by "expert judgement". Incorrectly specified uncertainties can significantly impact the posterior solution (Ganesan et al., 2014). The hierarchical inversion addresses this by using hyper-parameters to explore a range of possible prior uncertainties. Additionally, using Markov chain Monte Carlo (MCMC) allows the use of non-Gaussian flux distributions, which cannot easily be implemented in analytical inversion systems. These distributions are useful for gases such as nitrous oxide, as we expect land emissions to be predominantly positive. In this work, we investigate nitrous oxide emissions on a global and zonal scale using the hierarchical inversion. To help examine departures from previous inversions and explore the benefits of the hierarchical framework, we compare it to results from an analytical inversion.
We carried out the first hierarchical inversion to solve for global nitrous oxide emissions. We find that global emissions have increased between 2011 and 2020, with substantial interannual variability. Emissions derived for 2020 were the highest in this period, 19.5 (95 % credible interval: 18.9–20.1) Tg N yr−1 due to an increase of emissions in the tropics. On annual timescales, our estimated global emissions differ from other studies, likely due to differences in atmospheric chemical transport models and optimizing emissions for different regions, rather than the inversion method. We show that the recent atmospheric surface growth rate fluctuations are likely to be driven by both emissions and interannual variability in transport.
At the zonal scale, we find several issues with the bottom-up emission estimates used as a prior. The posterior seasonal cycle in the extra-tropical Northern Hemisphere is out of phase with the prior. This may be because the agricultural soil emissions in the prior are only on an annual resolution, and/or because natural soil emissions do not include important processes such as freeze–thaw cycles. Additionally, there has been a substantial redistribution of emissions from the extra-tropics in the prior to the tropics in the Northern Hemisphere in the posterior. This is the zonal band where most of the globally increasing trend comes from over the time period studied.
By adapting and extending the hierarchical inversion framework of Zammit-Mangion et al. (2022), we have shown that inversions for nitrous oxide can be performed that do not rely on rigid assumptions regarding error budgets or the uncertainty of the fluxes. Our uncertainties are estimated by the inversion and are generally smaller than those that would be used in a non-hierarchical inversion for the same number of data points and uncertain parameters, and therefore our inversion is more data-constrained. Additionally, our uncertainties vary greatly across different stations and regions, which is not considered in previous non-hierarchical studies. Two innovations in this work over Zammit-Mangion et al. (2022) are the moving window technique, which allows for more efficient computation of fluxes over very long time periods (∼10 years or longer), and the incorporation of a truncated Gaussian prior to impose sign constraints on the emissions. The method presented here serves as a framework that can be extended to higher-resolution models (potentially allowing more reliable regional emissions inference) and larger datasets.
Code and data availability
ACS wrote the code (excluding the WOMBAT framework), performed the calculations, and led the writing of the manuscript. MB and AZM wrote the original WOMBAT framework and MB helped to develop the framework further for this work. PJF, CMH, PBK, JM, SO, RGP, RFW, and DY provided the AGAGE atmospheric measurements. XL provided the NOAA atmospheric measurements. MM provided ocean model output and helped to interpret the results. ACS, MB, AZM, MR, and ALG designed the research. All authors contributed to the manuscript.
The contact author has declared that none of the authors has any competing interests.
Neither UKRI nor any of the partner institutions are responsible for the views advanced here.

Publisher's note: Copernicus Publications remains neutral with regard to jurisdictional claims in published maps and institutional affiliations.
This work results from research funded by UK Research and Innovation (UKRI) under the South Asian Nitrogen Hub (SANH). The project team includes partners from across South Asia and the UK. Angharad C. Stell was supported by SANH. Michael Bertolacci and Andrew Zammit-Mangion were supported by the Australian Research Council (ARC) Discovery Project (DP). The MHD, THD, RPB, SMO, and CGO AGAGE stations are supported by the National Aeronautics and Space Administration (NASA). Support also comes from the UK Department for Business, Energy & Industrial Strategy (BEIS) for MHD, NOAA for RPB, and the Commonwealth Scientific and Industrial Research Organization (CSIRO) and the Bureau of Meteorology (Australia) for CGO. This work is supported in part by the Cooperative Agreement between NOAA and the Cooperative Institute for Research in Environmental Sciences (CIRES).
This research has been supported by the UK Research and Innovation (grant no. NE/S009019/1), the Australian Research Council (grant no. DP190100180), and the National Aeronautics and Space Administration (grant nos. NX16AC98G, NNX16AC97G, and NNX16AC96G).
This paper was edited by Andreas Hofzumahaus and reviewed by two anonymous referees.
Arnold, T., Manning, A. J., Kim, J., Li, S., Webster, H., Thomson, D., Mühle, J., Weiss, R. F., Park, S., and O'Doherty, S.: Inverse modelling of CF4 and NF3 emissions in East Asia, Atmos. Chem. Phys., 18, 13305–13320, https://doi.org/10.5194/acp-18-13305-2018, 2018. a
Butterbach-Bahl, K., Baggs, E. M., Dannenmann, M., Kiese, R., and Zechmeister-Boltenstern, S.: Nitrous oxide emissions from soils: how well do we understand the processes and their controls?, Philos. T. Roy. Soc. B, 368, 20130122, https://doi.org/10.1098/rstb.2013.0122, 2013. a
Chen, Y.-H. and Prinn, R. G.: Estimation of atmospheric methane emissions between 1996 and 2001 using a three-dimensional global chemical transport model, J. Geophys. Res.-Atmos., 111, D10307, https://doi.org/10.1029/2005JD006058, 2006. a
Ciais, P., Sabine, C., Bala, G., Bopp, L., Brovkin, V., Canadell, J., Chhabra, A., DeFries, R., Galloway, J., Heimann, M., Jones, C., Le Quéré, C., Myneni, R. B., Piao, S., and Thornton, P.: Carbon and other biogeochemical cycles in climate change 2013 – The physical science basis, in: Working Group I Contribution to the Fifth Assessment Report of the Intergovernmental Panel on Climate Change, edited by: [Stocker, T. F., Qin, D., Plattner, G.-K., Tignor, M., Allen, S. K., Boschung, J., Nauels, A., Xia, Y., Bex, V. and Midgley, P. M., Cambridge University Press, Cambridge, United Kingdom and New York, NY, USA, 465–570, 2013. a
Crippa, M., Oreggioni, G., Guizzardi, D., Muntean, M., Schaaf, E., Lo Vullo, E., Solazzo, E., Monforti-Ferrario, F., Olivier, J., Vignati, E., European Commission, and Joint Research Centre: Fossil CO2 and GHG emissions of all world countries: 2019 report, Publications Office of the European Union, Luxembourg, https://doi.org/10.2760/687800, 2019. a, b
Davidson, E. A.: The contribution of manure and fertilizer nitrogen to atmospheric nitrous oxide since 1860, Nat. Geosci., 2, 659–662, https://doi.org/10.1038/ngeo608, 2009. a
Dlugokencky, E., Crotwell, A., Lang, P., Higgs, J., Vaughn, B., Englund, S., Novelli, P., Wolter, S., Mund, J., Moglia, E., Crotwell, M., and NOAA ESRL: Earth System Research Laboratory Carbon Cycle and Greenhouse Gases Group Flask-Air Sample Measurements of CO2, CH4, CO, N2O, H2, SF6 and isotopic ratios at Global and Regional Background Sites, 1967–Present, Version 2.0, NOAA National Centers for Environmental Information [data set], https://doi.org/10.7289/V5CN725S, 2021. a, b, c, d
Espinoza‐Morriberón, D., Echevin, V., Colas, F., Tam, J., Ledesma, J., Vásquez, L., and Graco, M.: Impacts of El Niño events on the Peruvian upwelling system productivity, J. Geophys. Res.-Oceans, 122, 5423–5444, https://doi.org/10.1002/2016JC012439, 2017. a
Etminan, M., Myhre, G., Highwood, E. J., and Shine, K. P.: Radiative forcing of carbon dioxide, methane, and nitrous oxide: A significant revision of the methane radiative forcing, Geophys. Res. Lett., 43, 12614–12623, https://doi.org/10.1002/2016GL071930, 2016. a
Ganesan, A. L., Rigby, M., Zammit-Mangion, A., Manning, A. J., Prinn, R. G., Fraser, P. J., Harth, C. M., Kim, K.-R., Krummel, P. B., Li, S., Mühle, J., O'Doherty, S. J., Park, S., Salameh, P. K., Steele, L. P., and Weiss, R. F.: Characterization of uncertainties in atmospheric trace gas inversions using hierarchical Bayesian methods, Atmos. Chem. Phys., 14, 3855–3864, https://doi.org/10.5194/acp-14-3855-2014, 2014. a
Ganesan, A. L., Manizza, M., Morgan, E. J., Harth, C. M., Kozlova, E., Lueker, T., Manning, A. J., Lunt, M. F., Mühle, J., Lavric, J. V., Heimann, M., Weiss, R. F., and Rigby, M.: Marine Nitrous Oxide Emissions From Three Eastern Boundary Upwelling Systems Inferred From Atmospheric Observations, Geophys. Res. Lett., 47, e2020GL087822, https://doi.org/10.1029/2020GL087822, 2020. a, b
Gelaro, R., McCarty, W., Suárez, M. J., Todling, R., Molod, A., Takacs, L., Randles, C. A., Darmenov, A., Bosilovich, M. G., Reichle, R., Wargan, K., Coy, L., Cullather, R., Draper, C., Akella, S., Buchard, V., Conaty, A., da Silva, A. M., Gu, W., Kim, G.-K., Koster, R., Lucchesi, R., Merkova, D., Nielsen, J. E., Partyka, G., Pawson, S., Putman, W., Rienecker, M., Schubert, S. D., Sienkiewicz, M., and Zhao, B.: The Modern-Era Retrospective Analysis for Research and Applications, Version 2 (MERRA-2), J. Climate, 30, 5419–5454, https://doi.org/10.1175/JCLI-D-16-0758.1, 2017. a
Gurney, K. R., Law, R. M., Denning, A. S., Rayner, P. J., Baker, D., Bousquet, P., Bruhwiler, L., Chen, Y.-H., Ciais, P., Fan, S., Fung, I. Y., Gloor, M., Heimann, M., Higuchi, K., John, J., Maki, T., Maksyutov, S., Masarie, K., Peylin, P., Prather, M., Pak, B. C., Randerson, J., Sarmiento, J., Taguchi, S., Takahashi, T., and Yuen, C.-W.: Towards robust regional estimates of CO2 sources and sinks using atmospheric transport models, Nature, 415, 626–630, https://doi.org/10.1038/415626a, 2002. a
Harris, E., Yu, L., Wang, Y.-P., Mohn, J., Henne, S., Bai, E., Barthel, M., Bauters, M., Boeckx, P., Dorich, C., Farrell, M., Krummel, P. B., Loh, Z. M., Reichstein, M., Six, J., Steinbacher, M., Wells, N. S., Bahn, M., and Rayner, P.: Warming and redistribution of nitrogen inputs drive an increase in terrestrial nitrous oxide emission factor, Nat. Commun., 13, 4310, https://doi.org/10.1038/s41467-022-32001-z, 2022. a
Ishijima, K., Nakazawa, T., and Aoki, S.: Variations of atmospheric nitrous oxide concentration in the northern and western Pacific, Tellus B, 61, 408–415, https://doi.org/10.1111/j.1600-0889.2008.00406.x, 2009. a, b, c
Ji, Q., Altabet, M. A., Bange, H. W., Graco, M. I., Ma, X., Arévalo-Martínez, D. L., and Grundle, D. S.: Investigating the effect of El Niño on nitrous oxide distribution in the eastern tropical South Pacific, Biogeosciences, 16, 2079–2093, https://doi.org/10.5194/bg-16-2079-2019, 2019. a, b, c
Jones, A., Thomson, D., Hort, M., and Devenish, B.: The U.K. Met Office's Next-Generation Atmospheric Dispersion Model, NAME III, in: Air Pollution Modeling and Its Application XVII, edited by: Borrego C. and Norman AL., 580–589, Springer, Boston, MA, https://doi.org/10.1007/978-0-387-68854-1_62, 2007. a
Ko, M. K. W., Newman, P. A., Reimann, S., and Strahan, S. E.: SPARC Report on Lifetimes of Stratospheric Ozone-Depleting Substances, Their Replacements, and Related Species, Tech. rep., SPARC Office, http://www.sparc-climate.org/publications/sparc-reports/ (last access: 7 July 2022), SPARC Publication Title: SPARC Report vol. 6, 2013. a, b
Manizza, M., Keeling, R. F., and Nevison, C. D.: On the processes controlling the seasonal cycles of the air–sea fluxes of O2 and N2O: A modelling study, Tellus B, 64, 18429, https://doi.org/10.3402/tellusb.v64i0.18429, 2012. a
Myhre, G., Shindell, D., Bréon, F.-M., Collins, W., Fuglestvedt, J., Huang, J., Koch, D., Lamarque, J.-F., Lee, D., Mendoza, B., Nakajima, T., Robock, A., Stephens, G., Takemura, T., and Zhang, H.: Anthropogenic and Natural Radiative Forcing, in: Climate Change 2013: The Physical Science Basis, Contribution of Working Group I to the Fifth Assessment Report of the Intergovernmental Panel on Climate Change edited by: Stocker, T.F., Qin, D., Plattner, G.-K., Tignor, M., Allen, S.K., Boschung, J., Nauels, A., Xia, Y., Bex, V., and Midgley, P.M., 82, Cambridge University Press, Cambridge, United Kingdom and New York, NY, USA, 2013. a
Nevison, C., Andrews, A., Thoning, K., Dlugokencky, E., Sweeney, C., Miller, S., Saikawa, E., Benmergui, J., Fischer, M., Mountain, M., and Nehrkorn, T.: Nitrous Oxide Emissions Estimated With the CarbonTracker‐Lagrange North American Regional Inversion Framework, Global Biogeochem. Cycles, 32, 463–485, https://doi.org/10.1002/2017GB005759, 2018. a, b, c, d
Nevison, C. D., Weiss, R. F., and Erickson, D. J.: Global oceanic emissions of nitrous oxide, J. Geophys. Res., 100, 15809–15820, https://doi.org/10.1029/95JC00684, 1995. a
Nevison, C. D., Mahowald, N. M., Weiss, R. F., and Prinn, R. G.: Interannual and seasonal variability in atmospheric N2O, Global Biogeochem. Cycles, 21, GB3017, https://doi.org/10.1029/2006GB002755, 2007. a
Pakman, A. and Paninski, L.: Exact Hamiltonian Monte Carlo for Truncated Multivariate Gaussians, J. Comput. Graphical Stat., 23, 518–542, https://doi.org/10.1080/10618600.2013.788448, 2014. a
Park, S., Croteau, P., Boering, K. A., Etheridge, D. M., Ferretti, D., Fraser, P. J., Kim, K.-R., Krummel, P. B., Langenfelds, R. L., van Ommen, T. D., Steele, L. P., and Trudinger, C. M.: Trends and seasonal cycles in the isotopic composition of nitrous oxide since 1940, Nat. Geosci., 5, 261–265, https://doi.org/10.1038/ngeo1421, 2012. a
Patra, P. K., Dlugokencky, E. J., Elkins, J. W., Dutton, G. S., Tohjima, Y., Sasakawa, M., Ito, A., Weiss, R. F., Manizza, M., Krummel, P. B., Prinn, R. G., O'Doherty, S., Bianchi, D., Nevison, C., Solazzo, E., Lee, H., Joo, S., Kort, E. A., Maity, S., and Takigawa, M.: Forward and Inverse Modelling of Atmospheric Nitrous Oxide Using MIROC4-Atmospheric Chemistry-Transport Model, J. Meteorol. Soc. Japan. Ser. II, 100, 361–386, https://doi.org/10.2151/jmsj.2022-018, 2022. a, b, c, d, e, f, g, h, i, j, k, l, m, n, o
Prather, M. J., Hsu, J., DeLuca, N. M., Jackman, C. H., Oman, L. D., Douglass, A. R., Fleming, E. L., Strahan, S. E., Steenrod, S. D., Søvde, O. A., Isaksen, I. S. A., Froidevaux, L., and Funke, B.: Measuring and modeling the lifetime of nitrous oxide including its variability, J. Geophys. Res.-Atmos., 120, 5693–5705, https://doi.org/10.1002/2015JD023267, 2015. a, b
Prinn, R. G., Weiss, R. F., Fraser, P. J., Simmonds, P. G., Cunnold, D. M., Alyea, F. N., O'Doherty, S., Salameh, P., Miller, B. R., Huang, J., Wang, R. H. J., Hartley, D. E., Harth, C., Steele, L. P., Sturrock, G., Midgley, P. M., and McCulloch, A.: A history of chemically and radiatively important gases in air deduced from ALE/GAGE/AGAGE, J. Geophys. Res.-Atmos., 105, 17751–17792, https://doi.org/10.1029/2000JD900141, 2000. a, b, c
Prinn, R. G., Weiss, R. F., Arduini, J., Arnold, T., DeWitt, H. L., Fraser, P. J., Ganesan, A. L., Gasore, J., Harth, C. M., Hermansen, O., Kim, J., Krummel, P. B., Li, S., Loh, Z. M., Lunder, C. R., Maione, M., Manning, A. J., Miller, B. R., Mitrevski, B., Mühle, J., O'Doherty, S., Park, S., Reimann, S., Rigby, M., Saito, T., Salameh, P. K., Schmidt, R., Simmonds, P. G., Steele, L. P., Vollmer, M. K., Wang, R. H., Yao, B., Yokouchi, Y., Young, D., and Zhou, L.: History of chemically and radiatively important atmospheric gases from the Advanced Global Atmospheric Gases Experiment (AGAGE), Earth Syst. Sci. Data, 10, 985–1018, https://doi.org/10.5194/essd-10-985-2018, 2018. a, b, c
Prinn, R., Weiss, R., Arduini, J., Arnold, T., DeWitt, H. L., Fraser, P., Ganesan, A., Gasore, J., Harth, C., Hermansen, O., Kim, J., Krummel, P., Li, S., Loh, Z., Lunder, C., Maione, M., Manning, A., Miller, B., Mitrevski, B., Mühle, J., O'Doherty, S., Park, S., Reimann, S., Rigby, M., Saito, T., Salameh, P., Schmidt, R., Simmonds, P., Steele, P., Vollmer, M., Wang, H., Yao, B., Young, D., and Zhou, L.: In-situ measurements of chemically and radiatively important atmospheric gases from the Advanced Global Atmospheric Gas Experiment (AGAGE) and affiliated stations. The Advanced Global Atmospheric Gases Experiment (AGAGE) Data, ESS-DIVE repository [data set], https://doi.org/10.15485/1781803, 2021. a
Randerson, J., van der Werf, G., Giglio, L., Collatz, G., and Kasibhatla, P.: Global Fire Emissions Database, Version 4.1 (GFEDv4), ORNL DAAC [data set], https://doi.org/10.3334/ORNLDAAC/1293, 2017. a, b
Ravishankara, A. R., Daniel, J. S., and Portmann, R. W.: Nitrous Oxide (N2O): The Dominant Ozone-Depleting Substance Emitted in the 21st Century, Science, 326, 123–125, https://doi.org/10.1126/science.1176985, 2009. a
Ray, E. A., Portmann, R. W., Yu, P., Daniel, J., Montzka, S. A., Dutton, G. S., Hall, B. D., Moore, F. L., and Rosenlof, K. H.: The influence of the stratospheric Quasi-Biennial Oscillation on trace gas levels at the Earth's surface, Nat. Geosci., 13, 22–27, https://doi.org/10.1038/s41561-019-0507-3, 2020. a, b
Rotman, D. A., Tannahill, J. R., Kinnison, D. E., Connell, P. S., Bergmann, D., Proctor, D., Rodriguez, J. M., Lin, S. J., Rood, R. B., Prather, M. J., Rasch, P. J., Considine, D. B., Ramaroson, R., and Kawa, S. R.: Global Modeling Initiative assessment model: Model description, integration, and testing of the transport shell, J. Geophys. Res.-Atmos., 106, 1669–1691, https://doi.org/10.1029/2000JD900463, 2001. a
Ruiz, D. J., Prather, M. J., Strahan, S. E., Thompson, R. L., Froidevaux, L., and Steenrod, S. D.: How Atmospheric Chemistry and Transport Drive Surface Variability of N2O and CFC‐11, J. Geophys. Res.-Atmos., 126, e2020JD033979, https://doi.org/10.1029/2020JD033979, 2021. a, b
Saikawa, E., Schlosser, C. A., and Prinn, R. G.: Global modeling of soil nitrous oxide emissions from natural processes, Global Biogeochem. Cycles, 27, 972–989, https://doi.org/10.1002/gbc.20087, 2013. a, b, c, d
Stell, A. C.: Modelling the growth of atmospheric nitrous oxide using a hierarchical inversion, OSF [code and data], https://doi.org/10.17605/OSF.IO/SN539, 2022. a
Stramma, L., Fischer, T., Grundle, D. S., Krahmann, G., Bange, H. W., and Marandino, C. A.: Observed El Niño conditions in the eastern tropical Pacific in October 2015, Ocean Sci., 12, 861–873, https://doi.org/10.5194/os-12-861-2016, 2016. a
Sweeney, C., Higgs, J., Wolter, S., Crotwell, A., Neff, D., Dlugokencky, E., Lang, P., Novelli, P., Mund, J., Moglia, E., Crotwell, M., and NOAA ESRL: Earth System Research Laboratory Carbon Cycle and Greenhouse Gases Group Flask-Air Sample Measurements of CO2, CH4, CO, N2O, H2, and SF6 from the Aircraft Program, 1992–Present, Version 2.0, NOAA National Centers for Environmental Information [data set], https://doi.org/10.7289/V5N58JMF, 2021. a, b
Syakila, A. and Kroeze, C.: The global nitrous oxide budget revisited, Greenhouse Gas Measurement and Management, 1, 17–26, https://doi.org/10.3763/ghgmm.2010.0007, 2011. a
Tarantola, A.: Inverse Problem Theory and Methods for Model Parameter Estimation, Society for Industrial and Applied Mathematics, https://doi.org/10.1137/1.9780898717921, 2005. a
The International GEOS-Chem User Community: geoschem/GCClassic: GEOS-Chem 13.0.0 (13.0.0), Zenodo [code], https://doi.org/10.5281/zenodo.4618180, 2021. a
Thompson, R. L., Dlugokencky, E., Chevallier, F., Ciais, P., Dutton, G., Elkins, J. W., Langenfelds, R. L., Prinn, R. G., Weiss, R. F., Tohjima, Y., O'Doherty, S., Krummel, P. B., Fraser, P., and Steele, L. P.: Interannual variability in tropospheric nitrous oxide, Geophys. Res. Lett., 40, 4426–4431, https://doi.org/10.1002/grl.50721, 2013. a, b
Thompson, R. L., Ishijima, K., Saikawa, E., Corazza, M., Karstens, U., Patra, P. K., Bergamaschi, P., Chevallier, F., Dlugokencky, E., Prinn, R. G., Weiss, R. F., O'Doherty, S., Fraser, P. J., Steele, L. P., Krummel, P. B., Vermeulen, A., Tohjima, Y., Jordan, A., Haszpra, L., Steinbacher, M., Van der Laan, S., Aalto, T., Meinhardt, F., Popa, M. E., Moncrieff, J., and Bousquet, P.: TransCom N2O model inter-comparison – Part 2: Atmospheric inversion estimates of N2O emissions, Atmos. Chem. Phys., 14, 6177–6194, https://doi.org/10.5194/acp-14-6177-2014, 2014a. a, b, c
Thompson, R. L., Patra, P. K., Ishijima, K., Saikawa, E., Corazza, M., Karstens, U., Wilson, C., Bergamaschi, P., Dlugokencky, E., Sweeney, C., Prinn, R. G., Weiss, R. F., O'Doherty, S., Fraser, P. J., Steele, L. P., Krummel, P. B., Saunois, M., Chipperfield, M., and Bousquet, P.: TransCom N2O model inter-comparison – Part 1: Assessing the influence of transport and surface fluxes on tropospheric N2O variability, Atmos. Chem. Phys., 14, 4349–4368, https://doi.org/10.5194/acp-14-4349-2014, 2014b. a
Thompson, R. L., Lassaletta, L., Patra, P. K., Wilson, C., Wells, K. C., Gressent, A., Koffi, E. N., Chipperfield, M. P., Winiwarter, W., Davidson, E. A., Tian, H., and Canadell, J. G.: Acceleration of global N2O emissions seen from two decades of atmospheric inversion, Nat. Clim. Change, 9, 993–998, https://doi.org/10.1038/s41558-019-0613-7, 2019. a, b, c, d, e, f, g, h, i, j, k, l, m, n, o
Tian, H., Yang, J., Xu, R., Lu, C., Canadell, J. G., Davidson, E. A., Jackson, R. B., Arneth, A., Chang, J., Ciais, P., Gerber, S., Ito, A., Joos, F., Lienert, S., Messina, P., Olin, S., Pan, S., Peng, C., Saikawa, E., Thompson, R. L., Vuichard, N., Winiwarter, W., Zaehle, S., and Zhang, B.: Global soil nitrous oxide emissions since the preindustrial era estimated by an ensemble of terrestrial biosphere models: Magnitude, attribution, and uncertainty, Global Change Biol., 25, 640–659, https://doi.org/10.1111/gcb.14514, 2019. a
Tian, H., Xu, R., Canadell, J. G., Thompson, R. L., Winiwarter, W., Suntharalingam, P., Davidson, E. A., Ciais, P., Jackson, R. B., Janssens-Maenhout, G., Prather, M. J., Regnier, P., Pan, N., Pan, S., Peters, G. P., Shi, H., Tubiello, F. N., Zaehle, S., Zhou, F., Arneth, A., Battaglia, G., Berthet, S., Bopp, L., Bouwman, A. F., Buitenhuis, E. T., Chang, J., Chipperfield, M. P., Dangal, S. R. S., Dlugokencky, E., Elkins, J. W., Eyre, B. D., Fu, B., Hall, B., Ito, A., Joos, F., Krummel, P. B., Landolfi, A., Laruelle, G. G., Lauerwald, R., Li, W., Lienert, S., Maavara, T., MacLeod, M., Millet, D. B., Olin, S., Patra, P. K., Prinn, R. G., Raymond, P. A., Ruiz, D. J., van der Werf, G. R., Vuichard, N., Wang, J., Weiss, R. F., Wells, K. C., Wilson, C., Yang, J., and Yao, Y.: A comprehensive quantification of global nitrous oxide sources and sinks, Nature, 586, 248–256, https://doi.org/10.1038/s41586-020-2780-0, 2020.  a, b, c, d, e, f, g
Wagner-Riddle, C., Congreves, K. A., Abalos, D., Berg, A. A., Brown, S. E., Ambadan, J. T., Gao, X., and Tenuta, M.: Globally important nitrous oxide emissions from croplands induced by freeze–thaw cycles, Nat. Geosci., 10, 279–283, https://doi.org/10.1038/ngeo2907, 2017. a, b
Wells, K. C., Millet, D. B., Bousserez, N., Henze, D. K., Chaliyakunnel, S., Griffis, T. J., Luan, Y., Dlugokencky, E. J., Prinn, R. G., O'Doherty, S., Weiss, R. F., Dutton, G. S., Elkins, J. W., Krummel, P. B., Langenfelds, R., Steele, L. P., Kort, E. A., Wofsy, S. C., and Umezawa, T.: Simulation of atmospheric N2O with GEOS-Chem and its adjoint: evaluation of observational constraints, Geosci. Model Dev., 8, 3179–3198, https://doi.org/10.5194/gmd-8-3179-2015, 2015. a, b
Wells, K. C., Millet, D. B., Bousserez, N., Henze, D. K., Griffis, T. J., Chaliyakunnel, S., Dlugokencky, E. J., Saikawa, E., Xiang, G., Prinn, R. G., O'Doherty, S., Young, D., Weiss, R. F., Dutton, G. S., Elkins, J. W., Krummel, P. B., Langenfelds, R., and Steele, L. P.: Top-down constraints on global N2O emissions at optimal resolution: application of a new dimension reduction technique, Atmos. Chem. Phys., 18, 735–756, https://doi.org/10.5194/acp-18-735-2018, 2018. a, b, c, d, e, f, g, h
Yang, S., Chang, B. X., Warner, M. J., Weber, T. S., Bourbonnais, A. M., Santoro, A. E., Kock, A., Sonnerup, R. E., Bullister, J. L., Wilson, S. T., and Bianchi, D.: Global reconstruction reduces the uncertainty of oceanic nitrous oxide emissions and reveals a vigorous seasonal cycle, P. Natl. Acad. Sci. USA, 117, 11954–11960, https://doi.org/10.1073/pnas.1921914117, 2020. a
Zammit-Mangion, A., Bertolacci, M., Fisher, J., Stavert, A., Rigby, M., Cao, Y., and Cressie, N.: WOMBAT v1.0: a fully Bayesian global flux-inversion framework, Geosci. Model Dev., 15, 45–73, https://doi.org/10.5194/gmd-15-45-2022, 2022. a, b, c, d, e, f, g, h, i, j