Articles | Volume 23, issue 16
https://doi.org/10.5194/acp-23-9347-2023
© Author(s) 2023. This work is distributed under
the Creative Commons Attribution 4.0 License.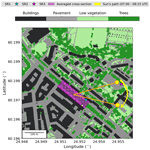 Effect of radiation interaction and aerosol processes on ventilation and aerosol concentrations in a real urban neighbourhood in Helsinki
Large-eddy simulation (LES) is an optimal tool to examine aerosol particle concentrations in detail within urban neighbourhoods. The concentrations are a complex result of local emissions, meteorology, aerosol processes and local mixing conditions due to thermal and mechanical effects. Despite this, most studies have focused on simplification of the affecting processes such as examining the impact of local mixing in idealised street canyons or treating aerosols as passive scalars. The aim of this study is to include all these processes into LES using the PALM model system and to examine the importance of radiative heating and aerosol processes in simulating local aerosol particle concentrations and different aerosol metrics within a realistic urban neighbourhood in Helsinki under morning rush hour with calm wind conditions. The model outputs are evaluated against mobile laboratory measurements of air temperature and total particle number concentration (Ntot) as well as drone measurements of lung-deposited surface area (LDSA).
The inclusion of radiation interaction in LES has a significant impact on simulated near-surface temperatures in our study domain, increasing them on average from 8.6 to 12.4 ∘C. The resulting enhanced ventilation reduces the pedestrian-level (4 m) Ntot by 53 %. The reduction in Ntot due to aerosol processes is smaller, only 18 %. Aerosol processes particularly impact the smallest particle range, whereas radiation interaction is more important in the larger particle range. The inclusion of radiation interaction reduces the bias between the modelled and mobile-laboratory-measured air temperatures from −3.9 to +0.2 ∘C and Ntot from +98 % to −13 %. With both aerosol and radiation interaction on, the underestimation is 16 %, which might be due to overestimation of the ventilation. The results show how inclusion of radiative interaction is particularly important in simulating PM2.5, whereas aerosol processes are more important in simulating LDSA in this calm wind situation.
Received: 29 Sep 2022 – Discussion started: 03 Jan 2023 – Revised: 29 May 2023 – Accepted: 25 Jun 2023 – Published: 24 Aug 2023
Urban air pollution has been recognised as being one of the major global challenges, as it has been estimated to result annually in up to 0.8 million premature deaths in Europe (Lelieveld et al., 2019) and 3 million deaths worldwide (Lelieveld et al., 2015; WHO, 2016). The numbers are expected to increase further in the future as the proportion of the global population living in urban areas is projected to increase from the current 55 % (2018) to 68 % by 2050 (United Nations, 2019). Often the poorest air quality is observed at pedestrian level in street canyons due to the vicinity of road traffic and degraded ventilation (Kurppa et al., 2020). Ventilation of a street canyon or a wider urban area depends not only on building morphology but also on radiative processes, resulting in increased turbulent production and mixing of air when solar radiation is present (Tominaga and Stathopoulos, 2013; Nazarian and Kleissl, 2016; Park et al., 2017). Mechanically and thermally driven turbulence affect urban air pollutant concentrations, and thus understanding their behaviour in detail are vital for correct estimation of urban air quality and aerosol particle concentrations.
Turbulence and street canyon flows have been researched intensively in recent years through computational fluid dynamics (CFD) modelling (e.g. Letzel et al., 2012; Park and Baik, 2013; Kwak et al., 2015; Kurppa et al., 2020). From the two main modelling methods, Reynolds-averaged Navier–Stokes (RANS) and large-eddy simulation (LES), LES has been found to perform better in resolving instantaneous turbulence in realistic complex urban settings (Salim et al., 2011; García-Sánchez et al., 2018). In LES the subgrid-scale turbulence is parameterised, but otherwise the three-dimensional wind field and scalar variables describing boundary-layer flows are solved with high spatial and temporal resolution (Maronga et al., 2020). LES has been used to examine the impact of thermal effects on urban ventilation but mainly in idealised street canyons. Nazarian and Kleissl (2016) examined an idealised 3×3 building array, where the differential heating was parameterised with a new dimensionless universal Richardson number, and found that the roof and ground heating alter the formed canyon vortices' location and strength. Nazarian et al. (2018) had a similar simulation setup and results about the changes to street vortices' structures as Nazarian and Kleissl (2016) but additionally concluded that the spatial pollutant field is not as strongly affected by the heating distribution as it is by the vertical removal of pollutants from the street canyons. Most simulations in realistic urban settings have not yet included the effect of solar-radiation-induced thermal turbulence on street canyon flow patterns and ventilation and furthermore on pollutant concentrations, mainly due to the computational cost of LES (e.g. Salim et al., 2011; Kurppa et al., 2020; Karttunen et al., 2020). Park and Baik (2013) had a simplified radiation scheme to study turbulent coherent structures between no-heating and bottom heating cases. Implementing a radiation scheme to an LES model offers a way to model the complex radiative transfer processes in urban areas in detail, such as multiple reflections, diffuse radiation and the effect of shading, and further the resulting thermal effects on flow structures (Resler et al., 2017).
Furthermore, for realistic simulation of air pollutants and particularly aerosol particle concentrations, aerosol particle dynamics accounting for their chemical and physical processes need to be considered (Kurppa et al., 2019, 2020). Traditionally, pollutants and aerosol particles have been treated as passive scalars in CFD (Branford et al., 2011; Gousseau et al., 2011; Cai, 2012; Tominaga and Stathopoulos, 2013), and only a few LES models allow for a detailed description of aerosol particles, their size distributions and their dynamic processes. Steffens et al. (2013) included a CFD-based Comprehensive Turbulent Aerosol Dynamics and Gas Chemistry model (CTAG) in their simulations. Kurppa et al. (2019) implemented the sectional aerosol module SALSA into PALM. Zhong et al. (2020) on the other hand used WRF-LES to model the behaviour of ultrafine particles (UFPs) on a neighbourhood scale.
The main aims of this study are to conduct a novel LES, including both aerosol processes and mixing conditions within a real urban neighbourhood, and to examine the impact of radiative effects and aerosol dynamics on different aerosol particle metrics in a built-up neighbourhood in Helsinki under calm wind conditions during morning rush hour. The relative importance of including radiative effects and aerosol processes in simulating aerosol particle concentrations and distributions describing different aerosol metrics will be examined. The examination is made as simplification in LES can save computational resources, and for this reason it is important to understand the relative importance of different processes. The LES model PALM (Maronga et al., 2020) will be used in the simulations, as it allows for a realistic description of the urban surface and aerosol dynamics, and it can be coupled with the radiation scheme rapid radiative transfer model for global models (RRTMG; Krč et al., 2021), which uses a radiative transfer model (RTM) to model the radiation interaction within the urban canopy layer. Helsinki was chosen due to the intensive observational air-quality campaign made within the study area, allowing extensive model evaluation. Model outputs will be compared against the lung-deposited surface area (LDSA) of aerosol particles measured using a drone as well as total particle number concentration and air temperature measured using a mobile laboratory (Järvi et al., 2023).
LES provides an optimal mean to examine flow and pollutant distributions in realistic urban areas, as it can account for complex interactions between the surface and the air flow, radiation interaction, and in some cases also aerosol particle dynamics such as in the LES model PALM used in this study. The main aims of this study are to examine the impact of aerosol dynamics and radiation interaction on different aerosol metrics in a real built-up neighbourhood in Helsinki. This was achieved using novel LES, which includes both aerosol processes and mixing conditions. The model performance was evaluated against near-surface temperature (T2 m) and total aerosol particle number concentrations (Ntot) measured by a mobile laboratory, as well as lung-deposited surface area (LDSA) measured by a drone. Four main runs to represent an early summer morning on 6 June 2017 between 07:00 and 09:15 UTC+3 were performed. In the base run (R0A0) neither radiation interaction nor aerosol processes were on. R1A0 only had radiation interaction on, R0A1 only had aerosol processes on, and finally R1A1 had both radiation interaction and aerosol processes on.
In a calm wind case, such as the simulated summer morning, inclusion of radiation interaction improved the model performance in simulating the near-surface temperatures within the study area. In the base run, T2 m was underestimated by on average 3.9 ∘C. In R1A1, T2 m was overestimated by 0.2 ∘C, being on average 12.4 ∘C. This change in temperatures and radiation provide energy for flow, and the 4 m wind speeds increased on average from 0.29 to 0.55 m s−1 within the study area.
Changes in flow increased ventilation and decreased particle concentrations close to the ground. The 4 m Ntot was reduced by 53 % with radiation interaction included (R1A0). The inclusion of radiation interaction in LES is more important than adding the aerosol process which decreased the 4 m Ntot concentrations by 18 % (R0A1). Together, with both the aerosol processes and the radiation interaction included, the concentrations decreased by 56 %. Compared to observations at the 2 m modelling height, the near-surface particle number concentration bias was reduced from a 98 % overestimation (R0A0) to a 16 % underestimation (R1A1). The bias is particularly reduced by inclusion of radiation interaction in the model runs.
Aerosol processes and their response to changes in flow altered the size distribution of particles. The size distribution in R0A1 and R1A1 showed larger particle sizes dominating, whereas in R0A0 and R1A0, the fraction of particles between 4–15 nm in diameter increased significantly due to the absence of processes such as deposition, coagulation and condensation. Radiation interaction and the enhanced flow field had a larger impact on the size distribution at the supersite, where the concentrations of all size bins increased by up to 8.2 times with R1A1 compared to R0A1 at the pedestrian level. Overall radiation interaction had the largest effect on medium to small particle size ranges at this height.
The change in stratification also affected the aerosol vertical profiles. All aerosol concentrations decrease in the street canyon when radiation interaction is considered, the effect being larger for PM2.5 and LDSA on both sides of the canyon. Above the canopy Ntot and UFP increase at the windward side of the canyon due to the modified street canyon vortex by radiation interaction. The supersite shows higher concentrations overall compared to the opposite side due to the leeward transport described before. Aerosol processes have a larger effect on the vertical profiles of PM2.5 and LDSA than Ntot and UFP, with the effect being particularly pronounced in LDSA. When taking into account both sides of the main canyon, R1A0 performs the best in terms of LDSA, as the change in flow alone is enough to bring LDSA closer to observations.
The results show that radiation interaction is more important to be considered in LES than aerosol processes when simulating pollutant distributions within an urban neighbourhood in low-wind conditions. Without radiation interaction, near-surface air temperature and flow are underestimated and pollutant concentrations overestimated. Aerosol processes are however critical when aerosol particle size distributions, particularly the smallest size ranges, or vertical profiles of larger particles are examined. In our simulations with weak prevailing wind speed, the impact of radiation interaction on reducing the street-level concentrations can be greater than with stronger wind speeds. On the other hand, we simulated the early morning when the radiative effects are not the strongest. In the future more meteorological conditions with varying wind speed and direction scenarios and time of day should be made to understand the effect of radiation interaction and aerosol processes in detail.
Appendix A:
 surface types used in the land surface model.
Code and data availability
LJ, HK and LP planned and conducted the measurements. LJ, MK and JS planned the simulation setup. JS conducted the simulations. MK and JS wrote the code to analyse the data. JS, LJ and XL wrote the paper with input from all authors. MK, LP and HK commented on the paper. LJ supervised the project.
The contact author has declared that none of the authors has any competing interests.
Publisher's note: Copernicus Publications remains neutral with regard to jurisdictional claims in published maps and institutional affiliations.
We thank the Helsinki metropolitan region Urban Research programme, the Academy of Finland (CousCOUS project, decision numbers: 332177 and 332178), the Academy of Finland ACCC Flagship (decision numbers: 337549, 337552 and 337551) and the CITYZER project funded by Tekes and Finnish companies (decision number: 2883/31/2015). This project has also received funding from the European Union's Horizon 2020 research and innovation programme under grant agreement nos. 101036245 (project RI-URBANS) and 101037319 (project PAUL). The authors are very grateful to Aleksi Malinen and Sami Kulovuori from the Metropolia University of Applied Sciences for the operation of the mobile laboratory Sniffer and to Aeromon Oy for conducting the drone measurements.
This research has been supported by Tekes (grant no. 2883/31/2015), Horizon 2020 (grant nos. 101036245 and 101037319) and the Academy of Finland (grant nos. 332177, 332178, 337549, 337551 and 337552).

Open-access funding was provided by the Helsinki University Library.
This paper was edited by Yun Qian and reviewed by three anonymous referees.
Bengtsson, L., Andrae, U., Aspelien, T., Batrak, Y., Calvo, J., de Rooy, W., Gleeson, E., Hansen-Sass, B., Homleid, M., Hortal, M., Ivarsson, K.-I., Lenderink, G., Niemelä, S., Nielsen, K. P., Onvlee, J., Rontu, L., Samuelsson, P., Muñoz, D. S., Subias, A., Tijm, S., Toll, V., Yang, X., and Øegaard Køltzow, M.: The HARMONIE–AROME Model Configuration in the ALADIN–HIRLAM NWP System, Mon. Weather Rev., 145, 1919–1935, https://doi.org/10.1175/MWR-D-16-0417.1, 2017. a
Bottillo, S., De Lieto Vollaro, A., Galli, G., and Vallati, A.: CFD modeling of the impact of solar radiation in a tridimensional urban canyon at different wind conditions, Sol. Energy, 102, 212–222, https://doi.org/10.1016/j.solener.2014.01.029, 2014. a, b
Branford, S., Coceal, O., Thomas, T. G., and Belcher, S. E.: Dispersion of a Point-Source Release of a Passive Scalar Through an Urban-Like Array for Different Wind Directions, Bound.-Lay. Meteorol., 139, 367–394, https://doi.org/10.1007/s10546-011-9589-1, 2011. a
Buccolieri, R., Salim, S. M., Leo, L. S., Di Sabatino, S., Chan, A., Ielpo, P., de Gennaro, G., and Gromke, C.: Analysis of local scale tree–atmosphere interaction on pollutant concentration in idealized street canyons and application to a real urban junction, Atmos. Environ., 45, 1702–1713, https://doi.org/10.1016/j.atmosenv.2010.12.058, 2011. a
Cai, X.: Effects of differential wall heating in street canyons on dispersion and ventilation characteristics of a passive scalar, Atmos. Environ., 51, 268–277, https://doi.org/10.1016/j.atmosenv.2012.01.010, 2012. a
Chen, G., Yang, X., Yang, H., Hang, J., Lin, Y., Wang, X., Wang, Q., and Liu, Y.: The influence of aspect ratios and solar heating on flow and ventilation in 2D street canyons by scaled outdoor experiments, Build. Environ., 185, 107–159, https://doi.org/10.1016/j.buildenv.2020.107159, 2020. a
Cheng, W. C. and Liu, C.-H.: Large-eddy simulation of turbulent transports in urban street canyons in different thermal stabilities, J. Wind Eng. Ind. Aerod., 99, 434–442, https://doi.org/10.1016/j.jweia.2010.12.009, 2011. a
Crameri, F.: Scientific colour maps (7.0.1), Zenodo [data set], https://doi.org/10.5281/zenodo.5501399, 2021. a
Dal Maso, M., Liao, L., Wildt, J., Kiendler-Scharr, A., Kleist, E., Tillmann, R., Sipilä, M., Hakala, J., Lehtipalo, K., Ehn, M., Kerminen, V.-M., Kulmala, M., Worsnop, D., and Mentel, T.: A chamber study of the influence of boreal BVOC emissions and sulfuric acid on nanoparticle formation rates at ambient concentrations, Atmos. Chem. Phys., 16, 1955–1970, https://doi.org/10.5194/acp-16-1955-2016, 2016. a, b
Dimitrova, R., Sini, J.-F., Richards, K., Schatzmann, M., Weeks, M., Perez García, E., and Borrego, C.: Influence of Thermal Effects on the Wind Field Within the Urban Environment, Bound.-Lay. Meteorol., 131, 223–243, https://doi.org/10.1007/s10546-009-9368-4, 2009. a
FMI: Finnish Meteorological Institute open data, https://www.ilmatieteenlaitos.fi/havaintojen-lataus (last access: 5 March 2021), 2017. a
Fröhlich-Nowoisky, J., Kampf, C. J., Weber, B., Huffman, J. A., Pöhlker, C., Andreae, M. O., Lang-Yona, N., Burrows, S. M., Gunthe, S. S., Elbert, W., Su, H., Hoor, P., Thines, E., Hoffmann, T., Després, V. R., and Pöschl, U.: Bioaerosols in the Earth system: Climate, health, and ecosystem interactions, Atmos. Res., 182, 346–376, https://doi.org/10.1016/j.atmosres.2016.07.018, 2016. a
García-Sánchez, C., van Beeck, J., and Gorlé, C.: Predictive large eddy simulations for urban flows: Challenges and opportunities, Build. Environ., 139, 146–156, https://doi.org/10.1016/j.buildenv.2018.05.007, 2018. a
Gehrke, K. F., Sühring, M., and Maronga, B.: Modeling of land–surface interactions in the PALM model system 6.0: land surface model description, first evaluation, and sensitivity to model parameters, Geosci. Model Dev., 14, 5307–5329, https://doi.org/10.5194/gmd-14-5307-2021, 2021. a, b, c
Gousseau, P., Blocken, B., Stathopoulos, T., and van Heijst, G.: CFD simulation of near-field pollutant dispersion on a high-resolution grid: A case study by LES and RANS for a building group in downtown Montreal, Atmos. Environ., 45, 428–438, https://doi.org/10.1016/j.atmosenv.2010.09.065, 2011. a
GTK: Maaperä: Karttatasot WFS-rajapinnassa – Geological Survey of Finland, https://www.gtk.fi/palvelut/aineistot-ja-verkkopalvelut/rajapintapalvelut/maapera-karttatasot-wfs-rajapinnassa/ (last access: 28 August 2020), 2018. a
Guo, D., Zhao, P., Wang, R., Yao, R., and Hu, J.: Numerical simulations of the flow field and pollutant dispersion in an idealized urban area under different atmospheric stability conditions, Process Saf. Environ., 136, 310–323, https://doi.org/10.1016/j.psep.2020.01.031, 2020. a
Hellsten, A., Ketelsen, K., Sühring, M., Auvinen, M., Maronga, B., Knigge, C., Barmpas, F., Tsegas, G., Moussiopoulos, N., and Raasch, S.: A nested multi-scale system implemented in the large-eddy simulation model PALM model system 6.0, Geosci. Model Dev., 14, 3185–3214, https://doi.org/10.5194/gmd-14-3185-2021, 2021. a
HRI: Helsingin rakennukset – Helsinki Region Infoshare, https://hri.fi/data/dataset/helsingin-rakennukset (last access: 28 August 2020), 2018. a
Jiang, G. and Yoshie, R.: Large-eddy simulation of flow and pollutant dispersion in a 3D urban street model located in an unstable boundary layer, Build. Environ., 142, 47–57, https://doi.org/10.1016/j.buildenv.2018.06.015, 2018. a, b, c
Järvi, L., Kuuluvainen, H., Rönkkö, T., Karttunen, S., Balling, A., Timonen, H., Niemi, J. V., and Pirjola, L.: Determinants of spatial variability of air pollutant concentrations in a street canyon network measured using a mobile laboratory and a drone, Sci. Total Environ., 856, 158–974, https://doi.org/10.1016/j.scitotenv.2022.158974, 2023. a, b, c
Karttunen, S., Kurppa, M., Auvinen, M., Hellsten, A., and Järvi, L.: Large-eddy simulation of the optimal street-tree layout for pedestrian-level aerosol particle concentrations – A case study from a city-boulevard, Atmos. Environ. X, 6, 100 073, https://doi.org/10.1016/j.aeaoa.2020.100073, 2020. a, b, c, d
Kokkola, H., Korhonen, H., Lehtinen, K. E. J., Makkonen, R., Asmi, A., Järvenoja, S., Anttila, T., Partanen, A.-I., Kulmala, M., Järvinen, H., Laaksonen, A., and Kerminen, V.-M.: SALSA – a Sectional Aerosol module for Large Scale Applications, Atmos. Chem. Phys., 8, 2469–2483, https://doi.org/10.5194/acp-8-2469-2008, 2008. a
Kokkola, H., Kühn, T., Laakso, A., Bergman, T., Lehtinen, K. E. J., Mielonen, T., Arola, A., Stadtler, S., Korhonen, H., Ferrachat, S., Lohmann, U., Neubauer, D., Tegen, I., Siegenthaler-Le Drian, C., Schultz, M. G., Bey, I., Stier, P., Daskalakis, N., Heald, C. L., and Romakkaniemi, S.: SALSA2.0: The sectional aerosol module of the aerosol–chemistry–climate model ECHAM6.3.0-HAM2.3-MOZ1.0, Geosci. Model Dev., 11, 3833–3863, https://doi.org/10.5194/gmd-11-3833-2018, 2018. a
Krč, P., Resler, J., Sühring, M., Schubert, S., Salim, M. H., and Fuka, V.: Radiative Transfer Model 3.0 integrated into the PALM model system 6.0, Geosci. Model Dev., 14, 3095–3120, https://doi.org/10.5194/gmd-14-3095-2021, 2021. a, b, c, d, e
Kurppa, M., Hellsten, A., Roldin, P., Kokkola, H., Tonttila, J., Auvinen, M., Kent, C., Kumar, P., Maronga, B., and Järvi, L.: Implementation of the sectional aerosol module SALSA2.0 into the PALM model system 6.0: model development and first evaluation, Geosci. Model Dev., 12, 1403–1422, https://doi.org/10.5194/gmd-12-1403-2019, 2019. a, b, c, d, e
Kurppa, M., Roldin, P., Strömberg, J., Balling, A., Karttunen, S., Kuuluvainen, H., Niemi, J. V., Pirjola, L., Rönkkö, T., Timonen, H., Hellsten, A., and Järvi, L.: Sensitivity of spatial aerosol particle distributions to the boundary conditions in the PALM model system 6.0, Geosci. Model Dev., 13, 5663–5685, https://doi.org/10.5194/gmd-13-5663-2020, 2020. a, b, c, d, e, f, g, h, i, j, k
Kuula, J., Kuuluvainen, H., Niemi, J. V., Saukko, E., Portin, H., Kousa, A., Aurela, M., Rönkkö, T., and Timonen, H.: Long-term sensor measurements of lung deposited surface area of particulate matter emitted from local vehicular and residential wood combustion sources, Aerosol Sci. Tech., 54, 190–202, https://doi.org/10.1080/02786826.2019.1668909, 2020. a
Kuuluvainen, H., Poikkimäki,, M., Järvinen,, A., Kuula, J., Irjala, M., Dal Maso, M., Keskinen, J., Timonen, H., Niemi, J. V., and Rönkkö, T.: Vertical profiles of lung deposited surface area concentration of particulate matter measured with a drone in a street canyon, Environ. Pollut., 241, 96–105, https://doi.org/10.1016/j.envpol.2018.04.100, 2018. a
Kwak, K.-H., Baik, J.-J., Ryu, Y.-H., and Lee, S.-H.: Urban air quality simulation in a high-rise building area using a CFD model coupled with mesoscale meteorological and chemistry-transport models, Atmos. Environ., 100, 167–177, https://doi.org/10.1016/j.atmosenv.2014.10.059, 2015. a
Lelieveld, J., Evans, J. S., Fnais, M., Giannadaki, D., and Pozzer, A.: The contribution of outdoor air pollution sources to premature mortality on a global scale, Nature, 525, 367–371, https://doi.org/10.1038/nature15371, 2015. a
Lelieveld, J., Klingmüller,, K., Pozzer, A., Pöchl, U., Fnais, M., Daiber, A., and Münzel, T.: Cardiovascular disease burden from ambient air pollution in Europe reassessed using novel hazard ratio functions, Eur. Heart J., 40, 1590–1596, https://doi.org/10.1093/eurheartj/ehz135, 2019. a
Letzel, M. O., Helmke, C., Ng, E., An, X., Lai, A., and Raasch, S.: LES case study on pedestrian level ventilation in two neighbourhoods in Hong Kong, Meteorol. Z., 21, 575–589, https://doi.org/10.1127/0941-2948/2012/0356, 2012. a
Li, X.-X., Britter, R. E., Koh, T. Y., Norford, L. K., Liu, C.-H., Entekhabi, D., and Leung, D. Y. C.: Large-Eddy Simulation of Flow and Pollutant Transport in Urban Street Canyons with Ground Heating, Bound.-Lay. Meteorol., 137, 187–204, https://doi.org/10.1007/s10546-010-9534-8, 2010. a
Li, X.-X., Britter, R. E., Norford, L. K., Koh, T.-Y., and Entekhabi, D.: Flow and Pollutant Transport in Urban Street Canyons of Different Aspect Ratios with Ground Heating: Large-Eddy Simulation, Bound.-Lay. Meteorol., 142, 289–304, https://doi.org/10.1007/s10546-011-9670-9, 2012. a, b
Li, X.-X., Britter, R. E., and Norford, L. K.: Transport processes in and above two-dimensional urban street canyons under different stratification conditions: results from numerical simulation, ENVIRONMENTAL FLUID MECHANICS, 1st Symposium on Urban Fluid Mechanics (UFM), ASME Conf, Chicago, IL, AUG, 2014, 3–7 August 2014, 15, 399–417, https://doi.org/10.1007/s10652-014-9347-2, 2015. a
Maronga, B., Banzhaf, S., Burmeister, C., Esch, T., Forkel, R., Fröhlich, D., Fuka, V., Gehrke, K. F., Geletič, J., Giersch, S., Gronemeier, T., Groß, G., Heldens, W., Hellsten, A., Hoffmann, F., Inagaki, A., Kadasch, E., Kanani-Sühring, F., Ketelsen, K., Khan, B. A., Knigge, C., Knoop, H., Krč, P., Kurppa, M., Maamari, H., Matzarakis, A., Mauder, M., Pallasch, M., Pavlik, D., Pfafferott, J., Resler, J., Rissmann, S., Russo, E., Salim, M., Schrempf, M., Schwenkel, J., Seckmeyer, G., Schubert, S., Sühring, M., von Tils, R., Vollmer, L., Ward, S., Witha, B., Wurps, H., Zeidler, J., and Raasch, S.: Overview of the PALM model system 6.0, Geosci. Model Dev., 13, 1335–1372, https://doi.org/10.5194/gmd-13-1335-2020, 2020. a, b, c
Mei, D., Wang, Y., and Deng, Q.: Modeling the Airflow and Particle Dispersion in Street Canyons under Unsteady Thermal Environment with Sinusoidal Variation, Aerosol Air Qual. Res., 17, 1021–1032, https://doi.org/10.4209/aaqr.2016.12.0559, 2017. a
Mei, S.-J., Liu, C.-W., Liu, D., Zhao, F.-Y., Wang, H.-Q., and Li, X.-H.: Fluid mechanical dispersion of airborne pollutants inside urban street canyons subjecting to multi-component ventilation and unstable thermal stratifications, Sci. Total Environ., 565, 1102–1115, https://doi.org/10.1016/j.scitotenv.2016.05.150, 2016. a, b, c, d
Müller, M., Homleid, M., Ivarsson, K.-I., Køltzow, M. A. Ø., Lindskog, M., Midtbø, K. H., Andrae, U., Aspelien, T., Berggren, L., Bjørge, D., Dahlgren, P., Kristiansen, J., Randriamampianina, R., Ridal, M., and Vignes, O.: AROME-MetCoOp: A Nordic Convective-Scale Operational Weather Prediction Model, Weather Forecast., 32, 609–627, https://doi.org/10.1175/WAF-D-16-0099.1, 2017. a
Nazarian, N. and Kleissl, J.: Realistic solar heating in urban areas: Air exchange and street-canyon ventilation, Build. Environ., 95, 75–93, https://doi.org/10.1016/j.buildenv.2015.08.021, 2016. a, b, c
Nazarian, N., Martilli, A., and Kleissl, J.: Impacts of Realistic Urban Heating, Part I: Spatial Variability of Mean Flow, Turbulent Exchange and Pollutant Dispersion, Bound.-Lay. Meteorol., 166, 367–393, https://doi.org/10.1007/s10546-017-0311-9, 2018. a, b
Nezis, A. A., Angelidis, D. I., Assimakopoulos, V. D., and Bergeles, G. C.: On the wind flow patterns under neutral and unstable conditions in an urban area, Int. J. Environ. Pollut., 47, 257–267, 2011. a, b, c, d
Offerle, B., Eliasson, I., Grimmond, C. S. B., and Holmer, B.: Surface heating in relation to air temperature, wind and turbulence in an urban street canyon, Bound.-Lay. Meteorol., 122, 273–292, https://doi.org/10.1007/s10546-006-9099-8, 2007. a
Oke, T.: The urban energy balance, Prog. Phys. Geog.: Earth and Environment, 12, 471–508, https://doi.org/10.1177/030913338801200401, 1988. a
PALM Model System: PALM Changes since last svn-revision r4901, https://gitlab.palm-model.org/releases/palm_model_system/-/releases/v21.10 (last access: 10 November 2021), 2021. a
PALM model system development team: Source code of the PALM model system (revision 4734), Zenodo [code], https://doi.org/10.5281/zenodo.8113087, 2020. a
Park, C., Ha, J., and Lee, S.: Association between Three-Dimensional Built Environment and Urban Air Temperature: Seasonal and Temporal Differences, Sustainability, 9, 1338, https://doi.org/10.3390/su9081338, 2017. a
Park, S.-B. and Baik, J.-J.: A Large-Eddy Simulation Study of Thermal Effects on Turbulence Coherent Structures in and above a Building Array, J. Appl. Meteorol. Clim., 52, 1348–1365, https://doi.org/10.1175/JAMC-D-12-0162.1, 2013. a, b
Pirjola, L., Parviainen, H., M, L., Hussein, T., and Hämeri, K.: A novel mobile laboratory for chasing city traffic, SAE Transactions, 113 1258–1264, http://www.jstor.org/stable/44740844 (last access: July 2022), 2004. a
Resler, J., Krč, P., Belda, M., Juruš, P., Benešová, N., Lopata, J., Vlček, O., Damašková, D., Eben, K., Derbek, P., Maronga, B., and Kanani-Sühring, F.: PALM-USM v1.0: A new urban surface model integrated into the PALM large-eddy simulation model, Geosci. Model Dev., 10, 3635–3659, https://doi.org/10.5194/gmd-10-3635-2017, 2017. a, b, c, d, e, f
Rivas, I., Kumar, P., Hagen-Zanker, A., de Fatima Andrade, M., Slovic, A. D., Pritchard, J. P., and Geurs, K. T.: Determinants of black carbon, particle mass and number concentrations in London transport microenvironments, Atmos. Environ., 161, 247–262, https://doi.org/10.1016/j.atmosenv.2017.05.004, 2017. a
Saarikoski, S., Hellén, H., Praplan, A. P., Schallhart, S., Clusius, P., Niemi, J. V., Kousa, A., Tykkä, T., Kouznetsov, R., Aurela, M., Salo, L., Rönkkö, T., Barreira, L. M. F., Pirjola, L., and Timonen, H.: Characterization of volatile organic compounds and submicron organic aerosol in a traffic environment, Atmos. Chem. Phys., 23, 2963–2982, https://doi.org/10.5194/acp-23-2963-2023, 2023. a
Salim, M. H., Schubert, S., Resler, J., Krč, P., Maronga, B., Kanani-Sühring, F., Sühring, M., and Schneider, C.: Importance of radiative transfer processes in urban climate models: a study based on the PALM 6.0 model system, Geosci. Model Dev., 15, 145–171, https://doi.org/10.5194/gmd-15-145-2022, 2022. a, b
Salim, S. M., Buccolieri, R., Chan, A., and Sabatino, S. D.: Numerical simulation of atmospheric pollutant dispersion in an urban street canyon: Comparison between RANS and LES, J. Wind Eng. Ind. Aerod., 99, 103–113, https://doi.org/10.1016/j.jweia.2010.12.002, 2011. a, b
Schobesberger, S., Junninen, H., Bianchi, F., Lönn, G., Ehn, M., Lehtipalo, K., Dommen, J., Ehrhart, S., Ortega, I., Franchin, A., Nieminen, T., Riccobono, F., Hutterli, M., Duplissy, J., Almeida, J., Amorim, A., Breitenlechner, M., Downard, A., Dunne, E., and Worsnop, D.: Molecular understanding of atmospheric particle formation from sulfuric acid and large oxidized organic molecules, P. Natl. Acad. Sci. USA, 110, 17223–17228, https://doi.org/10.1073/pnas.1306973110, 2013. a
Sini, J., Anquetin, S., and Mestayer, P.: Pollutant dispersion and thermal effects in urban street canyons, Atmos. Environ., 30, 2659–2677, https://doi.org/10.1016/1352-2310(95)00321-5, 1996. a
Steffens, J. T., Heist, D. K., Perry, S. G., and Zhang, K. M.: Modeling the effects of a solid barrier on pollutant dispersion under various atmospheric stability conditions, Atmos. Environ., 69, 76–85, https://doi.org/10.1016/j.atmosenv.2012.11.051, 2013.  a
Strömberg, J. and Kurppa, M.: Input files and scripts for creating PALM simulation input files on Mäkelänkatu in Helsinki, Finland, Zenodo [data set], https://doi.org/10.5281/zenodo.3839684, 2020. a
Strömberg, J. and Kurppa, M.: Mäkelänkatu Simulations 2022, Zenodo [data set], https://doi.org/10.5281/zenodo.7115705 2022. a
Strömberg, J. and Kurppa, M.: Mäkelänkatu Scripts 2022 Finalized Mäkelänkatu in Helsinki, Finland, Zenodo [data set], https://doi.org/10.5281/zenodo.8112867, 2023. a
Tominaga, Y. and Stathopoulos, T.: CFD simulation of near-field pollutant dispersion in the urban environment: A review of current modeling techniques, Atmos. Environ., 79, 716–730, https://doi.org/10.1016/j.atmosenv.2013.07.028, 2013. a, b
United Nations: World Urbanization Prospects: The 2018 Revision (ST/ESA/SER.A/420), New York: United Nations, https://population.un.org/wup/Publications/Files/WUP2018-Report.pdf (last access: 21 October 2021), 2019. a
WHO: Ambient air pollution: A global assessment of exposure and burden of disease, 121 pp., ISBN 9789241511353, 2016. a
Xie, X., Huang, Z., Wang, J., and Xie, Z.: The impact of solar radiation and street layout on pollutant dispersion in street canyon, Build. Environ., 40, 201–212, https://doi.org/10.1016/j.buildenv.2004.07.013, 2005. a, b, c
Xie, X., Liu, C.-H., and Leung, D.: Impact of building facades and ground heating on wind flow and pollutant transport in street canyons, Atmos. Environ., 41, 9030–9049, https://doi.org/10.1016/j.atmosenv.2007.08.027, 2007. a, b
Zhong, J., Nikolova, I., Cai, X., MacKenzie, A. R., Alam, M. S., Xu, R., Singh, A., and Harrison, R. M.: Traffic-induced multicomponent ultrafine particle microphysics in the WRF v3.6.1 large eddy simulation model: General behaviour from idealised scenarios at the neighbourhood-scale, Atmos. Environ., 223, 117213, https://doi.org/10.1016/j.atmosenv.2019.117213, 2020. a