Articles | Volume 23, issue 1
https://doi.org/10.5194/acp-23-565-2023
© Author(s) 2023. This work is distributed under
the Creative Commons Attribution 4.0 License.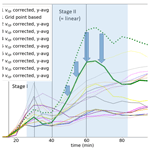 Evolution of squall line variability and error growth in an ensemble of large eddy simulations
A chain of processes is identified that regulates much of the spread in an ensemble of squall lines in large eddy simulations with tight initial conditions. Patterns of gravity wave propagation de-correlate and restructure the initial condition spread until a second phase of convective initiation is taking place, i.e. after 30 min of simulation time. Subsequently, variability in this convective initiation and mass overturn is associated with differences in cold pool propagation within the ensemble (propagation at 2–4 m s−1.
An ensemble sensitivity analysis reveals that anomalies in squall-line-relative flow with respect to the ensemble mean are also associated with the secondary convective initiation. Downdraughts are fed with extra air by a convergence zone on the rearward flank of the updraughts. An analysis of difference growth within the ensemble shows that a substantial proportion of variability is explained by cold pool propagation contrasts during this stage (30–80 min), which is partly removed when a feature-relative perspective is taken. The patterns of coherent variability exist on the timescale of an hour and dissipate subsequently (80–100 min).
Received: 20 Jun 2022 – Discussion started: 01 Jul 2022 – Revised: 22 Dec 2022 – Accepted: 23 Dec 2022 – Published: 13 Jan 2023
Squall lines are complex meteorological phenomena consisting of an elongated linear area with convective cells that usually induce a coherent mesoscale circulation. They often develop into mixed stratiform–convective precipitation systems with spatial extents of up to several hundred kilometres in the horizontal and a lifetime exceeding several hours. Squall lines are an active research field for several decades (Houze, 2004, 2018). The goal of this study is to understand the dynamical processes that govern ensemble spread in large eddy simulations of idealised squall lines.
Due to the increasing computational resources, high-resolution simulations in convective studies have become feasible, nowadays. Throughout the last 25 years, simplified cloud-resolving kilometre-scale simulations (Weisman et al., 1997) could be extended to systematic sets of fully three-dimensional large eddy simulations (LESs) at high resolutions (Adams-Selin, 2020a, b). This allowed for an improved understanding of the impact of shear profiles and resulting convective organisation (e.g. Weisman and Rotunno, 2004; Coniglio et al., 2006; Adams-Selin, 2020a), including squall line organisation. While large eddy simulations of squall lines become increasingly attainable, contrasts in representation of increasingly small-scale processes between simulation pairs can be analysed: the model impact of resolution on squall line evolution and associated convergence at (sufficiently) high resolution (Weisman et al., 1997; Bryan et al., 2003; Lebo and Morrison, 2015). Bryan et al. (2003) found that even LESs do not result in true convergence of solutions, as the need for parameterising processes shifts to sub-grid turbulence in a partly represented inertial sub-range and microphysics. However, statistical (bulk property) convergence occurs already at coarser grid spacing, while local numerical convergence may not occur at all (Langhans et al., 2012). How squall lines can sensitively depend on microphysics, shear and instability has been investigated by, for example, Morrison et al. (2009); Grant et al. (2018); and Adams-Selin (2020a, b).
Squall line ensembles and their error growth have been investigated by Melhauser and Zhang (2012); Hanley et al. (2013); and Weyn and Durran (2017). Individual ensemble members were compared to each other with a focus on the differences in their evolution. Even though squall line development and sensitivity has been addressed in LES, e.g. Adams-Selin (2020a, b), error growth has not been addressed at sub-kilometre grid spacing, to the knowledge of the authors, but only at kilometre-scale convection-permitting resolution, e.g. by Weyn and Durran (2017). At LES resolutions (100–200 m), smaller-scale processes can be included in a process-based analysis: updraughts (Varble et al., 2020), cold pools (Grant et al., 2018) and gravity waves are represented explicitly, and their dynamics can be addressed directly, which is needed for improved understanding of small-scale error growth. Error growth studies at large scales suggest that deep convection is an important process to address in error growth studies (e.g. Selz et al., 2022; Baumgart et al., 2019; Rodwell et al., 2013).
Application of the word "error" and similar terms ("intrinsic limit") to ensemble differences requires a perfect model assumption or a perfect error assumption (e.g. Selz, 2019): the physics of errors has to be assumed to be represented perfectly in a numerical model, which is reasonable at >7Δx but not at smaller scales (Skamarock, 2004). Melhauser and Zhang (2012) and Hanley et al. (2013) looked at simulations featuring a real squall line case in a local area model from the larger mesoscale and synoptic point of view. The squall line dominated the dynamical evolution of the regional atmosphere in both sensitivity studies, even though downscale "contamination" from the synoptic scale was considered. Melhauser and Zhang (2012) found that an intrinsic limit of predictability can affect a squall line ensemble: by reducing initial condition spread by a factor of 8, their simulations could diverge about as much without reduced initial condition spread. Furthermore, the contingency of convective initiation was a key process for the ensemble spread, a process of which the limited predictability would be expected to be driven by spatio-temporal variability at even smaller scales (Lorenz, 1969). Convective initiation was also found to be a key process by Hanley et al. (2013).
Weyn and Durran (2017) have looked at error growth in mesoscale convective systems with squall-line-like features in isolation. They used a grid spacing of 1 km on a domain with horizontal scales of about 500 km. The study mostly analysed error growth from the spectral point of view, which implies that there was much less attention on convective and accompanying processes in physical space. They have compared the error growth of divergent and rotational wind components and found that divergent winds are mostly affecting larger-scale errors. Furthermore, an important finding was that by reducing initial condition spread by factors of 5 and 25, only about 1 h of predictability was gained, which is hardly significant compared to their error saturation timescale of about 5 h.
In this study, sensitivity is analysed from a dynamical point of view with squall line simulations in isolation from a synoptic and larger mesoscale environment. Error growth is analysed in high-resolution simulations (200 m) with 10 ensemble members. The dynamical aspects that are analysed are the following, including a short review for each of them:
This study is restricted to the analysis of one idealised squall line case with weak ensemble perturbations. Furthermore, the squall line evolution is initially nearly two-dimensional due to the nearly 2D flow and initial conditions. However, this nearly 2D structure is of benefit for the analysis of squall-line-relative flow. Considering a single case allows for detailed analysis of the dynamical aspects listed. The magnitude of applied ensemble perturbations are equivalent to a vertical wind profile uncertainty of about or less than one model layer in typical convection-permitting models. Altogether, the aim is to get a comprehensive overview of the processes in which errors (i.e. ensemble spread) are showing up in a high-resolution squall line ensemble, following the evolution of small initial perturbations. We also describe how these errors may be transferred from one process to another. Furthermore, intrinsic predictability can be addressed, given the small magnitude of initial condition perturbations. Zonal shear in a shallow layer is perturbed randomly with magnitudes of 0 %–5 %, as opposed to the often used systematic approaches (e.g. Selz, 2019; Zhang et al., 2019; Selz et al., 2022; Melhauser and Zhang, 2012).
Analysis techniques are applied which are not so commonly used in studies of mesoscale convective systems. Next, more widely used passive tracers (e.g. Grant et al., 2018), an ensemble sensitivity analysis (Hanley et al., 2013; Torn and Romine, 2015; Bednarczyk and Ancell, 2015,  but the latter with parameterised convection) and a difference kinetic energy metric are used. Passive tracers are an important tool to identify variability in convective transport; by targeting at an inflow layer, contrasts can be identified early on. Thereby, variability in a secondary phase of convective initiation is revealed. In combination with a tailored ensemble sensitivity analysis to connect the strength of the convective initiation with subsequent evolution of the squall line circulation (u), the temporal evolution of effects of this phase of initiation is followed. System-relative flow and its relation with secondary convective initiation is analysed. The difference kinetic energy error growth metric and diagnostics provide further insights into the evolution of system-relative motion and its role in error growth (Zhang, 2005; Zhang et al., 2007).
In Sect. 2 the characteristics of the simulations are documented, as well as the initial conditions and ensemble design. Furthermore, the spatio-temporal focus of our analysis is defined, and the statistical verification techniques are described. In Sect. 3 the main analysis is carried out, preceded by a description of diagnostics used in a subsection. The section starts with a general evolution of the simulated squall line echoes. After looking at the simulated radar reflectivities, the comparison section (Sect. 3.2) describes secondary convective initiation and identifies a relation with gravity wave signals. This is followed by an investigation of the cold pool propagation (Sect. 3.3.1). Then ensemble sensitivity analysis (Sect. 3.3.2) assesses the connection with the squall-line-relative flow, followed by an investigation of downdraughts and additional statistical considerations (Sect. 3.3.3). Section 3 ends with an error growth (Sect. 3.4) analysis in grid point space and a system-relative flow framework to highlight associated contrasts in error growth. The set of analyses is synthesised in Sect. 4, followed by a discussion (also in that section). This discussion leads to the conclusions, as given in Sect. 5.
4
 Synthesis and discussion
4.1

 Evolution of ensemble spread
4.2

 Discussion

This study identifies a highly relevant window for squall line error growth in the first 80 min of the development, in which systematic variability in the squall-line-relative flow has fully developed and also decays. Nevertheless, the squall lines initiated with a cold pool structure start getting mature only later on in the 120 min simulation. Furthermore, the simulations are restricted to a relatively small domain. Parts of mature and the dissipation state of the system are excluded. Still, this study is able to depict that small errors in the initiation lead to a systematic variability of the convective system. A different set-up (e.g. larger domain, different boundary conditions and an extended simulation time) could provide more insights into the development of ensemble spread during the system's mature phase.

Comparable studies where a discrete propagation event occurs are found in Fovell et al. (2006) and Adams-Selin (2020a, b). The simulation set-up of the latter two studies is closely resembled in our model configuration: our depth of the shear layer is comparatively reduced and the domain and squall line geometry deviates. In our study, new cell grows ahead of the squall line, but a lot earlier than in Adams-Selin (2020a, b), i.e. already after 30 min, just a couple of kilometres ahead of the squall line, as opposed to the clearer separation in Adams-Selin (2020a, b) and Fovell et al. (2006). Quite soon this event resembling discrete propagation is absorbed by the squall line itself. The discrete propagation event detected in Fovell et al. (2006) could not happen as closely ahead of the squall line as here: the model grid spacing was wider then and small updraughts are often at the minimum size possible. However, a distinct convective initiation only about 3 km ahead of a squall line is resolved here. As model grid spacing becomes smaller, discrete propagation can be simulated in LES at 500–1000 m from pre-existing cells, which requires a higher output frequency, as in Adams-Selin (2020a, b).

Even though Weyn and Durran (2017) approach squall line predictability from a different perspective, this study provides an additional foundation on how squall line predictability may be extended very slightly only (on the order of an hour) when initial conditions are very accurately known: initial conditions are non-linearly linked to the secondary phase of convective initiation and the secondary phase of initiation is highly sensitive to these initial conditions. On the other hand, the findings also suggest that some of the information on convective initiation can be stored as linear signals in the squall-line-relative circulation that live for timescales on the order of 1 h. This finding once more confirms the known ideas of shorter and shorter timescales of errors for smaller and smaller scales (Lorenz, 1969; Durran and Gingrich, 2014).

The ensemble in this study starts with highly but not fully 2D initial conditions, as part of a wide spectrum from highly simplified squall line studies (see Houze, 2004,  for references) to more recent simulations of real cases coupled to the large scales (e.g. Melhauser and Zhang, 2012). The initial conditions are practically the same as those in Adams-Selin (2020a) apart from the depth of the shear layer. The largely two-dimensional evolution makes the variety of diagnostics applied here much more affordable to assess, which is particularly beneficial in error growth studies. It is not common that squall lines initiate in a time period as short as 10 min along a straight line, as in our idealised setting. Even if not completely representative for many squall lines in the real atmosphere, convergent rolls often organise convection and occur along real squall lines, still concentrating convective initiation. Insights into error growth provided here and in processes responsible for error growth are likely largely applicable along restricted sections of real squall lines, especially those closely relating to findings of Melhauser and Zhang (2012). The idealisation only emphasises signals here, which is of benefit to the analyses.

The robustness of statistical results may appear questionable at the very first glance even after statistical tests, since an ensemble pair is compared in Sect. 3.2 and ensemble size is just n=10. Nonetheless, the very high correlations in Sect. 3.3.2 survive the significance tests with a null hypothesis that correlations are random, verifying the statistical robustness of non-random correlations. Measures with which the ensemble sensitivity analysis survives the tests implied confidence in robust flow anomalies. Statistical test outcomes indicate that a larger ensembles would reveal the same signal as the 10 member ensemble. As confirmed by the uncorrected error growth curves, the exposed mode of variability is well established and well separable from noise and non-linear contributions. These non-linear components consist of the feedbacks that occur to a limited extent. The ensemble sensitivity analysis reveals that the main mode of squall line variability is strongly related to the second phase of convective initiation.

The relations found indicate that cold pool acceleration after about 30 min is very likely explained by the main mode of variability and hence by variability in gravity wave propagation. It could be argued that the depth of heating profile immediately before cold pool acceleration can affect the vertical wavelength and propagation speed of gravity waves of a certain wavenumber, in agreement with findings by Pandya and Durran (1996). A heating profile depth differing by 1 km would provide a variability in cold pool propagation of about 8 %–10 % for a 12 km deep troposphere and explain an 8 %–10 % difference in cold pool propagation speed. If a wave has a vertical wavenumber of over twice the depth of the troposphere or a vertical wavelength of about 10 km, it will propagate at about 17 m s−1. That wavelength is equal to wavenumber one in the layer between the surface cold pool and the tropopause. Against easterly near-surface winds that are on the order of 12–14 m s−1, these gravity waves would propagate eastward relative to this near-surface flow at low speeds of 3–4 m s−1: the density current could surf on this wave. The 1.7 m s−1 difference in propagation velocity between ENS-03 and reference is consistent with this. Inspection of the precursor condensation rates after 25 min (before the gravity wave leads to secondary initiation) suggests a deviation in heating profile depth of at least 500 m between ENS-03 and the reference simulation, probably close to 1 km. Furthermore, cloud-top detections between the two deviate by 800 m after 60–90 min. In other words, there is support for this argument. The arguments are comparable to Grant et al. (2018) and references therein and Stechmann and Majda (2009). Whether the gravity wave propagation leads to differential cold pool acceleration is beyond the scope of our study. A detailed minute-by-minute analysis for the 20–30 min interval (with sub-minute output) is required to address that question, including a computation and analysis of additional quantities such as the Scorer parameter.
This study compares an ensemble of idealised squall line simulations with nearly identical initial conditions. It demonstrates that some degree of linearity in the error growth of the convective event is maintained throughout the second half-hour of the simulation, during which the squall line grows towards the mature stage. A secondary phase of convective initiation after ∼30 min has been identified as crucial for the evolution of the ensemble spread. The mode of variability associated with this second phase of initiation has been identified as shifts in phase and amplitude of gravity waves triggered by the developing squall line itself, originating from the tiny initial disturbances. It is first revealed by the upward motion a few kilometres ahead of the squall line after 30 min. Leading to contrasts in secondary initiation of convection, the effect of this mode of variability on the squall line through upward tracer and mass transport, downward mass transport, cloud-top height, and variability in squall line circulation can be followed. Its effect is most clearly present after 55–60 min of simulation time. After almost an hour of existence, this mode of variability gradually disappears (70–85 min).
In good agreement with Melhauser and Zhang (2012) and Hanley et al. (2013), convective initiation sensitively depends on environmental conditions in our ensemble of idealised simulations. The chain of interactions has been documented in detail: following the crucial secondary initiation phase, a cold pool acceleration is coupled to the intensity of updraughts and downdraughts. On the other hand, once established (35–45 min), the cold pool velocity vcp is maintained throughout the next 30–45 min, as shown by Sect. 3.3.1. Variation in vcp explains much of the subsequent variance in cold pool perpendicular flow (u); therefore, a substantial fraction of it is explained by the mode of variability identified here. Eulerian and feature-centred perspectives show that both the cold pool propagation itself and non-linear feedback mechanisms play a substantial role in the idealised squall line ensemble after 45–60 min.
Consequently, two stages of error growth are identified:
de-correlating gravity wave patterns originating from the initial triggering of convection,

a stage associated with the main mode of squall line variability, which to a substantial degree depends linearly on vcp and the secondary phase of convective initiation.
Notably, initial condition uncertainties lose their structure, and less than 2 % variation in initial top height of the shear layer zi can result in convective intensities and overturned mass at opposite ends of an ensemble with 5 % initial variation in that zi. Loss of structure (e.g. top row, Table 1) is likely explained by non-linear developments in the gravity waves (phase, amplitude, stage after 20–30 min) as a precursor to the second phase of initiation. This loss of the initial structure can lead to very different squall line developments in the mature stage, and the ensemble can chaotically diverge towards a wider envelope, where information about earlier states is lost. Loss of uncertainty structure within a narrow ensemble of squall line simulations is in good agreement with the picture that Melhauser and Zhang (2012) draw for intrinsic and practical predictability. Compared to their findings, it can be concluded from this study that a tiny sub-space in initial conditions can provide the same ensemble spread as a much wider sub-space: an intrinsic limit of predictability may be present.
Code and data availability
The namelist and output dataset of the simulations used for this study are available on request.
EG designed, conducted and composed the content of this study as part of his PhD project, with contributions from and under the supervision of HT.
At least one of the (co-)authors is a member of the editorial board of Atmospheric Chemistry and Physics. The peer-review process was guided by an independent editor, and the author also has no other competing interests to declare.
Publisher's note: Copernicus Publications remains neutral with regard to jurisdictional claims in published maps and institutional affiliations.
Parts of this research were conducted using the supercomputer MOGON 2 and advisory services offered by Johannes Gutenberg University Mainz (https://hpc.uni-mainz.de/, last access: 10 January 2023), which is a member of the AHRP (Alliance for High Performance Computing in Rhineland-Palatinate, https://www.ahrp.info/, last access: 10 January 2023) and the Gauss Alliance e.V. The authors gratefully acknowledge the computing time granted on the supercomputer MOGON 2 at Johannes Gutenberg University Mainz (https://hpc.uni-mainz.de/).
The authors would like to thank Michael Riemer, Mirjam Hirt, Annette Miltenberger, Peter Spichtinger, Christopher Polster, Amelie Mayer, Sören Schmidt, and the reviewers for their contributions through constructive feedback and/or suggestions to improve (sections of) the paper, methods, and/or improving the presentation in some figures; we also thank the editor for handling the review process of this paper.
The research leading to these results has been done within the subproject "A1 – Multiscale analysis of the evolution of forecast uncertainty" of the Transregional Collaborative Research Center SFB/TRR 165 "Waves to Weather" funded by the German Research Foundation (DFG). HT acknowledges additional funding from the Carl Zeiss Foundation.
This research has been supported by the Deutsche Forschungsgemeinschaft (Transregional Collaborative Research Center Waves to Weather (grant no. TRR 165)).

This open-access publication was funded by Johannes Gutenberg University Mainz.
This paper was edited by Thijs Heus and reviewed by three anonymous referees.
Adams-Selin, R. D.: Impact of Convectively Generated Low-Frequency Gravity Waves on Evolution of Mesoscale Convective Systems, J. Atmos. Sci., 77, 3441–3460, https://doi.org/10.1175/JAS-D-19-0250.1, 2020a. a, b, c, d, e, f, g, h, i, j, k
Adams-Selin, R. D.: Sensitivity of MCS Low-Frequency Gravity Waves to Microphysical Variations, J. Atmos. Sci., 77, 3461–3477, https://doi.org/10.1175/JAS-D-19-0347.1, 2020b. a, b, c, d, e, f, g, h
Adams-Selin, R. D. and Johnson, R. H.: Examination of Gravity Waves Associated with the 13 March 2003 Bow Echo, Mon. Weather Rev., 141, 3735–3756, https://doi.org/10.1175/MWR-D-12-00343.1, 2013. a
Alfaro, D. A.: Low-Tropospheric Shear in the Structure of Squall Lines: Impacts on Latent Heating under Layer-Lifting Ascent, J. Atmos. Sci., 74, 229–248, https://doi.org/10.1175/JAS-D-16-0168.1, 2017. a
Baumgart, M., Ghinassi, P., Wirth, V., Selz, T., Craig, G. C., and Riemer, M.: Quantitative View on the Processes Governing the Upscale Error Growth up to the Planetary Scale Using a Stochastic Convection Scheme, Mon. Weather Rev., 147, 1713–1731, https://doi.org/10.1175/mwr-d-18-0292.1, 2019. a, b
Bednarczyk, C. N. and Ancell, B. C.: Ensemble Sensitivity Analysis Applied to a Southern Plains Convective Event, Mon. Weather Rev., 143, 230–249, https://doi.org/10.1175/MWR-D-13-00321.1, 2015. a, b, c
Bierdel, L., Selz, T., and Craig, G.: Theoretical aspects of upscale error growth through the mesoscales: an analytical model, Q. J. Roy. Meteorol. Soc., 143, 3048–3059, https://doi.org/10.1002/qj.3160, 2017. a
Bretherton, C. S. and Smolarkiewicz, P. K.: Gravity Waves, Compensating Subsidence and Detrainment around Cumulus Clouds, J. Atmos. Sci., 46, 740–759, https://doi.org/10.1175/1520-0469(1989)046<0740:GWCSAD>2.0.CO;2, 1989. a, b
Bryan, G.: Cloud Model 1. Version 19.8/cm1r19.8, retrieved/downloaded from: https://www2.mmm.ucar.edu/people/bryan/cm1/ (last access: 10 January 2023), 2019. a, b
Bryan, G. H., Wyngaard, J. C., and Fritsch, M. J.: Resolution Requirements for the Simulation of Deep Moist Convection, Mon. Weather Rev/, 131, 2394–2416, 2003. a, b, c
Coniglio, M. C., Stensrud, D. J., and Wicker, L. J.: Effects of upper-level shear on the structure and maintenance of strong quasi-linear mesoscale convective systems, J. Atmos. Sci., 63, 1231–1252, https://doi.org/10.1175/jas3681.1, 2006. a, b, c
Deardorff, J. W.: Stratocumulus-capped mixed layers derived from a three-dimensional model, Bound.-Lay. Meteorol., 18, 495–527, https://doi.org/10.1007/bf00119502, 1980. a
Durran, D. R. and Gingrich, M.: Atmospheric Predictability: Why Butterflies Are Not of Practical Importance, J. Atmos. Sci., 71, 2476–2488, https://doi.org/10.1175/JAS-D-14-0007.1, 2014. a
Fovell, R. G., Mullendore, G. L., and Kim, S.-H.: Discrete Propagation in Numerically Simulated Nocturnal Squall Lines, Mon. Weather Rev., 134, 3735–3752, https://doi.org/10.1175/MWR3268.1, 2006. a, b, c, d
Grant, L. D., Lane, T. P., and van den Heever, S. C.: The role of cold pools in tropical oceanic convective systems, J. Atmos. Sci., 75, 2615–2634, https://doi.org/10.1175/jas-d-17-0352.1, 2018. a, b, c, d, e
Groot, E.: Output data and namelist – README file 'Evolution of squall line variability and error growth in an ensemble of LES', Zenodo [dataset], https://doi.org/10.5281/zenodo.6619313, also available at https://tinyurl.com/groot-tost-22 (last access: 10 January 2023), 2022. a, b
Hanley, K. E., Kirshbaum, D. J., Roberts, N. M., and Leoncini, G.: Sensitivities of a Squall Line over Central Europe in a Convective-Scale Ensemble, Mon. Weather Rev., 141, 112–133, https://doi.org/10.1175/MWR-D-12-00013.1, 2013. a, b, c, d, e, f
Houze, R. A.: Mesoscale convective systems, Rev. Geophys., 42, RG4003, https://doi.org/10.1029/2004rg000150, 2004. a, b, c
Houze, R. A.: 100 Years of Research on Mesoscale Convective Systems, Meteor. Mon., 59, 17.1–17.54, https://doi.org/10.1175/AMSMONOGRAPHS-D-18-0001.1, 2018. a
Lane, T. P. and Reeder, M. J.: Convectively Generated Gravity Waves and Their Effect on the Cloud Environment, J. Atmos. Sci., 58, 2427–2440, https://doi.org/10.1175/1520-0469(2001)058<2427:CGGWAT>2.0.CO;2, 2001. a
Lane, T. P. and Zhang, F.: Coupling between gravity waves and tropical convection at Mesoscales, J. Atmos. Sci., https://doi.org/10.1175/2011JAS3577.1, 2011. a
Langhans, W., Schmidli, J., and Schär, C.: Bulk Convergence of Cloud-Resolving Simulations of Moist Convection over Complex Terrain, J. Atmos. Sci., 69, 2207–2228, https://doi.org/10.1175/JAS-D-11-0252.1, 2012. a
Lebo, Z. J. and Morrison, H.: Effects of Horizontal and Vertical Grid Spacing on Mixing in Simulated Squall Lines and Implications for Convective Strength and Structure, Mon. Weather Rev., 143, 4355–4375, https://doi.org/10.1175/MWR-D-15-0154.1, 2015. a, b, c
Lorenz, E. N.: The predictability of a flow which possesses many scales of motion, Tellus, 21, 289–307, https://doi.org/10.3402/tellusa.v21i3.10086, 1969. a, b
Mapes, B. E.: Gregarious Tropical Convection, J. Atmos. Sci., 50, 2026–2037, https://doi.org/10.1175/1520-0469(1993)050<2026:GTC>2.0.CO;2, 1993. a
McAnelly, R. L., Nachamkin, J. E., Cotton, W. R., and Nicholls, M. E.: Upscale Evolution of MCSs: Doppler Radar Analysis and Analytical Investigation, Mon. Weather Rev., 125, 1083–1110, https://doi.org/10.1175/1520-0493(1997)125<1083:UEOMDR>2.0.CO;2, 1997. a
Melhauser, C. and Zhang, F.: Practical and intrinsic predictability of severe and convective weather at the Mesoscales, J. Atmos. Sci., 69, 3350–3371, https://doi.org/10.1175/jas-d-11-0315.1, 2012. a, b, c, d, e, f, g, h, i, j, k, l
Moncrieff, M. W.: Organized Convective Systems: Archetypal Dynamical Models, Mass and Momentum Flux Theory, and Parametrization, Q. J. Roy. Meteorol. Soc., 118, 819–850, https://doi.org/10.1002/qj.49711850703, 1992. a
Morrison, H., Curry, J. A., and Khvorostyanov, V. I.: A New Double-Moment Microphysics Parameterization for Application in Cloud and Climate Models. Part I: Description, J. Atmos. Sci., 62, 1665–1677, https://doi.org/10.1175/JAS3446.1, 2005. a
Morrison, H., Thompson, G., and Tatarskii, V.: Impact of Cloud Microphysics on the Development of Trailing Stratiform Precipitation in a Simulated Squall Line: Comparison of One- and Two-Moment Schemes, Mon. Weather Rev., 137, 991–1007, https://doi.org/10.1175/2008mwr2556.1, 2009. a, b, c
Nicholls, M. E., Pielke, R. A., and Cotton, W. R.: Thermally Forced Gravity Waves in an Atmosphere at Rest, J. Atmos. Sci., 48, 1869–1884, https://doi.org/10.1175/1520-0469(1991)048<1869:TFGWIA>2.0.CO;2, 1991. a, b
Pandya, R. E. and Durran, D. R.: The influence of convectively generated thermal forcing on the mesoscale circulation around squall lines, J. Atmos. Sci., 53, 2924–2951, https://doi.org/10.1175/1520-0469(1996)053<2924:tiocgt>2.0.co;2, 1996. a, b, c
Rodwell, M. J., Magnusson, L., Bauer, P., Bechtold, P., Bonavita, M., Cardinali, C., Diamantakis, M., Earnshaw, P., Garcia-Mendez, A., Isaksen, L., Källén, E., Klocke, D., Lopez, P., McNally, T., Persson, A., Prates, F., and Wedi, N.: Characteristics of Occasional Poor Medium-Range Weather Forecasts for Europe, B. Am. Meteorol. Soc., 94, 1393–1405, https://doi.org/10.1175/bams-d-12-00099.1, 2013. a
Rotunno, R., Klemp, J. B., and Weisman, M. L.: A theory for strong, long-lived squall lines, J. Atmos. Sci., 45, 463–485, https://doi.org/10.1175/1520-0469(1988)045<0463:atfsll>2.0.co;2, 1988. a, b
Selz, T.: Estimating the Intrinsic Limit of Predictability Using a Stochastic Convection Scheme, J. Atmos. Sci., 76, 757–765, https://doi.org/10.1175/jas-d-17-0373.1, 2019. a, b, c, d, e
Selz, T., Riemer, M., and Craig, G.: The transition from practical to intrinsic predictability of midlatitude weather, J. Atmos. Sci., 79, 2013–2030, https://doi.org/10.1175/JAS-D-21-0271.1, 2022. a, b
Skamarock, W. C.: Evaluating mesoscale NWP models using kinetic energy spectra, Mon. Weather Rev., 132, 3019–3032, https://doi.org/10.1175/mwr2830.1, 2004. a
Stechmann, S. N. and Majda, A. J.: Gravity waves in shear and implications for organized convection, J. Atmos. Sci., 66, 2579–2599, https://doi.org/10.1175/2009JAS2976.1, 2009. a, b
Torn, R. D. and Romine, G. S.: Sensitivity of Central Oklahoma Convection Forecasts to Upstream Potential Vorticity Anomalies during Two Strongly Forced Cases during MPEX, Mon. Weather Rev., 143, 4064–4087, https://doi.org/10.1175/MWR-D-15-0085.1, 2015. a
Varble, A., Zipser, E. J., Fridlind, A. M., Zhu, P., Ackerman, A. S., Chaboureau, J.-P., Collis, S., Fan, J., Hill, A., and Shipway, B.: Evaluation of cloud-resolving and limited area model intercomparison simulations using TWP-ICE observations: 1. Deep convective updraft properties, J. Geophys. Res.-Atmos., 119, 13891–13918, https://doi.org/10.1002/2013JD021371, 2014. a, b
Varble, A., Morrison, H., and Zipser, E.: Effects of Under-Resolved Convective Dynamics on the Evolution of a Squall Line, Mon. Weather Rev., 148, 289–311, https://doi.org/10.1175/MWR-D-19-0187.1, 2020. a, b, c, d, e
Weisman, M. L. and Klemp, J. B.: The Dependence of Numerically Simulated Convective Storms on Vertical Wind Shear and Buoyancy, Mon. Weather Rev., 110, 504–520, https://doi.org/10.1175/1520-0493(1982)110<0504:tdonsc>2.0.co;2, 1982. a, b, c
Weisman, M. L. and Rotunno, R.: "A theory for strong long-lived squall lines" revisited, J. Atmos. Sci., 61, 361–382, https://doi.org/10.1175/1520-0469(2004)061<0361:atfsls>2.0.co;2, 2004. a
Weisman, M. L., Skamarock, W. C., and Klemp, J. B.: The resolution dependence of explicitly modeled convective systems, Mon. Weather Rev., 125, 527–548, https://doi.org/10.1175/1520-0493(1997)125<0527:trdoem>2.0.co;2, 1997. a, b
Weyn, J. A. and Durran, D. R.: The Dependence of the Predictability of Mesoscale Convective Systems on the Horizontal Scale and Amplitude of Initial Errors in Idealized Simulations, J. Atmos. Sci., 74, 2191–2210, https://doi.org/10.1175/JAS-D-17-0006.1, 2017.  a, b, c, d, e
Wilks, D. S.: "The Stippling Shows Statistically Significant Grid Points": How Research Results are Routinely Overstated and Overinterpreted, and What to Do about It, B. Am. Meteorol. Soc., 97, 2263–2273, https://doi.org/10.1175/bams-d-15-00267.1, 2016. a, b
Zhang, F.: Dynamics and structure of mesoscale error covariance of a winter cyclone estimated through short-range ensemble forecasts, Mon. Weather Rev., https://doi.org/10.1175/MWR3009.1, 2005. a, b
Zhang, F., Bei, N., Rotunno, R., Snyder, C., and Epifanio, C. C.: Mesoscale Predictability of Moist Baroclinic Waves: Convection-Permitting Experiments and Multistage Error Growth Dynamics, J. Atmos. Sci., 64, 3579–3594, https://doi.org/10.1175/jas4028.1, 2007. a, b, c
Zhang, F., Sun, Y. Q., Magnusson, L., Buizza, R., Lin, S.-J., Chen, J.-H., and Emanuel, K.: What Is the Predictability Limit of Midlatitude Weather?, J. Atmos. Sci., 76, 1077–1091, https://doi.org/10.1175/JAS-D-18-0269.1, 2019. a