Articles | Volume 21, issue 11
https://doi.org/10.5194/acp-21-8761-2021
© Author(s) 2021. This work is distributed under
the Creative Commons Attribution 4.0 License.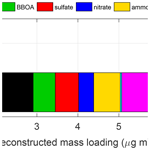 Physical and chemical properties of urban aerosols in São Paulo, Brazil: links between composition and size distribution of submicron particles
In this work, the relationships between size and composition of submicron particles (PM1) were analyzed at an urban site in the Metropolitan Area of São Paulo (MASP), a megacity with about 21 million inhabitants. The measurements were carried out from 20 December 2016 to 15 March 2017. The chemical composition was measured with an Aerodyne Aerosol Chemical Speciation Monitor and size distribution with a TSI Scanning Mobility Particle Sizer 3082. PM1 mass concentrations in the MASP had an average mass concentration of 11.4 µg m−3. Organic aerosol (OA) dominated the PM1 composition (56 %), followed by sulfate (15 %) and equivalent black carbon (eBC, 13 %). Four OA classes were identified using positive matrix factorization: oxygenated organic aerosol (OOA, 40 % of OA), biomass burning organic aerosol (BBOA, 13 %), and two hydrocarbon-like OA components (a typical HOA related to vehicular emissions (16 %) and a second HOA (21 %) representing a mix of anthropogenic sources). Particle number concentrations averaged 12 100±6900 cm−3, dominated by the Aitken mode. The accumulation mode increased under relatively high-PM1 conditions, suggesting an enhancement of secondary organic aerosol (SOA) production. Conversely, the contribution of nucleation-mode particles was less dependent on PM1 levels, consistent with vehicular emissions. The relationship between aerosol size modes and PM1 composition was assessed by multilinear regression (MLR) models. Secondary inorganic aerosols were partitioned between Aitken and accumulation modes, related to condensation particle growth processes. Submicron mass loading in the accumulation mode was mostly associated with highly oxidized OOA and also traffic-related emissions. To the authors' knowledge, this is the first work that uses the MLR methodology to estimate the chemical composition of the different aerosol size modes. The chemical composition with size-dependent PM provides innovative information on the properties of both primary and secondary organic aerosols, as well as inorganic aerosols in a complex urban environment. The results emphasize the relevance of vehicular emissions to the air quality at MASP and highlight the key role of secondary processes on the PM1 ambient concentrations in the region since 56 % of PM1 mass loading was attributed to SOA and secondary inorganic aerosol.
Received: 02 Jun 2020 – Discussion started: 25 Jan 2021 – Revised: 22 Apr 2021 – Accepted: 10 May 2021 – Published: 10 Jun 2021
Air pollution has become a major problem in large urban conglomerates, particularly in megacities with a population exceeding 10 million inhabitants (Fuzzi et al., 2015). In these megacities, industrial and vehicular emissions are generally the main air pollution sources (Beirle et al., 2011; Zhu et al., 2012). The Metropolitan Area of São Paulo (MASP) is the largest South American megacity, with a population of about 21 million inhabitants (IBGE, 2021), an area of 7947 km2 comprising 39 municipalities, and a fleet of 8 million vehicles. An important characteristic of the Brazilian vehicle fleet is that gasohol with 24 % ethanol and pure ethanol are the main fuels, making Brazil, and especially the MASP, a unique case of large-scale biofuel usage worldwide. Successful public policies for controlling and monitoring industrial and vehicular pollutant sources have been implemented over recent decades in the MASP, leading to positive impacts in reducing the emission of primary pollutants to the atmosphere (Andrade et al., 2017). However, many uncertainties are still found on the effect of emission reduction policies on the concentration of secondary pollutants, for example, ozone and secondary aerosols.
Aerosol particles have recognized effects on human health (Cohen et al., 2017) and affect the Earth's radiation budget (Boucher et al., 2013). However, the knowledge of the dynamics of physicochemical properties of submicron particles remains limited. The chemical composition and the size distribution of ambient aerosol are key parameters concerning its optical properties (Romano et al., 2019), ability to act as cloud condensation nuclei (CCN) (Che et al., 2016), and deposition efficiency into the human respiratory tract (Ching and Kajino, 2018). Furthermore, aerosol properties range widely in the atmosphere as a result of interaction between local and regional sources (Costabile et al., 2009) and atmospheric processing (Jimenez et al., 2009). Therefore, a current scientific effort is the characterization of the mechanisms of aerosol production and aging under ambient conditions, in particular the formation of secondary organic aerosols (SOA).
Source apportionment studies carried out at MASP (Castanho and Artaxo, 2001; Andrade et al., 2012; Pereira et al., 2017; de Miranda et al., 2018) have shown that vehicle traffic, resuspended soil dust, and secondary processes are the main sources of PM2.5 in the region. Although such studies have provided novel knowledge about the main air pollution sources in MASP, most of them derived from filter-based offline chemical analyses. Low-time-resolution offline measurements are unable to describe the dynamic of the sources and processes of urban aerosols. To our knowledge, Brito et al. (2018) were the only ones to report high-resolution measurements of chemical composition of submicron particles recently in the MASP, so that conducting further studies in the region is fundamental for a better understanding of such dynamic processes.
Herein, near-real-time PM1 chemical composition was evaluated, including black carbon, inorganic aerosols, and chemical classes of organic aerosol, using positive matrix factorization (PMF). Furthermore, the relationships between aerosol chemical composition and particle number size distribution (PNSD) were investigated by using a multilinear regression (MLR) approach. The results presented here provide innovative insights into the association between sources and processes governing physical–chemical properties of atmospheric aerosol in a megacity largely impacted by traffic emissions and extensive biofuel usage.
2.1

 Sampling site and measurements

An aerosol and trace gas monitoring station was operated at one of the municipalities of the Metropolitan Area of São Paulo (MASP), at the Federal University of São Paulo (UNIFESP, 23∘43′8′′ S, 46∘37′40′′ W, 769 m above mean sea level) in Diadema city (Fig. 1). The municipality of Diadema is located 20 km southeast from São Paulo downtown in a region characterized by high population density and strong vehicular impact, besides emissions from industrial activities and proximity to preserved Atlantic forest areas. The combination of different anthropogenic and biogenic emissions results in complex physicochemical processes that promote the formation of SOA and ozone.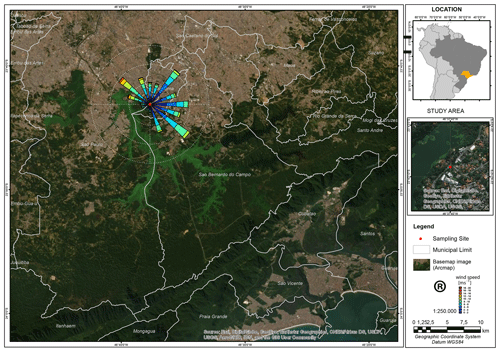 The measurements were carried out from 20 December 2016 to 15 March 2017, comprising 105 d of data acquisition. Trace gas analyzers Thermo 49i and Thermo 43i were used to monitor the concentration of trace gases O3 and SO2, respectively. NO2 concentration was monitored using a cavity attenuated phase shift (CAPS, Aerodyne Research Inc.) analyzer. Submicron particle number size distributions (PNSD) in the range 10–450 nm were measured every 2 min, using TSI-SMPS Model 3082, associated with TSI-CPC Model 3772. Particle absorption coefficients were measured at 637 nm using a Thermo Scientific Model 5012 MAAP (multi-angle absorption photometer), compensated by a +5 % factor and converted to equivalent black carbon (eBC) mass concentration assuming a mass absorption efficiency value of 6.6 m2 g−1 (Müller et al., 2011).
The chemical composition of non-refractory submicron aerosol was measured using a quadrupole aerosol chemical speciation monitor (Q-ACSM, Aerodyne Research Inc.), described in detail by Ng et al. (2011a). Briefly, aerosol particles are sampled using a PM2.5 cyclone inlet and focused through an aerodynamic lens forming a narrow particle beam, which is transmitted into the detection chamber under a high vacuum onto a 600 ∘C vaporizer. According to Ng et al. (2011a) the aerodynamic lens used in the Q-ACSM has a high transmission efficiency in the aerodynamic diameter range 70–500 nm. Non-refractory material is flash-vaporized and ionized by electron impact at 70 eV. According to their mass-to-charge ratio (), the fragments are analyzed in the quadrupole spectrometer. In this study, an averaging interval of 30 min was adopted. The collection efficiency (CE, defined as the ratio of the mass of particles detected by the instrument to the mass of particles introduced in the inlet) was calculated using the parametrization of Middlebrook et al. (2011) and resulted in an average of 0.45±0.01. The transmission of the ACSM lens makes the instrument measure particles from 70 nm to about 900 nm, normally referred to as PM1. Detection limits of ACSM were calculated as 3 times the average noise level, using data of ambient air sampled through a HEPA filter. For 30 min of averaging time, the 3σ detection limits for chloride, ammonium, nitrate, organics, and sulfate are 0.03, 0.36, 0.03, 0.57, and 0.09 µg m−3, respectively.
Ambient aerosols were sampled under dry conditions (RH < 40 %) using a nafion dryer, and concentrations were compensated for standard temperature and pressure conditions (1013.25 mbar; 273.15 K). Aerosol and trace gas measurements were averaged in periods of 30 min. Meteorological parameters (wind speed, wind direction, temperature, RH, solar radiation, and precipitation) were provided by the Institute of Astronomy, Geophysics and Atmospheric Sciences of the University of São Paulo (IAG) meteorological station (23∘39′02.61′′ S, 46∘37′18.55′′ W), 10 km north from the sampling site.
2.2

 Identification of OA components with positive matrix factorization (PMF)

Positive matrix factorization (PMF) is a statistical model that uses weighted least-square fitting for factor analysis (Paatero and Tapper, 1994; Paatero, 1997). It uses a bilinear factor analytic model defined in matrix notation as follows:

where X denotes the matrix of the measured values; G and F are matrices computed by the model that represent the scores and loading, respectively; and E is the residual matrix, made up of the elements eij. For the ACSM and AMS (aerosol mass spectrometer) data, the measured organic mass spectra are apportioned in terms of source- and process-related components (Zhang et al., 2011). In this case, the columns j in X are the ratios and each row i represents a single mass spectrum, G represents the time series and F the profile mass spectrum for the p factors computed by the algorithm. The model adjusts G and F using a least-squares algorithm that iteratively minimizes the quantity Q, defined as the sum of the squared residuals weighted by their respective uncertainties:

where σij is the uncertainty for each element in the matrix X. An IGOR™-based source finder (Canonaco et al., 2013, Sofi) with a multilinear engine algorithm (Paatero, 1999, ME-2) was used to prepare the data, estimate error, execute the analysis, and evaluate the results.
2.3

 Multilinear regression (MLR) model

An analysis of the relationship between chemical composition and size distribution was performed using a multilinear regression (MLR) model. Previous studies have applied the MLR model to estimate aerosol mass scattering and extinction efficiencies, and for source apportionment of optical properties (Ealo et al., 2018). A linear regression model describes the relationship between a dependent variable, y, and one or more independent variables, x. The dependent variable is also called the response variable, and independent variables are also called explanatory or predictor variables. The MLR model is as follows:

where yi is the ith observation of the response variable, βj is the jth coefficient, β0 is the constant term in the model, xij is the ith observation on the jth predictor variable, , and ϵi is the ith error term.

For the MLR model, the time series of PM1 chemical constituents (i.e., eBC, inorganic species, and OA PMF-derived chemical classes) were used as dependent variables, and the volume of particle size modes were taken as predictors. Initially, we use the volume of nucleation, Aitken, and accumulation modes as independent variables in the model. However, the chemical mass balance has been violated for the nucleation mode, suggesting that more particles in the nucleation model are required by MLR than actual measurement. This effect is caused by the fact that the nucleation mode (local maximum at 22.5 nm) is out of the particle size range measured by the ACSM (75–650 nm). Taking this into account, we modified the model, using Aitken and accumulation modes as predictors. Since the nucleation mode represents only a small fraction of the aerosol volume (<0.5 %), it is reasonable to explain the PM mass concentration based on these two modes. Volume size distribution was used in MLR calculations since it represents the accumulation and Aitken modes better than number size distribution.

For MLR analysis, intercept (constant term in the model) was set to 0, as it holds no physical significance for the mass attribution. Since the presence of multicollinearity (i.e., correlation between predictors) can adversely affect results in an MLR, the variance inflation factor (VIF; Hair et al., 2006) was determined. The VIF is a means of detecting multicollinearities between the independent variables of a model. If the VIF > 10, the multicollinearity is high and the variable should be excluded (Hair et al., 2006). A fit linear regression model was performed using the fitlm function for MATLAB 2015a by using a standard least-squares fit.
4
 Summary and conclusions
Physicochemical properties of aerosols are key parameters in terms of their impacts on human health and climate effects. In this study, a detailed characterization of submicron particles was performed at an urban site in the MASP. The results show PM1 mass concentrations in close agreement with other megacities, with an average mass concentration of 11.4 µg m−3. As expected, chemical composition was dominated by organic aerosols (56 %), with significant contributions of sulfate (15 %) and black carbon (13 %). Using PMF analysis it was possible to identify four OA classes including oxygenated organic aerosol (OOA), biomass burning organic aerosol (BBOA), and two hydrocarbon-like OA components (a typical HOA related to vehicular emissions and a HOA associated with a mix of anthropogenic sources). Considering the sum of secondary inorganic aerosols and SOA as a lower limit, more than 50 % of PM1 mass loading was estimated as resulting from secondary production.
Nucleation, Aitken, and accumulation lognormal size modes were fitted to the measured PNSD. The Aitken mode dominated the total number concentration with an average concentration of 6900 cm−3 and submicron aerosol size distribution was strongly influenced by the PM1 levels. The accumulation mode shows a large increase from low-PM1 conditions to high-PM1 conditions. The shift in the particle size distribution to larger sizes provides more aerosol surface, which can favor the condensation of vapors onto pre-existing particles and likely inhibit nucleation. It corroborates with lower contribution of particles at the nucleation mode observed under high-PM1 conditions. Conversely, the contribution of particles from the nucleation mode to the total number concentration is higher during low-PM1 conditions, when the available aerosol surface is low, decreasing both condensation and coagulation rates and favoring homogeneous nucleation. Because of the high contribution of nucleation particles under low-PM1 loadings, PM2.5 and PM10 (parameters frequently used in the air quality index) may be insufficient to assess human PM exposure in urban areas.
The relationships between size modes and chemical constituents of PM1 were assessed by performing an MLR model. Secondary inorganic species (ammonium, sulfate, and nitrate) were partitioned between Aitken and accumulation modes, related to condensation particle growth processes. Submicron mass loading in the accumulation mode included aged secondary organic aerosol and vehicular emissions.
The results presented here emphasize the well-established impact of traffic-related sources in the MASP and reinforce the need to reduce emissions rates in the region by applying new technologies such as the EURO VI emission standard. It is also essential to expand public mass transportation systems, resulting in a better transportation system for 20 million people, since the metro system in São Paulo is heavily underdeveloped. Additionally, encouraging alternative transportation, implementing strong incentives for electrical vehicles and the restriction of passenger car circulation can improve air quality significantly in urban areas. Although the implementation of regulatory programs to control stationary and mobile sources in the MASP over recent decades has been successful in reducing primary emissions, secondary processes have been recognized as critical to air quality in the region. The findings presented provide innovative insights into the association between sources and processes governing physicochemical properties of atmospheric aerosol and highlight the key role of SOA formation on the PM1 ambient concentrations in a megacity largely impacted by traffic emissions and extensive biofuel usage.
The datasets are available upon request (djunior@if.usp.br).
DMdS conducted most of the data analysis and wrote the paper. PA supervised the work. LVR, PS, and SC contributed to specific parts of the data analysis. DMdS, LVR, and PS conducted the measurements. All the authors contributed to the interpretation of the results and writing of the paper.
The authors declare that they have no conflict of interest.
We thank Fernando Morais, Fábio Jorge, and Simara Morais for technical and logistics support in the successful operation of the sampling site. We thank the IAG Meteorological Station for providing meteorological data. Djacinto Monteiro dos Santos acknowledges the scholarship from CNPq (162649/2015-0) for supporting his doctoral studies at the IFUSP, São Paulo, Brazil.
This research has been supported by the Fundação de Amparo à Pesquisa do Estado de São Paulo (grant no. 2017/17407-0).
This paper was edited by Frank Keutsch and reviewed by two anonymous referees.
Alfarra, M. R., Prevot, A. S. H., Szidat, S., Sandradewi, J., Weimer, S., Lanz, V. A., Schreiber, D., Mohr, M., and Baltensperger, U.: Identification of the Mass Spectral Signature of Organic Aerosols from Wood Burning Emissions, Environ. Sci. Technol., 41, 5770–5777, https://doi.org/10.1021/es062289b, 2007. a
Andrade, M. F., Miranda, R. M., Fornaro, A., Kerr, A., Oyama, B., de Andre, P. A., and Saldiva, P.: Vehicle emissions and PM 2.5 mass concentrations in six Brazilian cities, Air Qual. Atmos. Hlth., 5, 79–88, https://doi.org/10.1007/s11869-010-0104-5, 2012. a
Andrade, M. F., Kumar, P., de Freitas, E. D., Ynoue, R. Y., Martins, J., Martins, L. D., Nogueira, T., Perez-Martinez, P., de Miranda, R. M., Albuquerque, T., Gonçalves, F. L. T., Oyama, B., and Zhang, Y.: Air quality in the megacity of São Paulo: Evolution over the last 30 years and future perspectives, Atmos. Environ., 159, 66–82, https://doi.org/10.1016/j.atmosenv.2017.03.051, 2017. a, b, c, d
Backman, J., Rizzo, L. V., Hakala, J., Nieminen, T., Manninen, H. E., Morais, F., Aalto, P. P., Siivola, E., Carbone, S., Hillamo, R., Artaxo, P., Virkkula, A., Petäjä, T., and Kulmala, M.: On the diurnal cycle of urban aerosols, black carbon and the occurrence of new particle formation events in springtime São Paulo, Brazil, Atmos. Chem. Phys., 12, 11733–11751, https://doi.org/10.5194/acp-12-11733-2012, 2012. a, b, c, d
Beirle, S., Boersma, K. F., Platt, U., Lawrence, M. G., and Wagner, T.: Megacity emissions and lifetimes of nitrogen oxides probed from space, Science, 333, 1737–1739, https://doi.org/10.1126/science.1207824, 2011. a
Boucher, O., Randall, D., Artaxo, P., Bretherton, C., Feingold, G., Forster, P., Kerminen, V.-M., Kondo, Y., Liao, H., Lohmann, U., Rasch, P., Satheesh, S. K., Sherwood, S., Stevens, B., and Zhang, X.: Clouds and aerosols, in: Climate change 2013: the physical science basis. Contribution of Working Group I to the Fifth Assessment Report of the Intergovernmental Panel on Climate Change, Cambridge University Press, Cambridge, 571–657, https://doi.org/10.1017/CBO9781107415324.016, 2013. a
Bozzetti, C., El Haddad, I., Salameh, D., Daellenbach, K. R., Fermo, P., Gonzalez, R., Minguillón, M. C., Iinuma, Y., Poulain, L., Elser, M., Müller, E., Slowik, J. G., Jaffrezo, J.-L., Baltensperger, U., Marchand, N., and Prévôt, A. S. H.: Organic aerosol source apportionment by offline-AMS over a full year in Marseille, Atmos. Chem. Phys., 17, 8247–8268, https://doi.org/10.5194/acp-17-8247-2017, 2017. a
Brito, J., Wurm, F., Yaannez-Serrano, A. M., de Assuncao, J. V., Godoy, J. M., and Artaxo, P.: Vehicular emission ratios of VOCs in a megacity impacted by extensive ethanol use: results of ambient measurements in Sao Paulo, Brazil, Environ. Sci. Technol., 49, 11381–11387, https://doi.org/10.1021/acs.est.5b03281, 2015. a
Brito, J., Carbone, S., dos Santos, D. A. M., Dominutti, P., de Oliveira Alves, N., Rizzo, L. V., and Artaxo, P.: Disentangling vehicular emission impact on urban air pollution using ethanol as a tracer, Sci. Rep.-UK, 8, 10679, https://doi.org/10.1016/S0140-6736(17)30505-6, 2018. a, b
Canagaratna, M. R., Jayne, J. T., Ghertner, D. A., Herndon, S., Shi, Q., Jimenez, J. L., Silva, P. J., Williams, P., Lanni, T., Drewnick, F., Demerjian, K. L., Kolb, C. E., and Worsnop, D. R.: Chase Studies of Particulate Emissions from in-use New York City Vehicles, Aerosol Sci. Tech., 38, 555–573, https://doi.org/10.1080/02786820490465504, 2004. a
Canonaco, F., Crippa, M., Slowik, J. G., Baltensperger, U., and Prévôt, A. S. H.: SoFi, an IGOR-based interface for the efficient use of the generalized multilinear engine (ME-2) for the source apportionment: ME-2 application to aerosol mass spectrometer data, Atmos. Meas. Tech., 6, 3649–3661, https://doi.org/10.5194/amt-6-3649-2013, 2013. a
Carbone, S., Saarikoski, S., Frey, A., Reyes, F., Reyes, P., Castillo, M., Gramsch, E., Oyola, P., Jayne, J., Worsnop, D. R., and Hillamo, R.: Chemical characterization of submicron aerosol particles in Santiago de Chile, Aerosol Air Qual. Res., 13, 462–473, https://doi.org/10.4209/aaqr.2012.10.0261, 2013. a, b
Castanho, A. and Artaxo, P.: Wintertime and summertime São Paulo aerosol source apportionment study, Atmos. Environ., 35, 4889–4902, https://doi.org/10.1016/S1352-2310(01)00357-0, 2001. a
CETESB: Relatório de Qualidade do Ar no Estado de São Paulo 2018, Série Relatórios, São Paulo, available at: https://cetesb.sp.gov.br/ar/publicacoes-relatorios/ (last access: 7 June 2021), 2019. a
Che, H., Zhang, X., Wang, Y., Zhang, L., Shen, X., Zhang, Y., Ma, Q., Sun, J., Zhang, Y., and Wang, T.: Characterization and parameterization of aerosol cloud condensation nuclei activation under different pollution conditions, Sci. Rep.-UK, 6, 24497, https://doi.org/10.1038/srep24497, 2016. a
Ching, J. and Kajino, M.: Aerosol mixing state matters for particles deposition in human respiratory system, Sci. Rep., 8, 8864, https://doi.org/10.1038/s41598-018-27156-z, 2018. a
Cohen, A. J., Brauer, M., Burnett, R., Anderson, H. R., Frostad, J., Estep, K., Balakrishnan, K., Brunekreef, B., Dandona, L., Dandona, R., Feigin, V., Freedman, G., Hubbell, B., Jobling, A., Kan, H., Knibbs, L., Liu, Y., Martin, R., Morawska, L., Pope III, C. A., Shin, H., Straif, K., Shaddick, G., Thomas, M., Dingenen, R., Donkelaar, A., Christopher, T. V., Murray, J. L., and Forouzanfar, M. H.: Estimates and 25-year trends of the global burden of disease attributable to ambient air pollution: an analysis of data from the Global Burden of Diseases Study 2015, Lancet, 389, 1907–1918, https://doi.org/10.1016/S0140-6736(17)30505-6, 2017. a
Costabile, F., Birmili, W., Klose, S., Tuch, T., Wehner, B., Wiedensohler, A., Franck, U., König, K., and Sonntag, A.: Spatio-temporal variability and principal components of the particle number size distribution in an urban atmosphere, Atmos. Chem. Phys., 9, 3163–3195, https://doi.org/10.5194/acp-9-3163-2009, 2009. a, b
de Miranda, R., Andrade, M., Ribeiro, F., Francisco, K., and Perez-Martinez, P.: Source apportionment of fine particulate matter by positive matrix factorization in the Metropolitan Area of São Paulo, Brazil, J. Clean. Prod., 202, 253–263, https://doi.org/10.1016/j.jclepro.2018.08.100, 2018. a, b
Ealo, M., Alastuey, A., Pérez, N., Ripoll, A., Querol, X., and Pandolfi, M.: Impact of aerosol particle sources on optical properties in urban, regional and remote areas in the north-western Mediterranean, Atmos. Chem. Phys., 18, 1149–1169, https://doi.org/10.5194/acp-18-1149-2018, 2018. a
Fuzzi, S., Baltensperger, U., Carslaw, K., Decesari, S., Denier van der Gon, H., Facchini, M. C., Fowler, D., Koren, I., Langford, B., Lohmann, U., Nemitz, E., Pandis, S., Riipinen, I., Rudich, Y., Schaap, M., Slowik, J. G., Spracklen, D. V., Vignati, E., Wild, M., Williams, M., and Gilardoni, S.: Particulate matter, air quality and climate: lessons learned and future needs, Atmos. Chem. Phys., 15, 8217–8299, https://doi.org/10.5194/acp-15-8217-2015, 2015. a
Hair, J. F., Black, W. C., Babin, B. J., Anderson, R. E., and Tatham, R. L.: Multivariate data analysis, Vol. 6, Pearson Prentice Hall, Upper Saddle River, NJ, 2006. a, b, c
Hussein, T., Dal Maso, M., Petaja, T., Koponen, I. K., Paatero, P., Aalto, P. P., Hameri, K., and Kulmala, M.: Evaluation of an automatic algorithm for fitting the particle number size distributions, Boreal Environ. Res., 10, 337–355, 2005. a
IBGE: Instituto Brasileiro de Geografia e Estatística, Brazilian Institute of Geography and Statistics, available at: http://cod.ibge.gov.br/QHF, last access: 7 June 2021. a
Jimenez, J. L., Canagaratna, M., Donahue, N., Prevot, A., Zhang, Q., Kroll, J. H., DeCarlo, P. F., Allan, J. D., Coe, H., Ng, N. L., Aiken, A. C., Docherty, K. S., Ulbrich, I. M., Grieshop, A. P., Robinson, A. L., Duplissy, J., Smith, J. D., Wilson, K. R., Lanz, V. A., Hueglin, C., Sun, Y. L., Tian, J., Laaksonen, A., Raatikainen, T., Rautiainen, J., Vaattovaara, P., Ehn, M., Kulmala, M., Tomlinson, J. M., Collins, D. R., Cubison, M. J., Dunlea, E. J., Huffman, J. A., Onasch, T. B., Alfarra, M. R., Williams, P. I., Bower, K., Kondo, Y., Schneider, J., Drewnick, F., Borrmann, S., Weimer, S., Demerjian, K., Salcedo, D., Cottrell, L., Griffin, R., Takami, A., Miyoshi, T., Hatakeyama, S., Shimono, A., Sun, J. Y., Zhang, Y. M., Dzepina, K., Kimmel, J. R., Sueper, D., Jayne, J. T., Herndon, S. C., Trimborn, A. M., Williams, L. R., Wood, E. C., Middlebrook, A. M., Kolb, C. E., Baltensperger, U., and Worsnop, D. R.: Evolution of organic aerosols in the atmosphere, Science, 326, 1525–1529, https://doi.org/10.1126/science.1180353, 2009. a, b
Kumar, P., de Fatima Andrade, M., Ynoue, R. Y., Fornaro, A., Dias de Freitas, E., Martins, J., Martins, L. D., Albuquerque, T., Zhang, Y., and Morawska, L.: New directions: from biofuels to wood stoves: the modern and ancient air quality challenges in the megacity of São Paulo, Atmos. Environ., 140, 364–369, https://doi.org/10.1016/j.atmosenv.2016.05.059, 2016. a
Martins, L. D., Martins, J. A., Freitas, E. D., Mazzoli, C. R., Gonçalves, F. L. T., Ynoue, R. Y., Hallak, R., Albuquerque, T. T. A., and de Fatima Andrade, M.: Potential health impact of ultrafine particles under clean and polluted urban atmospheric conditions: a model-based study, Air Qual. Atmos. Hlth., 3, 29–39, https://doi.org/10.1007/s11869-009-0048-9, 2010. a
Middlebrook, A., Bahreini, R., Jimenez, J., and Cana-Garatna, M.: Evaluation of Composition-Dependent Collection Efficiencies for the Aerodyne Aerosol Mass Spectrometer using Field Data, Aerosol Sci. Tech., 46, 258–271, https://doi.org/10.1080/02786826.2011.620041, 2011. a
Mohr, C., DeCarlo, P. F., Heringa, M. F., Chirico, R., Slowik, J. G., Richter, R., Reche, C., Alastuey, A., Querol, X., Seco, R., Peñuelas, J., Jiménez, J. L., Crippa, M., Zimmermann, R., Baltensperger, U., and Prévôt, A. S. H.: Identification and quantification of organic aerosol from cooking and other sources in Barcelona using aerosol mass spectrometer data, Atmos. Chem. Phys., 12, 1649–1665, https://doi.org/10.5194/acp-12-1649-2012, 2012. a, b
Monteiro dos Santos, D. A., Brito, J., Godoy, J., and Artaxo, P.: Ambient concentrations and insights on organic and elemental carbon dynamics in São Paulo, Brazil, Atmos. Environ., 144, 226–233, https://doi.org/10.1016/j.atmosenv.2016.08.081, 2016. a
Müller, T., Henzing, J. S., de Leeuw, G., Wiedensohler, A., Alastuey, A., Angelov, H., Bizjak, M., Collaud Coen, M., Engström, J. E., Gruening, C., Hillamo, R., Hoffer, A., Imre, K., Ivanow, P., Jennings, G., Sun, J. Y., Kalivitis, N., Karlsson, H., Komppula, M., Laj, P., Li, S.-M., Lunder, C., Marinoni, A., Martins dos Santos, S., Moerman, M., Nowak, A., Ogren, J. A., Petzold, A., Pichon, J. M., Rodriquez, S., Sharma, S., Sheridan, P. J., Teinilä, K., Tuch, T., Viana, M., Virkkula, A., Weingartner, E., Wilhelm, R., and Wang, Y. Q.: Characterization and intercomparison of aerosol absorption photometers: result of two intercomparison workshops, Atmos. Meas. Tech., 4, 245–268, https://doi.org/10.5194/amt-4-245-2011, 2011. a
Ng, N., Herndon, S., Trimborn, A., Croteau, P., Onasch, T., Sueper, D., Worsnop, D., Zhang, Q., Sun, Y., and Jayne, J.: An Aerosol Chemical Speciation Monitor (ACSM) for Routine Monitoring of the Composition and Mass Concentrations of Ambient Aerosol, Aerosol Sci. Tech., 45, 780–794, https://doi.org/10.1080/02786826.2011.560211, 2011a. a, b
Ng, N. L., Canagaratna, M. R., Jimenez, J. L., Chhabra, P. S., Seinfeld, J. H., and Worsnop, D. R.: Changes in organic aerosol composition with aging inferred from aerosol mass spectra, Atmos. Chem. Phys., 11, 6465–6474, https://doi.org/10.5194/acp-11-6465-2011, 2011b. a, b, c, d, e
Paatero, P.: Least squares formulation of robust non-negative factor analysis, Chemometr. Intell. Lab., 37, 23–35, https://doi.org/10.1016/S0169-7439(96)00044-5, 1997. a
Paatero, P.: The Multilinear Engine – A Table-Driven, Least Squares Program for Solving Multilinear Problems, Including the n-Way Parallel Factor Analysis Model, J. Comput. Graph. Stat., 8, 854–888, https://doi.org/10.1080/10618600.1999.10474853, 1999. a
Paatero, P. and Tapper, U.: Positive matrix factorization: A non-negative factor model with optimal utilization of error estimates of data values, Environmetrics, 5, 111–126, https://doi.org/10.1002/env.3170050203, 1994. a
Pereira, G. M., Teinilä, K., Custódio, D., Gomes Santos, A., Xian, H., Hillamo, R., Alves, C. A., Bittencourt de Andrade, J., Olímpio da Rocha, G., Kumar, P., Balasubramanian, R., Andrade, M. D. F., and de Castro Vasconcellos, P.: Particulate pollutants in the Brazilian city of São Paulo: 1-year investigation for the chemical composition and source apportionment, Atmos. Chem. Phys., 17, 11943–11969, https://doi.org/10.5194/acp-17-11943-2017, 2017. a, b
Rodríguez, S., Van Dingenen, R., Putaud, J.-P., Martins-Dos Santos, S., and Roselli, D.: Nucleation and growth of new particles in the rural atmosphere of Northern Italy – relationship to air quality monitoring, Atmos. Environ., 39, 6734–6746, https://doi.org/10.1016/j.atmosenv.2005.07.036, 2005.  a
Rodríguez, S., Van Dingenen, R., Putaud, J.-P., Dell'Acqua, A., Pey, J., Querol, X., Alastuey, A., Chenery, S., Ho, K.-F., Harrison, R., Tardivo, R., Scarnato, B., and Gemelli, V.: A study on the relationship between mass concentrations, chemistry and number size distribution of urban fine aerosols in Milan, Barcelona and London, Atmos. Chem. Phys., 7, 2217–2232, https://doi.org/10.5194/acp-7-2217-2007, 2007. a, b
Romano, S., Perrone, M., Pavese, G., Esposito, F., and Calvello, M.: Optical properties of PM2.5 particles: Results from a monitoring campaign in southeastern Italy, Atmos. Environ., 203, 35–47, https://doi.org/10.1016/j.atmosenv.2019.01.037, 2019. a
Sánchez-Ccoyllo, O. and Andrade, M. F.: The influence of meteorological conditions on the behavior of pollutants concentrations in São Paulo, Brazil, Environ. Pollut., 116, 257–263, https://doi.org/10.1016/S0269-7491(01)00129-4, 2002. a
Santos, T. C. d., Reboita, M. S., and Carvalho, V. S. B.: Investigation of the Relationship Between Atmospheric Variables and the Concentration of MP10 and O3 in the State of São Paulo, Revista Brasileira de Meteorologia, 33, 631–645, https://doi.org/10.1590/0102-7786334006, 2018. a
Sun, Y.-L., Zhang, Q., Schwab, J. J., Demerjian, K. L., Chen, W.-N., Bae, M.-S., Hung, H.-M., Hogrefe, O., Frank, B., Rattigan, O. V., and Lin, Y.-C.: Characterization of the sources and processes of organic and inorganic aerosols in New York city with a high-resolution time-of-flight aerosol mass apectrometer, Atmos. Chem. Phys., 11, 1581–1602, https://doi.org/10.5194/acp-11-1581-2011, 2011. a
Ulbrich, I. M., Canagaratna, M. R., Zhang, Q., Worsnop, D. R., and Jimenez, J. L.: Interpretation of organic components from Positive Matrix Factorization of aerosol mass spectrometric data, Atmos. Chem. Phys., 9, 2891–2918, https://doi.org/10.5194/acp-9-2891-2009, 2009. a
Zhang, Q., Alfarra, M. R., Worsnop, D. R., Allan, J. D., Coe, H., Canagaratna, M. R., and Jimenez, J. L.: Deconvolution and Quantification of Hydrocarbon-like and Oxygenated Organic Aerosols Based on Aerosol Mass Spectrometry, Environ. Sci. Technol., 39, 4938–4952, https://doi.org/10.1021/es048568l, pMID: 16053095, 2005. a, b
Zhang, Q., Jimenez, J. L., Canagaratna, M. R., Ulbrich, I. M., Ng, N. L., Worsnop, D. R., and Sun, Y.: Understanding atmospheric organic aerosols via factor analysis of aerosol mass spectrometry: a review, Anal. Bioanal. Chem., 401, 3045–3067, https://doi.org/10.1007/s00216-011-5355-y, 2011. a
Zhu, T., Melamed, M., Parrish, D., Gauss, M., Klenner, L. G., Lawrence, M., Konare, A., and Liousse, C.: WMO/IGAC impacts of megacities on air pollution and climate, GAW Tech. Rep. No. 205, World Meteorological Organization, 149–151, 2012. a