Articles | Volume 21, issue 10
https://doi.org/10.5194/acp-21-8023-2021
© Author(s) 2021. This work is distributed under
the Creative Commons Attribution 4.0 License.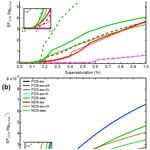 Properties and emission factors of cloud condensation nuclei from biomass cookstoves – observations of a strong dependency on potassium content in the fuel
Residential biomass combustion is a significant source of aerosol particles on regional and global scales influencing climate and human health. The main objective of the current study was to investigate the properties of cloud condensation nuclei (CCN) emitted from biomass burning of solid fuels in different cookstoves mostly of relevance to sub-Saharan east Africa.
The traditional three-stone fire and a rocket stove were used for combustion of wood logs of Sesbania and Casuarina with birch used as a reference. A natural draft and a forced-draft pellet stove were used for combustion of pelletised Sesbania and pelletised Swedish softwood alone or in mixtures with pelletised coffee husk, rice husk or water hyacinth. The CCN activity and the effective density were measured for particles with mobility diameters of ∽65, ∽100 and ∽200 nm, respectively, and occasionally for 350 nm particles. Particle number size distributions were measured online with a fast particle analyser. The chemical composition of the fuel ash was measured by application of standard protocols.
The average particle number size distributions were by number typically dominated by an ultrafine mode, and in most cases a soot mode was centred around a mobility diameter of ∽150 nm. The CCN activities decreased with increasing particle size for all experiments and ranged in terms of the hygroscopicity parameter, κ, from ∽0.1 to ∽0.8 for the ultrafine mode and from ∽0.001 to ∽0.15 for the soot mode. The CCN activity (κ) of the ultrafine mode increased (i) with increasing combustion temperature for a given fuel, and (ii) it typically increased with increasing potassium concentration in the investigated fuels. The primary CCN and the estimated particulate matter (PM) emission factors were typically found to increase significantly with increasing potassium concentration in the fuel for a given stove. In order to link CCN emission factors to PM emission factors, knowledge about stove technology, stove operation and the inorganic fuel ash composition is needed. This complicates the use of ambient PM levels alone for estimation of CCN concentrations in regions dominated by biomass combustion aerosol, with the relation turning even more complex when accounting for atmospheric ageing of the aerosol.
Received: 26 Aug 2020 – Discussion started: 20 Oct 2020 – Revised: 09 Apr 2021 – Accepted: 14 Apr 2021 – Published: 26 May 2021
Residential biomass burning comprises a significant source of atmospheric aerosol particles and trace gases on a global scale (Ludwig et al., 2003). Biomass burning emissions pose a human health risk (e.g. Fullerton et al., 2008; Bølling et al., 2009) and influence atmospheric chemistry (e.g. Crutzen and Andreae, 1990) and climate (e.g. Penner et al., 1992; Bond et al., 2004). Ludwig et al. (2003) estimated residential biomass burning to account for about 17 % of the total global CO2 emissions in the mid-1990s, while the absolute emissions have grown significantly in recent decades (Fernandes et al., 2007). The emitted aerosol particles may scatter or absorb solar/terrestrial radiation directly, and they may also act as cloud condensation nuclei (CCN) and thus influence climate indirectly through an impact on cloud optical properties and lifetimes (Albrecht, 1989; Penner et al., 1992; Kaufman and Fraser, 1997). Huang et al. (2018) reported an annually averaged global radiative forcing of  mW m−2 due to the "warm" cloud indirect climate effects of CCN emitted from residential solid fuel cookstoves. Hence, this global indirect aerosol cloud climate impact is likely to be significant.
Biomass-fuelled cookstove emissions of particulate matter (PM) per mass of combusted dry fuel depend on the stove (combustion conditions) and fuel type used. The PM emissions from the traditional three-stone (3S) stove have been reported to be significantly higher than those from the rocket-type stoves (Jetter and Kariher, 2009; MacCarty et al., 2010; Just et al., 2013), which was further pronounced when atmospheric ageing and secondary organic aerosol (SOA) were taken into account (Reece et al., 2017). Forced-draft stoves emit relatively lower amounts of PM per mass unit of combusted dry fuel (e.g. Jetter and Kariher, 2009; MacCarty et al., 2010), and the SOA emissions are also relatively lower (Reece et al., 2017). The particles emitted from residential biomass burning are typically comprised of elemental carbon (EC), organic and inorganic compounds depending on the composition of the fuel, the combustion conditions, and ageing of the emissions (e.g. Bølling et al., 2009; Lamberg et al., 2011; Reece et al., 2017). Among inorganic species, elements such as K, Na, S, Cl and Zn dominate the fine-mode particles (particle diameter<2.5 µm) present mainly as different alkali salts (e.g. KCl and K2SO4), while more refractory elements like Ca, Mg and Si are preferably found in the coarse fraction (particle diameter>2.5 µm) (Boman et al., 2004; Joeller et al., 2005; Obernberger et al., 2006).
Studies of atmospheric particles sampled over different biomass burning areas in Africa have also shown that the fine particles emitted from burning of vegetation are dominated by S, Cl, Zn, K and P (Gaudichet et al., 1995). Furthermore, the major fraction of the Si, Ca and Mn found in the atmospheric particles could be attributed to the burning of vegetation, although present in the coarse mode. Gaudichet et al. (1995) also suggested that Ca and Si, together with, e.g., Fe, Al and Ti, can be present as soil-derived particles. Still, in another study on atmospheric particles in smoke plumes from biomass burning, some fine-mode Ca-bearing particles were also present, in parallel with the dominating alkali salts, soot and organic tar balls (Li et al., 2003).
In this paper, the CCN activity will be presented in terms of the hygroscopicity parameter κ in a similar fashion as introduced by Petters and Kreidenweis (2007). It is challenging to assess the CCN properties of biomass burning aerosol emissions in general due to significant variability with varying fuels and combustion conditions. In addition, ageing is potentially of great importance. The CCN activity of aerosol particles related to various simulated wildfire emissions has been reported to range from a κ=0.04 to κ=0.8, with a tendency of decreasing κ with increasing particle size and often externally mixed particles (Petters et al., 2009). Engelhart et al. (2012) reported κ to range from 0.06 to 0.6 for similar fresh emissions, with the κ values converging towards 0.2±0.1 due to photochemical ageing and formation of SOA with an average . Martin et al. (2013) investigated aged and freshly emitted aerosol from combustion of beech in a residential log wood burner. They reported a CCN activity ranging from an apparent κ=0.03 to κ=0.39 depending on the burning phase and decreasing with increasing particle size from 50 to 200 nm. They also reported an increasing CCN activity up to κ≈0.16 due to photo-chemical ageing over some hours for a given particle size with lower initial CCN activity. Photo-chemical ageing of biomass burning aerosol may also result in new particle formation with a potential significant increase in the number concentration of CCN (Hennigan et al., 2012; Engelhart et al., 2012).
Emission factors of CCN for biomass combustion have to our knowledge not been previously studied in detailed experiments. The emission factors of CCN for wildfire biomass combustion have been estimated to be on the order of 0.8×1015 to 1.7×1015 kg−1 relative to the dry mass of various fuels and assuming a supersaturation of 0.5 % (Andreae, 2019). Mena et al. (2017) modelled the CCN properties of a residential biomass combustion plume, and they concluded that coagulation limits the CCN emission factor for a supersaturation of 1.0 % to a maximum of ∽1016 per kilogram of fuel.
The main objective of the Salutary Umeå STudy of Aerosols IN biomass cookstove Emissions (SUSTAINE) campaign was to study sustainable approaches to residential solid biomass combustion in cookstoves relevant for sub-Saharan east Africa. In this context, fuel sustainability, combustion conditions and aerosol emissions were studied. The main part of the SUSTAINE campaign was carried out in the autumn of 2016, when a wide range of properties related to aerosol emissions were studied under well-controlled laboratory conditions. The four investigated cookstoves represented technologies ranging from very simple (3S) to advanced (forced-draft) systems. The tested biomass fuels are either currently in use or potentially more sustainable options relevant to sub-Saharan east Africa, with softwood pellets used in co-combustion and as reference along with birch wood logs. The approach allowed us to study how aerosol emissions depend on the stove technology and the fuel. A number of studies with different foci were carried out during the campaign, and the ice-nucleating ability of the aerosol has been presented in a separate study (Korhonen et al., 2020).
Numerous previous studies have focused on bulk PM emissions from biomass stoves, whereas few studies have been carried out on the emitted particle number size distributions and the associated CCN properties, which are very important parameters in a climatic context. The present study focuses on the CCN activity and CCN emission factors for a range of current and potentially future aerosol emissions from household cooking solutions involving biomass combustion. Fresh emissions were generally studied, but the influence of atmospheric ageing was also investigated on a qualitative basis for selected experiments.
The CCN activity will be expressed by use of the hygroscopicity parameter κ. κ was introduced by Petters and Kreidenweis (2007) and is approximated well by
where SSc is the critical supersaturation in percent, Mw is the molar mass of water, ρw is the density of water, σ is the surface tension, R=8.314 J (K mol)−1 is the universal gas constant, T is the absolute temperature and Dp is the dry particle mobility diameter.
A very useful aspect of the κ framework is that the hygroscopicity parameter of internally mixed particles can be estimated by volume-weighted addition of the κ values of the pure compounds (Petters and Kreidenweis, 2007; Frosch et al., 2011; Kristensen et al., 2014):
where κi is related to species i, and εi is the corresponding volume fraction of species i in the dry particles.
The effective particle density (ρeff) versus particle mobility diameter of soot agglomerates can be modelled by
where K is an empirical constant and ϵm is the mass-mobility exponent. K and ϵm can be determined empirically from least-squares fits to measured data as described by Rissler et al. (2013).
The CCN properties of aerosol emissions from various combinations of four different cookstoves and seven different solid biomass fuels have been investigated. The average particle number size distributions were by number dominated by an ultrafine mode in all cases, and a varying soot mode was present and centred near a mobility diameter of ∽150 nm. The CCN activity (κ) and the particle effective density both decreased with increasing particle size for any of the primary aerosol emissions studied. For the ultrafine mode, the κ values ranged from ∽0.1 to ∽0.8, and for the soot mode, κ ranged from ∽0.001 to ∽0.15.
The aerosol properties and CCN activity varied significantly depending on the fuel and the stove. There was a tendency of higher κ with improved stove technology and increasing combustion temperature for the ultrafine particles from combustion of birch, Casuarina and Sesbania wood logs. This is most likely due to a higher inorganic-to-organic fraction in the ultrafine aerosol particles for higher combustion temperature. An increase in combustion temperature most likely reduced the absolute emissions of primary organic aerosol, while higher temperatures were also likely to enhance the absolute emissions of alkali salts. In general, higher potassium ash concentration was associated with higher κ values for the studied fuels.
The estimated primary CCN emission factors were found to vary substantially depending on the fuel composition, while the stove appeared to have a less pronounced influence. Simulated photochemical ageing led to formation of secondary aerosol most likely dominated by organic compounds. The secondary aerosol condensing onto the soot particles increased the concentration of CCN for low supersaturations mainly due to an increase in κ. In addition, new particle formation and growth potentially increased the CCN concentration for relatively high supersaturations. The secondary aerosol mode had an effective density of about 1.4 g cm−3 and a κ of about 0.1, which are typical values for secondary organic aerosol.
Primary PM0.5 emission factors were estimated and found to increase with increasing potassium content for the rocket stove and the three-stone stove. The estimated PM0.5 emission factors typically decreased with improved stove technology (increasing combustion temperature) for a given fuel, while the primary CCN emission factors appeared relatively unaffected by improved stove technology. The reduction in PM emissions with improved stove technology was mainly associated with reduced emissions of organic and elemental carbon. From a CCN emission perspective, the reduced PM emissions were compensated for by elevated emissions of more hygroscopic alkali salts for a given fuel. A given PM emission level can be associated with orders of magnitude difference in CCN emission factors for a given supersaturation depending on the fuel and the stove. Hence, it appears challenging to parameterise CCN emissions from the PM emissions from cookstoves without more detailed physico-chemical information about the aerosol particles. Our results indicate that it is critical to know about the inorganic fuel composition in order to estimate properties related to the emitted aerosol population and associated CCN properties.
Overall, we observed high potential to significantly reduce primary PM0.5 emissions from biomass cookstoves by (i) applying fuels with low levels of inorganic compounds potentially entering the aerosol phase, (ii) improved stove technology and (iii) optimal stove operation. Reduced PM and soot emissions are motivated from health and climate perspectives. However, our study indicates that biomass-fired cookstoves may comprise a very significant and underestimated source of CCN, and substantial reductions of such CCN emissions may potentially lead to warming effects on climate depending on the prevailing meteorological conditions and importance relative to other significant CCN sources. Our study indicates that with the right combination of stove and fuel, it is possible to significantly reduce the soot and PM emissions while maintaining pronounced emissions of highly hygroscopic ultrafine particles – depending on the fuel. However, stove costs, infrastructures and fuel quality, availability, and sustainability have to be considered in the overall guidelines towards improved cookstoves.
The observed strong impact of potassium on CCN emissions for a wide range of combustion conditions is likely to be of relevance not only to cookstoves but also to a wider range of biomass combustion including wildfires.
All presented data can be requested from the corresponding author Thomas Bjerring Kristensen or Joakim Pagels (joakim.pagels@design.lth.se).
RL, CB, JP and BS designed the majority of the experiments. RL, RLC and CB collected and prepared the fuels and were responsible for the combustion aspects. TBK, JF, RL, CA, VBM, ACE, KK, JP and BS carried out the aerosol measurements. The majority of the presented aerosol data analysis was carried out by TBK and JF. All authors were involved in the interpretation of results and contributed with revisions of the manuscript. The manuscript was drafted by TBK.
The authors declare that they have no conflict of interest.
We thank Andrew Grieshop, Erik S. Thomson, Pontus Roldin and Roland Schrödner for scientific discussions and input. We thank the anonymous reviewers for their comments and suggestions.
This research has been supported by the Swedish research councils, VR (grant nos. 2017-05016 and 2018-04200) and Formas (grant nos. 2015-992, 2015-1385, and 2013-1023), the Kempestiftelserna (grant no. JCK-1516), and Centre for Environmental and Marine Studies, University of Aveiro (grant nos. UIDP/50017/2020 and UIDB/50017/2020). In addition, we acknowledge support from the national strategic research areas MERGE at Lund University and Bio4Energy at Umeå University.
This paper was edited by Paul Zieger and reviewed by two anonymous referees.
Albrecht, B. A.: Aerosols, Cloud Microphysics, and Fractional Cloudiness, Science, 245, 1227–1230, https://doi.org/10.1126/science.245.4923.1227, 1989. a
Andreae, M. O.: Emission of trace gases and aerosols from biomass burning – an updated assessment, Atmos. Chem. Phys., 19, 8523–8546, https://doi.org/10.5194/acp-19-8523-2019, 2019. a
Asa-Awuku, A., Engelhart, G. J., Lee, B. H., Pandis, S. N., and Nenes, A.: Relating CCN activity, volatility, and droplet growth kinetics of β-caryophyllene secondary organic aerosol, Atmos. Chem. Phys., 9, 795–812, https://doi.org/10.5194/acp-9-795-2009, 2009. a
Bølling, A. K., Pagels, J., Yttri, K. E., Barregard, L., Sallsten, G., Schwarze, P. E., and Boman, C.: Health effects of residential wood smoke particles: the importance of combustion conditions and physicochemical particle properties, Part. Fibre Toxicol., 6, 29, 2009. a, b
Boman, C., Nordin, A., Boström, D., and Öhman, M.: Characterization of inorganic particulate matter from residential combustion of pelletized biomass fuels, Energ. Fuel., 18, 338–348, 2004. a
Bond, T., Venkataraman, C., and Masera, O.: Global atmospheric impacts of residential fuels, Energy Sustain. Dev., 8, 20–32, 2004. a
Boström, D., Skoglund, N., Grimm, A., Boman, C., Ohman, M., Brostrom, M., and Backman, R.: Ash transformation chemistry during combustion of biomass, Energ. Fuel., 26, 85–93, 2011. a, b, c, d, e
Carrico, C. M., Petters, M. D., Kreidenweis, S. M., Sullivan, A. P., McMeeking, G. R., Levin, E. J. T., Engling, G., Malm, W. C., and Collett Jr., J. L.: Water uptake and chemical composition of fresh aerosols generated in open burning of biomass, Atmos. Chem. Phys., 10, 5165–5178, https://doi.org/10.5194/acp-10-5165-2010, 2010. a, b, c
Champion, W. M. and Grieshop, A. P.: Pellet-fed gasifier stoves approach gas-stove like performance during in-home use in Rwanda, Environ. Sci. Technol., 53, 6570–6579, 2019. a, b
Crutzen, P. J. and Andreae, M. O.: Biomass burning in the tropics: Impact on atmospheric chemistry and biogeochemical cycles, Science, 250, 1669–1679, 1990. a
DeCarlo, P. F., Kimmel, J. R., Trimborn, A., Northway, M. J., Jayne, J. T., Aiken, A. C., Gonin, M., Fuhrer, K., Horvath, T., Docherty, K. S., Worsnop, D. R., and Jimenez, J. L.: Field-deployable, high-resolution, time-of-flight aerosol mass spectrometer, Anal. Chem., 78, 8281–8289, 2006. a
Engelhart, G. J., Hennigan, C. J., Miracolo, M. A., Robinson, A. L., and Pandis, S. N.: Cloud condensation nuclei activity of fresh primary and aged biomass burning aerosol, Atmos. Chem. Phys., 12, 7285–7293, https://doi.org/10.5194/acp-12-7285-2012, 2012. a, b, c, d, e, f, g, h
Fernandes, S. D., Trautmann, N. M., Streets, D. G., Roden, C. A., and Bond, T. C.: Global biofuel use, 1850–2000, Global Biogeochem. Cy., 21, GB2019, https://doi.org/10.1029/2006GB002836, 2007. a
Frosch, M., Prisle, N. L., Bilde, M., Varga, Z., and Kiss, G.: Joint effect of organic acids and inorganic salts on cloud droplet activation, Atmos. Chem. Phys., 11, 3895–3911, https://doi.org/10.5194/acp-11-3895-2011, 2011. a
Fullerton, D. G., Bruce, N., and Gordon, S. B.: Indoor air pollution from biomass fuel smoke is a major health concern in the developing world, T. Roy. Soc. Trop. Med. H., 102, 843–851, 2008. a
Gaudichet, A., Echalar, F., Chatenet, B., Quisefit, J., Malingre, G., Cachier, H., Buat-Menard, P., Artaxo, P., and Maenhaut, W.: Trace elements in tropical African savanna biomass burning aerosols, J. Atmos. Chem., 22, 19–39, 1995. a, b, c
Hennigan, C. J., Westervelt, D. M., Riipinen, I., Engelhart, G. J., Lee, T., Collett, J. L., Pandis, S. N., Adams, P. J., and Robinson, A. L.: New particle formation and growth in biomass burning plumes: An important source of cloud condensation nuclei, Geophys. Res. Lett., 39, L09805, https://doi.org/10.1029/2012GL050930, 2012. a
Herenz, P., Wex, H., Henning, S., Kristensen, T. B., Rubach, F., Roth, A., Borrmann, S., Bozem, H., Schulz, H., and Stratmann, F.: Measurements of aerosol and CCN properties in the Mackenzie River delta (Canadian Arctic) during spring–summer transition in May 2014, Atmos. Chem. Phys., 18, 4477–4496, https://doi.org/10.5194/acp-18-4477-2018, 2018. a
Huang, Y., Unger, N., Storelvmo, T., Harper, K., Zheng, Y., and Heyes, C.: Global radiative effects of solid fuel cookstove aerosol emissions, Atmos. Chem. Phys., 18, 5219–5233, https://doi.org/10.5194/acp-18-5219-2018, 2018. a
Jetter, J., Zhao, Y., Smith, K. R., Khan, B., Yelverton, T., DeCarlo, P., and Hays, M. D.: Pollutant emissions and energy efficiency under controlled conditions for household biomass cookstoves and implications for metrics useful in setting international test standards, Environ. Sci. Technol., 46, 10827–10834, 2012. a, b, c, d
Jetter, J. J. and Kariher, P.: Solid-fuel household cook stoves: Characterization of performance and emissions, Biomass Bioenerg., 33, 294–305, 2009. a, b
Joeller, M., Brunner, T., and Obernberger, I.: Modeling of aerosol formation during biomass combustion in grate furnaces and comparison with measurements, Energ. Fuel., 19, 311–323, 2005. a
Just, B., Rogak, S., and Kandlikar, M.: Characterization of ultrafine particulate matter from traditional and improved biomass cookstoves, Environ. Sci. Technol., 47, 3506–3512, 2013. a, b, c
Kang, E., Root, M. J., Toohey, D. W., and Brune, W. H.: Introducing the concept of Potential Aerosol Mass (PAM), Atmos. Chem. Phys., 7, 5727–5744, https://doi.org/10.5194/acp-7-5727-2007, 2007. a
Kaufman, Y. J. and Fraser, R. S.: The effect of smoke particles on clouds and climate forcing, Science, 277, 1636–1639, 1997. a
Korhonen, K., Kristensen, T. B., Falk, J., Lindgren, R., Andersen, C., Carvalho, R. L., Malmborg, V., Eriksson, A., Boman, C., Pagels, J., Svenningsson, B., Komppula, M., Lehtinen, K. E. J., and Virtanen, A.: Ice-nucleating ability of particulate emissions from solid-biomass-fired cookstoves: an experimental study, Atmos. Chem. Phys., 20, 4951–4968, https://doi.org/10.5194/acp-20-4951-2020, 2020. a, b, c
Kostenidou, E., Pathak, R. K., and Pandis, S. N.: An algorithm for the calculation of secondary organic aerosol density combining AMS and SMPS data, Aerosol Sci. Technol., 41, 1002–1010, 2007. a
Kristensen, T. B., Wex, H., Nekat, B., Nøjgaard, J. K., van Pinxteren, D., Lowenthal, D. H., Mazzoleni, L. R., Dieckmann, K., Koch, C. B., Mentel, T. F., Herrmann, H., Hallar, A. G., Stratmann, F., and Bilde, M.: Hygroscopic growth and CCN activity of HULIS from different environments, J. Geophys. Res., 117, D22203, https://doi.org/10.1029/2012JD018249, 2012. a
Kristensen, T. B., Prisle, N. L., and Bilde, M.: Cloud droplet activation of mixed model HULIS and NaCl particles: Experimental results and κ–Köhler theory, Atmos. Res., 137, 167–175, 2014. a
Kumar, P., Nenes, A., and Sokolik, I. N.: Importance of adsorption for CCN activity and hygroscopic properties of mineral dust aerosol, Geophys. Res. Lett., 36, L24804, https://doi.org/10.1029/2009GL040827, 2009. a, b
Kuwata, M., Zorn, S. R., and Martin, S. T.: Using elemental ratios to predict the density of organic material composed of carbon, hydrogen, and oxygen, Environ. Sci. Technol., 46, 787–794, 2011. a
Lambe, A. T., Onasch, T. B., Massoli, P., Croasdale, D. R., Wright, J. P., Ahern, A. T., Williams, L. R., Worsnop, D. R., Brune, W. H., and Davidovits, P.: Laboratory studies of the chemical composition and cloud condensation nuclei (CCN) activity of secondary organic aerosol (SOA) and oxidized primary organic aerosol (OPOA), Atmos. Chem. Phys., 11, 8913–8928, https://doi.org/10.5194/acp-11-8913-2011, 2011. a
Lamberg, H., Nuutinen, K., Tissari, J., Ruusunen, J., Yli-Pirilä, P., Sippula, O., Tapanainen, M., Jalava, P., Makkonen, U., Teinilä, K., Saarnio, K., Hillamo, R., Hirvonen, M.-R., and Jokiniemi, J.: Physicochemical characterization of fine particles from small-scale wood combustion, Atmos. Environ., 45, 7635–7643, 2011. a
Li, J., Pósfai, M., Hobbs, P. V., and Buseck, P. R.: Individual aerosol particles from biomass burning in southern Africa: 2, Compositions and aging of inorganic particles, J. Geophys. Res., 108, 8484, https://doi.org/10.1029/2002JD002310, 2003. a, b
Li, R., Palm, B. B., Ortega, A. M., Hlywiak, J., Hu, W., Peng, Z., Day, D. A., Knote, C., Brune, W. H., de Gouw, J. A., and Jimenez, J. L.: Modeling the radical chemistry in an oxidation flow reactor: Radical formation and recycling, sensitivities, and the OH exposure estimation equation, J. Phys. Chem. A, 119, 4418–4432, 2015. a
Löndahl, J., Massling, A., Pagels, J., Swietlicki, E., Vaclavik, E., and Loft, S.: Size-resolved respiratory-tract deposition of fine and ultrafine hydrophobic and hygroscopic aerosol particles during rest and exercise, Inhal. Toxicol., 19, 109–116, 2007. a
Löndahl, J., Pagels, J., Boman, C., Swietlicki, E., Massling, A., Rissler, J., Blomberg, A., Bohgard, M., and Sandström, T.: Deposition of biomass combustion aerosol particles in the human respiratory tract, Inhal. Toxicol., 20, 923–933, 2008. a, b
Ludwig, J., Marufu, L., Huber, B., Andreae, M., and Helas, G.: Domestic combustion of biomass fuels in developing countries: A major source of atmospheric pollutants, J. Atmos. Chem., 44, 23–37, 2003. a, b
MacCarty, N., Still, D., and Ogle, D.: Fuel use and emissions performance of fifty cooking stoves in the laboratory and related benchmarks of performance, Energy Sustain. Dev., 14, 161–171, 2010. a, b, c
Martin, M., Tritscher, T., Juranyi, Z., Heringa, M. F., Sierau, B., Weingartner, E., Chirico, R., Gysel, M., Prévôt, A. S., Baltensperger, U., and Lohmann, U.: Hygroscopic properties of fresh and aged wood burning particles, J. Aerosol Sci., 56, 15–29, 2013. a, b
Martinsson, J., Eriksson, A., Nielsen, I. E., Malmborg, V. B., Ahlberg, E., Andersen, C., Lindgren, R., Nystrom, R., Nordin, E., Brune, W., Svenningsson, B., Swietlicki, E., Boman, C., and Pagels, J. H.: Impacts of combustion conditions and photochemical processing on the light absorption of biomass combustion aerosol, Environ. Sci. Technol., 49, 14663–14671, 2015. a
Mena, F., Bond, T. C., and Riemer, N.: Plume-exit modeling to determine cloud condensation nuclei activity of aerosols from residential biofuel combustion, Atmos. Chem. Phys., 17, 9399–9415, https://doi.org/10.5194/acp-17-9399-2017, 2017. a
Mitchell, E., Ting, Y., Allan, J., Lea-Langton, A., Spracklen, D., McFiggans, G., Coe, H., Routledge, M., Williams, A., and Jones, J. M.: Pollutant emissions from improved cookstoves of the type used in sub-Saharan Africa, Combust. Sci. Technol., 1–21, https://doi.org/10.1080/00102202.2019.1614922, 2019. a
Moore, R. and Nenes, A.: Scanning flow CCN analysis – a method for fast measurements of CCN spectra, Aerosol Sci. Technol., 43, 1192–1207, 2009. a
Nakao, S., Tang, P., Tang, X., Clark, C. H., Qi, L., Seo, E., Asa-Awuku, A., and Cocker III, D.: Density and elemental ratios of secondary organic aerosol: Application of a density prediction method, Atmos. Environ., 68, 273–277, 2013. a
Obaidullah, M., Bram, S., Verma, V., and De Ruyck, J.: A review on particle emissions from small scale biomass combustion, Int. J. Renew. Energy Res., 2, 147–159, 2012. a
Obernberger, I., Brunner, T., and Bärnthaler, G.: Chemical properties of solid biofuels-significance and impact, Biomass Bioenerg., 30, 973–982, 2006. a, b
Onasch, T., Trimborn, A., Fortner, E., Jayne, J., Kok, G., Williams, L., Davidovits, P., and Worsnop, D.: Soot particle aerosol mass spectrometer: development, validation, and initial application, Aerosol Sci. Technol., 46, 804–817, 2012. a
Penner, J. E., Dickinson, R. E., and O'Neill, C. A.: Effects of aerosol from biomass burning on the global radiation budget, Science, 256, 1432–1435, 1992. a, b
Petters, M. D. and Kreidenweis, S. M.: A single parameter representation of hygroscopic growth and cloud condensation nucleus activity, Atmos. Chem. Phys., 7, 1961–1971, https://doi.org/10.5194/acp-7-1961-2007, 2007. a, b, c, d
Petters, M. D., Carrico, C. M., Kreidenweis, S. M., Prenni, A. J., DeMott, P. J., Collett, J. L., and Moosmueller, H.: Cloud condensation nucleation activity of biomass burning aerosol, J. Geophys. Res., 114, D22205, https://doi.org/10.1029/2009JD012353, 2009. a, b, c, d, e
Reavell, K., Hands, T., and Collings, N.: A fast response particulate spectrometer for combustion aerosols, SAE Transactions, 111, 1338–1344, 2002. a
Reece, S. M., Sinha, A., and Grieshop, A. P.: Primary and photochemically aged aerosol emissions from biomass cookstoves: chemical and physical characterization, Environ. Sci. Technol., 51, 9379–9390, 2017. a, b, c, d, e
Rissler, J., Pagels, J., Swietlicki, E., Wierzbicka, A., Strand, M., Lillieblad, L., Sanati, M., and Bohgard, M.: Hygroscopic behavior of aerosol particles emitted from biomass fired grate boilers, Aerosol Sci. Technol., 39, 919–930, 2005. a, b
Rissler, J., Messing, M. E., Malik, A. I., Nilsson, P. T., Nordin, E. Z., Bohgard, M., Sanati, M., and Pagels, J. H.: Effective density characterization of soot agglomerates from various sources and comparison to aggregation theory, Aerosol Sci. Technol., 47, 792–805, 2013. a, b, c, d
Shantz, N. C., Leaitch, W. R., Phinney, L., Mozurkewich, M., and Toom-Sauntry, D.: The effect of organic compounds on the growth rate of cloud droplets in marine and forest settings, Atmos. Chem. Phys., 8, 5869–5887, https://doi.org/10.5194/acp-8-5869-2008, 2008. a
Shen, G., Gaddam, C. K., Ebersviller, S. M., Vander Wal, R. L., Williams, C., Faircloth, J. W., Jetter, J. J., and Hays, M. D.: A laboratory comparison of emission factors, number size distributions, and morphology of ultrafine particles from 11 different household cookstove-fuel systems, Environ. Sci. Technol., 51, 6522–6532, 2017. a
Silva, P. J., Liu, D.-Y., Noble, C. A., and Prather, K. A.: Size and chemical characterization of individual particles resulting from biomass burning of local Southern California species, Environ. Sci. Technol., 33, 3068–3076, 1999. a
Slade, J. H., Thalman, R., Wang, J., and Knopf, D. A.: Chemical aging of single and multicomponent biomass burning aerosol surrogate particles by OH: implications for cloud condensation nucleus activity, Atmos. Chem. Phys., 15, 10183–10201, https://doi.org/10.5194/acp-15-10183-2015, 2015. a
Sullivan, R. C., Moore, M. J. K., Petters, M. D., Kreidenweis, S. M., Roberts, G. C., and Prather, K. A.: Effect of chemical mixing state on the hygroscopicity and cloud nucleation properties of calcium mineral dust particles, Atmos. Chem. Phys., 9, 3303–3316, https://doi.org/10.5194/acp-9-3303-2009, 2009. a, b, c, d
Symonds, J. P., Reavell, K. S. J., Olfert, J. S., Campbell, B. W., and Swift, S. J.: Diesel soot mass calculation in real-time with a differential mobility spectrometer, J. Aerosol Sci., 38, 52–68, 2007. a
Torvela, T., Tissari, J., Sippula, O., Kaivosoja, T., Leskinen, J., Virén, A., Lähde, A., and Jokiniemi, J.: Effect of wood combustion conditions on the morphology of freshly emitted fine particles, Atmos. Environ., 87, 65–76, 2014.  a
Wittbom, C., Eriksson, A. C., Rissler, J., Carlsson, J. E., Roldin, P., Nordin, E. Z., Nilsson, P. T., Swietlicki, E., Pagels, J. H., and Svenningsson, B.: Cloud droplet activity changes of soot aerosol upon smog chamber ageing, Atmos. Chem. Phys., 14, 9831–9854, https://doi.org/10.5194/acp-14-9831-2014, 2014. a, b, c, d, e, f, g
Zhao, Y., Hu, M., Slanina, S., and Zhang, Y.: Chemical compositions of fine particulate organic matter emitted from Chinese cooking, Environ. Sci. Technol., 41, 99–105, 2007. a