Articles | Volume 20, issue 8
https://doi.org/10.5194/acp-20-4787-2020
© Author(s) 2020. This work is distributed under
the Creative Commons Attribution 4.0 License.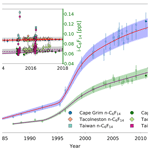 Trends and emissions of six perfluorocarbons in the Northern Hemisphere and Southern Hemisphere
Perfluorocarbons (PFCs) are potent greenhouse gases with global warming potentials up to several thousand times greater than CO2 on a 100-year time horizon. The lack of any significant sinks for PFCs means that they have long atmospheric lifetimes of the order of thousands of years. Anthropogenic production is thought to be the only source for most PFCs. Here we report an update on the global atmospheric abundances of the following PFCs, most of which have for the first time been analytically separated according to their isomers: c-octafluorobutane (c-C4F8), n-decafluorobutane (n-C4F10), n-dodecafluoropentane (n-C5F12), n-tetradecafluorohexane (n-C6F14), and n-hexadecafluoroheptane (n-C7F16). Additionally, we report the first data set on the atmospheric mixing ratios of perfluoro-2-methylpentane (i-C6F14). The existence and significance of PFC isomers have not been reported before, due to the analytical challenges of separating them. The time series spans a period from 1978 to the present. Several data sets are used to investigate temporal and spatial trends of these PFCs: time series of air samples collected at Cape Grim, Australia, from 1978 to the start of 2018; a time series of air samples collected between July 2015 and April 2017 at Tacolneston, UK; and intensive campaign-based sampling collections from Taiwan. Although the remote "background" Southern Hemispheric Cape Grim time series indicates that recent growth rates of most of these PFCs are lower than in the 1990s, we continue to see significantly increasing mixing ratios that are between 6 % and 27 % higher by the end of 2017 compared to abundances measured in 2010. Air samples from Tacolneston show a positive offset in PFC mixing ratios compared to the Southern Hemisphere baseline. The highest mixing ratios and variability are seen in air samples from Taiwan, which is therefore likely situated much closer to PFC sources, confirming predominantly Northern Hemispheric emissions for most PFCs. Even though these PFCs occur in the atmosphere at levels of parts per trillion molar or less, their total cumulative global emissions translate into 833 million metric tonnes of CO2 equivalent by the end of 2017, 23 % of which has been emitted since 2010. Almost two-thirds of the CO2 equivalent emissions within the last decade are attributable to c-C4F8, which currently also has the highest emission rates that continue to grow. Sources of all PFCs covered in this work remain poorly constrained and reported emissions in global databases do not account for the abundances found in the atmosphere.
Received: 27 Sep 2019 – Discussion started: 28 Oct 2019 – Revised: 21 Feb 2020 – Accepted: 12 Mar 2020 – Published: 24 Apr 2020
Perfluorocarbons (PFCs) are fully fluorinated hydrocarbon chemicals that occur ubiquitously in the atmosphere. Even though the magnitudes of their mixing ratios are of the order of parts per trillion molar (ppt) or less, monitoring their atmospheric concentrations is highly warranted by their strong infra-red absorption properties and inertness. As a result of these physical and chemical properties, PFCs can have global warming potentials (GWPs) of several thousands on a 100-year time horizon and extremely long atmospheric lifetimes (Bravo et al., 2010; Hartmann et al., 2013) (Table 1). Even though their low abundances mean that their contribution to radiative forcing is relatively minor at present, their continued accumulation in the atmosphere might result in a significant contribution to climate change by the end of the century (Zhang et al., 2011). Previous studies have shown the emergence of atmospheric PFCs in the 1960s based on firn air samples and a subsequent accelerated increase in the 1990s (Worton et al., 2007; Mühle et al., 2010; Ivy et al., 2012a; Laube et al., 2012; Oram et al., 2012; Trudinger et al., 2016). With the exception of tetrafluoromethane (CF4) (Harnisch et al., 1996; Deeds et al., 2008; Mühle et al., 2010), all known PFCs are thought to be almost exclusively anthropogenic in origin (EDGAR, 2014). For the lowest molecular weight PFCs, such as CF4 and hexafluoroethane (C2F6), emissions from aluminium production are one of the largest sources. Other sources of PFCs include the use in chemical vapour deposition (CVD) chamber cleaning, plasma etching, refrigerants, fire protection, fluoropolymer production, and – especially for the higher molecular weight PFCs, such as n-C6F14 and n-C7F16 – use as heat transfer fluids and solvents (Robin and Iikubo, 1992; Mazurin et al., 1994; Beu, 2005; EPA, 2008; Hartmann et al., 2013; EDGAR, 2014; Mühle et al., 2019). Atmospheric trends vary, but mixing ratios are increasing for all known PFCs. Previously reported PFC trends in the atmosphere include CF4, C2F6, octafluoropropane (C3F8), cyclic-octafluorobutane (c-C4F8), decafluorobutane (C4F10), dodecafluoropentane (C5F12), tetradecafluorohexane (C6F14), hexadecafluoroheptane (C7F16), and octadecafluorooctane (C8F18) (Laube et al., 2012; Ivy et al., 2012a; Oram et al., 2012; Mühle et al., 2010, 2019). No analytically separated isomers of these PFC species have been reported in the atmosphere before. As the GWPs and atmospheric lifetimes can differ substantially between isomers (Bravo et al., 2010), it is important to ascertain the full analytical separation and quantification of such isomers.
a The lifetime for i-C6F14 in this work is here assumed to be the same as for n-C6F14. b The GWP for i-C6F14 is estimated based on the radiative efficiency reported in Bravo et al. (2010).
The current work focuses on six PFC isomers: c-C4F8, n-C4F10, n-C5F12, n-C6F14, i-C6F14 (perfluoro-2-methylpentane), and n-C7F16. Even though all but one of these PFCs have been reported before, this is the first time that we report on their separated isomers, except for c-C4F8 and n-C5F12, for which we are updating and expanding our previously reported data set (Laube et al., 2012; Oram et al., 2012). The GWPs on a 100-year time horizon of all six compounds studied in this paper range between 7370 (i-C6F14) and 9540 (n-C4F10) (Table 1) (Bravo et al., 2010; Hartmann et al., 2013). To assess the recent changes in atmospheric abundances of these PFCs, this work aims to achieve the following objectives.
To extend the 1978–2010 PFC records from Cape Grim, Australia (Oram et al., 2012; Laube et al., 2012), into early 2018. The air sampled at Cape Grim under baseline conditions has typically travelled over the open ocean many days prior and is known to be very well-mixed (Fraser et al., 1999). The Cape Grim time series is therefore an important data set used to study Southern Hemisphere baseline trends of various trace gases (Oram et al., 1995; Langenfelds et al., 1996; Fraser et al., 1999; Reeves et al., 2005; Laube et al., 2012; Adcock et al., 2018). The global trend between 1978 and 2010 for c-C4F8 has been discussed in Oram et al. (2012) and most recently in Mühle et al. (2019), while those for n-C4F10, n-C5F12, n-C6F14, and n-C7F16 have previously been investigated in Laube et al. (2012) and Ivy et al. (2012a). Data acquired since then allow for a re-analysis of the conclusions, given the most recent trends.

To transfer some measurements to a new calibration scale. Re-calibration of the PFCs was necessary, as a number of PFC isomers have recently been identified in our laboratory at the University of East Anglia (UEA), including two isomers of C4F10 (n-CF3(CF2)2CF3 and i-CF(CF3)3), two isomers of C6F14 (n-CF3(CF2)4CF3 and i-CF3(CF2)2CF(CF3)2), and three isomers of C7F16, of which one is the n-isomer (CF3(CF2)5CF3). The chemical structure of the other two isomers is still unknown. A suspicion that the chromatogram peaks previously reported for C6F14 and C7F16 consisted of more than one isomer had already been expressed by Laube et al. (2012). Since then, a new gas-chromatography method reported here (Sect. 2.2) has been developed that led to the separation of these isomers, consequently increasing the accuracy of the measurements.

To study the atmospheric trend and abundance of i-C6F14 for the first time. The separation of isomers allows for more accurate estimations of the impact on the atmospheric radiative forcing, especially since i-C6F14 has a different radiative efficiency than n-C6F14 (Bravo et al., 2010).

To compare the abundance and variability of PFCs between the well-mixed, unpolluted air in the Southern Hemisphere, which are well-represented by the Cape Grim data, and the Northern Hemisphere, where most of the emissions occur. Regarding the latter, this study presents recent observations from air samples collected in Tacolneston, United Kingdom, and in Taiwan. Neither of these sites necessarily represent average abundances for the Northern Hemisphere, but the variability in the observations gives information on the geographical distance of these sites to potential sources. This leads to the final objective.

To estimate the global emissions of these six PFCs and compare them to emissions reported in the EDGARv4.2 database (EDGAR, 2014). PFCs are a part of the 1997 Kyoto Protocol and are covered in the 2014 revised F-Gas regulation of the European Union (EU), which will be a part of the Nationally Determined Contribution of the EU to the Paris Agreement. However, substantial discrepancies have been found between emissions derived from atmospheric background measurements and reported emissions (specifically for the compounds focused on in this study; see Laube et al., 2012; Oram et al., 2012; Ivy et al., 2012b; Mühle et al., 2019). The gas-chromatographic separation of isomers is a useful development that may give some insight into, for example, the identity and potential commonality of sources and possibly a better understanding of the changes in sources with time.
The methods are discussed in Sect. 2, including sampling, analysis, emission modelling, uncertainties, and air mass trajectory modelling. The results are split up into three sections. The first section (Sect. 3.1) presents the Cape Grim observations and trends since 1978 for each PFC, with a focus on data since 2010. These are then compared to measurements from Tacolneston and Taiwan. The second section (Sect. 3.2) discusses the emissions based on the emission modelling and compares these to the emissions from the emission report-based EDGARv4.2 database. The third section of the results (Sect. 3.3) covers potential source regions and types based on air mass trajectories simulated by the NAME model for the Taiwan samples. Implications of the findings are outlined in Sect. 4. Section 5 summarises the main conclusions.
3.1

 Atmospheric abundances
3.3

 Possible source regions and source types

The high variability of the PFC mixing ratios in Taiwan described in this work suggests that these measurement sites are close to major PFC sources. The fact that these sampled air masses are not yet well-mixed offers the possibility of investigating the following questions. (1) Which PFCs are likely co-emitted and have similar sources? (2) What are likely source regions for these PFCs within Asia? (3) And what are likely source types of the PFCs measured in Taiwan? To pursue the answers to these questions, the air measurements are combined with the NAME model data, as described in Sect. 2.4.

The similarity of sources among the PFCs can be studied by looking at the inter-species correlations (Fig. S3). These results show that all PFCs, including C2F6 and C3F8 (CF4 was not measured), are significantly correlated with each other, with squared Spearman coefficients ranging from 0.14 to 0.68 (Table S4). The best correlations are observed between C2F6 and C3F8 (in contrast to what was reported by Zhang et al., 2017) and between c-C4F8 and n-C4F10 (Table 4). i-C6F14 and n-C6F14 are not very well-correlated, which supports the hypothesis of at least partly independent sources. Some correlation plots seem to show bifurcation within the scattered data (most notably in the correlations of most PFCs with C3F8), suggesting that multiple source signatures may exist (Fig. S3).

When PFC mixing ratios are correlated with the 15 regions used to quantify sources of particle densities used in the dispersion modelling, the R-squared values are generally much smaller, although sample numbers limit the statistics (Table S5). The best correlations are observed for East China for all compounds with the highest squared Spearman rank coefficients found for n-C7F16 (0.49) and n-C5F12 (0.47) (Table 4). Significant correlations are also found for all PFC species with the East China Sea, which can be explained by the fact that air masses from East China travel over the East China Sea before they reach Taiwan.

When using simulated CO mixing ratios as a tracer for source types, all PFCs correlate well with energy industry and domestic sources, which is linked to population density (Table S6). Other best coefficients are found either with the signature of power plants (C2F6, C3F8, c-C4F8, i-C6F14, n-C6F14) or solvents (n-C4F10, n-C5F12, n-C7F16) (Table 4).

The combination of the NAME modelling work and air measurements shows potential to identify and quantify regional PFC sources and source types. However, the interpretation of the results may be challenging, such as the possibility of the heterogeneity in emissions over time (e.g. discontinuous emissions may lead to two similar particle density signatures linked to two very different atmospheric concentrations measured in Taiwan). The collection of air samples at the sites in Taiwan is ongoing. New data in addition to the current data set can be used to inspect PFC source regions and types more rigorously, including the significance of the initial signs of any bifurcation in the correlations between PFCs and CO concentrations that share source types. Nevertheless, this regional study on Taiwan is indicative of the relation between measured atmospheric PFC concentrations and important economic sectors, which feeds back to the implications for rising global PFC trends.
The changing trends and emissions of six PFCs have been thoroughly discussed in Sects. 3.1 and 3.2, but since these greenhouse gases only occur at very low ppt and sub-ppt levels in our atmosphere, the significance of their influence on our climate system needs further clarification. In order to gain more insight into this matter, the annual global emission rates of all six PFCs covered in this work have been converted to the equivalent of CO2 by using the updated GWPs from the latest IPCC report (Myhre et al., 2013) (Table 1). As isomers have the same molecular mass, the GWP for i-C6F14 is estimated based on the GWP reported for n-C6F14 (7910; (Myhre et al., 2013) and scaled with the ratio of the radiative efficiencies of i-C6F14 (0.41 W m−2 ppbv−1; Bravo et al., 2010) and n-C6F14 (0.44 W m−2 ppbv−1; Myhre et al., 2013). PFCs have extremely long atmospheric lifetimes, and thus their CO2 equivalents are calculated here as accumulating over time (Fig. 11) (Laube et al., 2012). By 2017, the cumulative global emissions of c-C4F8, n-C4F10, n-C5F12, i-C6F14, n-C6F14, and n-C7F16 amounted to 833 million metric tonnes of CO2 equivalents. This represents an increase in the total global cumulative CO2 equivalent of 23 % between the beginning of 2010 and the end of 2017; 61 % of the total CO2 equivalent is attributable to c-C4F8. The difference between the total CO2 equivalent by the end of 2009 reported in Laube et al. (2012) (∼750 million metric tonnes CO2 equivalent) and in the current work (∼678 million metric tonnes CO2 equivalent) is partly the result of the separation of isomers, but is mostly due to the updated global warming potentials (Myhre et al., 2013).
The importance of PFCs extends beyond the scope of climate in the troposphere. The inert nature and continuously increasing concentrations in the troposphere of PFCs over time make them interesting as potential new age-of-air (AoA) tracers. AoA tracers are crucial for research on stratospheric circulation (e.g. Engel et al., 2017) and troposphere–stratosphere fluxes (e.g. Bönisch et al., 2009), which enables further understanding of threats to the ozone layer. SF6 and CO2 are among the most commonly used AoA tracers, but have limitations that significantly compromise conclusions on dynamic and chemical stratospheric processes (Stiller et al., 2012; Ray et al., 2017; Leedham Elvidge et al., 2018). Some of the lower molecular weight PFCs, such as CF4, C2F6, and C3F8, have already been shown to be suitable age tracers (Leedham Elvidge et al., 2018). Considering all PFCs presented in the current work, c-C4F8 has a particular potential to be an excellent age tracer for three reasons. (1) It has a well-constrained time series from 1978 to the present. (2) It still has a sufficiently fast tropospheric growth rate (3.2±0.2 % on average between 2010 and 2018). (3) Observations for background c-C4F8 levels in the Southern Hemisphere have an average measurement uncertainty of about 1 % (1.0±0.7 %). The other PFCs presented in this work are currently not suitable as AoA tracers as their annual growth rates since 2010 (∼0.8–2.9 %) do not exceed their average measurement precisions (∼3.1–7.3 %).
This work has extended an existing time series of observations at Cape Grim, Australia, for atmospheric mixing ratios of c-C4F8, n-C4F10, n-C5F12, n-C6F14, and n-C7F16 from 2010 to 2018 and converted it onto an improved calibration scale. The calibration scale is improved due to the separation of isomers, which leads to a more accurate analysis of tropospheric trends. Moreover, the background trend in i-C6F14 mixing ratios in the Southern Hemisphere is reported here for the first time, and some of the other PFCs have been measured of the first time as discrete isomers.
The background mixing ratios for all six PFCs continue to increase and reached 1.51 ppt (c-C4F8), 0.18 ppt (n-C4F10), 0.15 ppt (n-C5F12), 0.07 ppt (i-C6F14), 0.22 ppt (n-C6F14), and 0.11 ppt (n-C7F16) by the end of 2017. An increasing trend is observed most clearly for atmospheric background concentrations of c-C4F8, i-C6F14, and n-C7F16, which have increased by 27 %, 19 %, and 21 % in the last 8 years, respectively. Atmospheric mixing ratios for n-C4F10, n-C5F12, and n-C6F14 have increased by 9 %, 6 %, and 9 %, respectively.
Southern Hemispheric background trends are compared to mixing ratios in the Northern Hemisphere. Air samples from the Tacolneston site in the UK show an interhemispheric gradient for c-C4F8 and n-C7F16, indicating substantial emissions within the Northern Hemisphere. This is consistent with their faster (as compared to the other four PFCs) increasing atmospheric levels observed in unpolluted, Southern Hemispheric air.
All PFC mixing ratios in Taiwan air samples are extremely variable and show frequent enhancements. These observations show that the Taiwan measurement sites are in close proximity to substantial PFC sources, which is not surprising given the extensive presence of the electronic manufacturing industry in East Asia, which is believed to be one of the main atmospheric sources of these gases (Beu, 2005; Saito et al., 2010).
Finally, emission rate model estimates generally agree well with previous modelling work. Most noteworthy is the continuation of the increasing trend for c-C4F8 emissions. This increase reflects an acceleration of mixing ratio increases in recent years. Our work provides an independent verification of the recent trend of that particular gas and is largely in agreement with the findings of the more extensive c-C4F8-focused work of Mühle et al. (2019). For the longer-chain PFCs, differences with results by Laube et al. (2012) are mainly due to the improved calibration scales. Especially the comparison for C6F14 has improved as its two main isomers are now separated.
The current study demonstrates that for most of the six PFCs in this work, the emissions determined with the bottom-up approach of the EDGARv4.2 database are much lower than those determined by the top-down approach using observations of mixing ratios. This suggests that production and emissions of PFCs are going unreported, which demonstrates the need to better determine the locations of major PFC sources. Analyses of Taiwan PFC mixing ratios and simulated particle dispersion and CO concentrations by the NAME model indicate the potential of such regional studies in understanding the global trends. This analysis will gain statistical weight with more measurements added to the data set each year and is therefore considered ongoing. Voluntary PFC reduction plans exist among semiconductor industry associations (Beu, 2005). Even though these may be adhered to, PFC emissions are not reported by most nations, including those in East Asia (Saito et al., 2010). Determining the contribution of various regions to rising PFC mixing ratios thus remains a challenge.
Monitoring and regulating PFC emissions are relevant to future climate, as illustrated by the cumulative CO2 equivalents of over 830 million tonnes for all PFCs reported here (an increase of 155 million tonnes between the beginning of 2010 and the end of 2017) and the potential to be applied in other areas of atmospheric research, such as circulation and chemistry changes in the stratosphere.
ESD led the manuscript writing process and carried out the emission modelling and some of the measurements. KEA, LJG, AJH, ELE, and JCL also contributed to the measurements, while CER, MJA, ZF, NMH, and MP contributed to the modelling parts of the study. CC, PJF, RLF, SO'D, DEO, CFOY, and WTS contributed through the coordination and execution of the various sampling activities. JCL developed the concept for this study and all the authors contributed to developing it further as well as to the manuscript.
The authors declare that they have no conflict of interest.
This work was supported by the European Research Council's (ERC) funding for the EXC3ITE project (EXploring stratospheric Chemistry, Composition, and Circulation using Innovative TEchniques). The collection and curation of the Cape Grim Air Archive are jointly funded by CSIRO, the Bureau of Meteorology (BoM), and Refrigerant Reclaim Australia; BoM/CGBAPS staff at Cape Grim were/are largely responsible for the collection of archive samples and UEA flask air samples; the original (mid-1990s) subsampling of the archive for UEA was funded by AFEAS and CSIRO, with ongoing subsampling by CSIRO. Operation of Tacolneston is funded by the Department of Business, Energy & Industrial Strategy (BEIS) through contract TN 1537/06/2018. We would specifically like to thank Stephen Humphrey and Andy MacDonald for all their work in collecting the samples at the Tacolneston site and transporting them to UEA. Taiwan-related work was supported by NERC IOF award and the Academia Sinica. This work used the NAME atmospheric dispersion model, for which the UK Met Office provided the NWP meteorological data sets. Karina E. Adcock's PhD is supported by the Natural Environment Research Council through the EnvEast Doctoral Training Partnership. Norfazrin Mohd Hanif's PhD is supported by the Ministry of Education Malaysia (MOE) and Universiti Kebangsaan Malaysia (UKM). Johannes C. Laube and Lauren J. Gooch received funding from the UK Natural Environment Research Council (Research Fellowship and studentship) and David E. Oram from the National Centre for Atmospheric Science. Lastly, we would like to thank our anonymous referees, whose detailed and constructive comments helped to substantially improve this paper.
This research has been supported by the European Research Council (grant no. EXC3ITE-678904-ERC-2015-STG), the UK National Environment Research Council (NERC IOF Award NE/J016012/1, Research Fellowship NE/I021918/1, and PhD studentships NE/1210143 and NE/L002582//1), and the Taiwanese Academia Sinica (grant no. AS-KPQ-106-DDPP).
This paper was edited by Drew Gentner and reviewed by three anonymous referees.
Adcock, K. E., Reeves, C. E., Gooch, L. J., Leedham Elvidge, E. C., Ashfold, M. J., Brenninkmeijer, C. A. M., Chou, C., Fraser, P. J., Langenfelds, R. L., Mohd Hanif, N., O'Doherty, S., Oram, D. E., Ou-Yang, C.-F., Phang, S. M., Samah, A. A., Röckmann, T., Sturges, W. T., and Laube, J. C.: Continued increase of CFC-113a (CCl3CF3) mixing ratios in the global atmosphere: emissions, occurrence and potential sources, Atmos. Chem. Phys., 18, 4737–4751, https://doi.org/10.5194/acp-18-4737-2018, 2018. a, b, c, d, e, f, g, h
Beu, L.: Reductions in Perfluorocompound (PFC) Emissions: 2005 State-of-the-Technology Report, International SEMATECH Manufacturing Initiative, Austin, TX, USA, 2005. a, b, c, d, e, f
Bönisch, H., Engel, A., Curtius, J., Birner, Th., and Hoor, P.: Quantifying transport into the lowermost stratosphere using simultaneous in-situ measurements of SF6 and CO2, Atmos. Chem. Phys., 9, 5905–5919, https://doi.org/10.5194/acp-9-5905-2009, 2009. a
Bravo, I., Aranda, A., Hurley, M. D., Marston, G., Nutt, D. R., Shine, K. P., Smith, K., and Wallington, T. J.: Infrared absorption spectra, radiative efficiencies, and global warming potentials of perfluorocarbons: Comparison between experiment and theory, J. Geophys. Res.-Atmos., 115, D24317, https://doi.org/10.1029/2010JD014771, 2010. a, b, c, d, e, f
Deeds, D. A., Vollmer, M. K., Kulongoski, J. T., Miller, B. R., Mühle, J., Harth, C. M., Izbicki, J. A., Hilton, D. R., and Weiss, R. F.: Evidence for crustal degassing of CF4 and SF6 in Mojave Desert groundwaters, Geochim. Cosmochim. Ac., 72, 999–1013, https://doi.org/10.1016/j.gca.2007.11.027, 2008. a
Droste, E. S.: Trends and Emissions of Six Perfluorocarbons in the Northern and Southern Hemispheres (Version v1), Data set, Zenodo, https://doi.org/10.5281/zenodo.3519317, 2019. a
EDGAR: EDGAR: Emission Database for Global Atmospheric Research (EDGAR), release version 4.2, European Commission, Joint Research Centre (JRC)/Netherlands Environmental Assessment Agency (PBL), available at: http://edgar.jrc.ec.europa.eu (last access: 31 August 2018), 2014. a, b, c, d, e
Engel, A., Bönisch, H., Ullrich, M., Sitals, R., Membrive, O., Danis, F., and Crevoisier, C.: Mean age of stratospheric air derived from AirCore observations, Atmos. Chem. Phys., 17, 6825–6838, https://doi.org/10.5194/acp-17-6825-2017, 2017. a
EPA: Uses and Emissions of Liquid PFC Heat Transfer Fluids from the Electronics Sector, available at: https://www.epa.gov/f-gas-partnership-programs/uses-and-air-emissions-liquid-pfc-heat-transfer-fluids-electronics-sector (last access: 24 October 2018), 2008. a, b, c, d
Fleming, Z. L., Monks, P. S., and Manning, A. J.: Untangling the influence of air-mass history in interpreting observed atmospheric composition, Atmos. Res., 104, 1–39, https://doi.org/10.1016/j.atmosres.2011.09.009, 2012. a
Fraser, P., Oram, D., Reeves, C., Penkett, S., and McCulloch, A.: Southern Hemispheric halon trends (1978–1998) and global halon emissions, J. Geophys. Res.-Atmos., 104, 15985–15999, https://doi.org/10.1029/1999JD900113, 1999. a, b, c, d
Harnisch, J., Borchers, R., Fabian, P., and Maiss, M.: Tropospheric trends for CF4 and C2F6 since 1982 derived from SF6 dated stratospheric air, Geophys. Res. Lett., 23, 1099–1102, https://doi.org/10.1029/96GL01198, 1996. a
Hartmann, D., Klein Tank, A., Rusticucci, M., Alexander, L., Brönnimann, S., Charabi, Y., Dentener, F., Dlugokencky, E., Easterling, D., Kaplan, A., Soden, B., Thorne, P., Wild, M., and Zhai, P.: Observations: atmosphere and surface, in: Climate Change 2013: The Physical Science Basis. Contribution of Working Group I to the Fifth Assessment Report of the Intergovernmental Panel on Climate Change, chap. 2, Cambridge University Press, 159–254, https://doi.org/10.1017/CBO9781107415324.008, 2013. a, b, c
Ivy, D. J., Arnold, T., Harth, C. M., Steele, L. P., Mühle, J., Rigby, M., Salameh, P. K., Leist, M., Krummel, P. B., Fraser, P. J., Weiss, R. F., and Prinn, R. G.: Atmospheric histories and growth trends of C4F10, C5F12, C6F14, C7F16 and C8F18, Atmos. Chem. Phys., 12, 4313–4325, https://doi.org/10.5194/acp-12-4313-2012, 2012a. a, b, c, d, e
Ivy, D. J., Rigby, M., Baasandorj, M., Burkholder, J. B., and Prinn, R. G.: Global emission estimates and radiative impact of C4F10, C5F12, C6F14, C7F16 and C8F18, Atmos. Chem. Phys., 12, 7635–7645, https://doi.org/10.5194/acp-12-7635-2012, 2012b. a, b, c, d, e, f, g, h, i
Jones, A., Thomson, D., Hort, M., and Devenish, B.: The UK Met Office's next-generation atmospheric dispersion model, NAME III, in: Air pollution modeling and its application XVII, Springer, 580–589, https://doi.org/10.1007/978-0-387-68854-1_62, 2007. a
Langenfelds, R., Fraser, P., Francey, R., Steele, L., Porter, L., and Allison, C.: The Cape Grim air archive: The first seventeen years, 1978–1995, in: Baseline Atmospheric Program Australia, edited by: Francey, R. J., Dick, A. L., and Derek, N., Bureau of Meteorology and CSIRO Division of Atmospheric Research, Melbourne, Australia, 53–70, https://doi.org/102.100.100/230058, 1996. a, b
Laube, J. C., Martinerie, P., Witrant, E., Blunier, T., Schwander, J., Brenninkmeijer, C. A. M., Schuck, T. J., Bolder, M., Röckmann, T., van der Veen, C., Bönisch, H., Engel, A., Mills, G. P., Newland, M. J., Oram, D. E., Reeves, C. E., and Sturges, W. T.: Accelerating growth of HFC-227ea (1,1,1,2,3,3,3-heptafluoropropane) in the atmosphere, Atmos. Chem. Phys., 10, 5903–5910, https://doi.org/10.5194/acp-10-5903-2010, 2010. a, b, c, d, e
Laube, J. C., Hogan, C., Newland, M. J., Mani, F. S., Fraser, P. J., Brenninkmeijer, C. A. M., Martinerie, P., Oram, D. E., Röckmann, T., Schwander, J., Witrant, E., Mills, G. P., Reeves, C. E., and Sturges, W. T.: Distributions, long term trends and emissions of four perfluorocarbons in remote parts of the atmosphere and firn air, Atmos. Chem. Phys., 12, 4081–4090, https://doi.org/10.5194/acp-12-4081-2012, 2012. a, b, c, d, e, f, g, h, i, j, k, l, m, n, o, p, q, r, s, t, u, v, w, x, y, z, aa, ab, ac, ad, ae, af, ag, ah, ai, aj, ak, al, am, an, ao, ap, aq, ar, as, at, au
Laube, J. C., Mohd Hanif, N., Martinerie, P., Gallacher, E., Fraser, P. J., Langenfelds, R., Brenninkmeijer, C. A. M., Schwander, J., Witrant, E., Wang, J.-L., Ou-Yang, C.-F., Gooch, L. J., Reeves, C. E., Sturges, W. T., and Oram, D. E.: Tropospheric observations of CFC-114 and CFC-114a with a focus on long-term trends and emissions, Atmos. Chem. Phys., 16, 15347–15358, https://doi.org/10.5194/acp-16-15347-2016, 2016. a, b, c, d, e
Leedham Elvidge, E., Bönisch, H., Brenninkmeijer, C. A. M., Engel, A., Fraser, P. J., Gallacher, E., Langenfelds, R., Mühle, J., Oram, D. E., Ray, E. A., Ridley, A. R., Röckmann, T., Sturges, W. T., Weiss, R. F., and Laube, J. C.: Evaluation of stratospheric age of air from CF4, C2F6, C3F8, CHF3, HFC-125, HFC-227ea and SF6; implications for the calculations of halocarbon lifetimes, fractional release factors and ozone depletion potentials, Atmos. Chem. Phys., 18, 3369–3385, https://doi.org/10.5194/acp-18-3369-2018, 2018. a, b, c
Mazurin, I. M., Stolyarevsky, A. Y., Doronin, A. S., and Shevtsov, A. G.: Ozone-Friendly Working Mixture For Refrigeration Equipment, european Patent 0676460A1, European Patent Office, Torino, Italy, 1994. a, b
Montzka, S., Hall, B., and Elkins, J.: Accelerated increases observed for hydrochlorofluorocarbons since 2004 in the global atmosphere, Geophys. Res. Lett., 36, L03804, https://doi.org/10.1029/2008GL036475, 2009. a
Morris, R. A., Miller, T. M., Viggiano, A., Paulson, J. F., Solomon, S., and Reid, G.: Effects of electron and ion reactions on atmospheric lifetimes of fully fluorinated compounds, J. Geophys. Res.-Atmos., 100, 1287–1294, https://doi.org/10.1029/94JD02399, 1995. a
Mühle, J., Ganesan, A. L., Miller, B. R., Salameh, P. K., Harth, C. M., Greally, B. R., Rigby, M., Porter, L. W., Steele, L. P., Trudinger, C. M., Krummel, P. B., O'Doherty, S., Fraser, P. J., Simmonds, P. G., Prinn, R. G., and Weiss, R. F.: Perfluorocarbons in the global atmosphere: tetrafluoromethane, hexafluoroethane, and octafluoropropane, Atmos. Chem. Phys., 10, 5145–5164, https://doi.org/10.5194/acp-10-5145-2010, 2010. a, b, c
Mühle, J., Trudinger, C. M., Western, L. M., Rigby, M., Vollmer, M. K., Park, S., Manning, A. J., Say, D., Ganesan, A., Steele, L. P., Ivy, D. J., Arnold, T., Li, S., Stohl, A., Harth, C. M., Salameh, P. K., McCulloch, A., O'Doherty, S., Park, M.-K., Jo, C. O., Young, D., Stanley, K. M., Krummel, P. B., Mitrevski, B., Hermansen, O., Lunder, C., Evangeliou, N., Yao, B., Kim, J., Hmiel, B., Buizert, C., Petrenko, V. V., Arduini, J., Maione, M., Etheridge, D. M., Michalopoulou, E., Czerniak, M., Severinghaus, J. P., Reimann, S., Simmonds, P. G., Fraser, P. J., Prinn, R. G., and Weiss, R. F.: Perfluorocyclobutane (PFC-318, c-C4F8) in the global atmosphere, Atmos. Chem. Phys., 19, 10335–10359, https://doi.org/10.5194/acp-19-10335-2019, 2019. a, b, c, d, e, f, g, h, i, j, k, l, m, n, o
Myhre, G., Shindell, D., Bréon, F.-M., Collins, W., Fuglestvedt, J., Huang, J., Koch, D., Lamarque, J.-F., Lee, D., Mendoza, B., Nakajima, T., Robock, A., Stephens, G., Takemura, T., and Zhang, H.: Anthropogenic and natural radiative forcing, in: Climate Change 2013: The Physical Science Basis. Contribution of Working Group I to the Fifth Assessment Report of the Intergovernmental Panel on Climate Change, chap. 8, Cambridge University Press, Cambridge, UK, and New York, USA, 658–740, 2013. a, b, c, d, e
Oram, D., Reeves, C., Penkett, S., and Fraser, P.: Measurements of HCFC-142b and HCFC-141b in the Cape Grim air Archive: 1978–1993, Geophys. Res. Lett., 22, 2741–2744, https://doi.org/10.1029/95GL02849, 1995. a, b
Oram, D. E., Mani, F. S., Laube, J. C., Newland, M. J., Reeves, C. E., Sturges, W. T., Penkett, S. A., Brenninkmeijer, C. A. M., Röckmann, T., and Fraser, P. J.: Long-term tropospheric trend of octafluorocyclobutane (c-C4F8 or PFC-318), Atmos. Chem. Phys., 12, 261–269, https://doi.org/10.5194/acp-12-261-2012, 2012. a, b, c, d, e, f, g, h, i, j, k, l, m, n, o, p, q, r, s, t
Oram, D. E., Ashfold, M. J., Laube, J. C., Gooch, L. J., Humphrey, S., Sturges, W. T., Leedham-Elvidge, E., Forster, G. L., Harris, N. R. P., Mead, M. I., Samah, A. A., Phang, S. M., Ou-Yang, C.-F., Lin, N.-H., Wang, J.-L., Baker, A. K., Brenninkmeijer, C. A. M., and Sherry, D.: A growing threat to the ozone layer from short-lived anthropogenic chlorocarbons, Atmos. Chem. Phys., 17, 11929–11941, https://doi.org/10.5194/acp-17-11929-2017, 2017. a, b, c
O'Shea, S. J., Choularton, T. W., Flynn, M., Bower, K. N., Gallagher, M., Crosier, J., Williams, P., Crawford, I., Fleming, Z. L., Listowski, C., Kirchgaessner, A., Ladkin, R. S., and Lachlan-Cope, T.: In situ measurements of cloud microphysics and aerosol over coastal Antarctica during the MAC campaign, Atmos. Chem. Phys., 17, 13049–13070, https://doi.org/10.5194/acp-17-13049-2017, 2017. a
Ray, E. A., Moore, F. L., Elkins, J. W., Rosenlof, K. H., Laube, J. C., Röckmann, T., Marsh, D. R., and Andrews, A. E.: Quantification of the SF6 lifetime based on mesospheric loss measured in the stratospheric polar vortex, J. Geophys. Res.-Atmos., 122, 4626–4638, https://doi.org/10.1002/2016JD026198, 2017. a
Reeves, C. E., Sturges, W. T., Sturrock, G. A., Preston, K., Oram, D. E., Schwander, J., Mulvaney, R., Barnola, J.-M., and Chappellaz, J.: Trends of halon gases in polar firn air: implications for their emission distributions, Atmos. Chem. Phys., 5, 2055–2064, https://doi.org/10.5194/acp-5-2055-2005, 2005. a, b, c
Riahi, K., Rao, S., Krey, V., Cho, C., Chirkov, V., Fischer, G., Kindermann, G., Nakicenovic, N., and Rafaj, P.: RCP 8.5 – A scenario of comparatively high greenhouse gas emissions, Climatic Change, 109, 33–57, https://doi.org/10.1007/s10584-011-0149-y, 2011. a
Robin, L. R. and Iikubo, Y.: Fire Extinguishing Methods Utilizing Perfluorocarbons, US Patent 5117917, US Patent Office, USA, 1992. a, b
Saito, T., Yokouchi, Y., Stohl, A., Taguchi, S., and Mukai, H.: Large emissions of perfluorocarbons in East Asia deduced from continuous atmospheric measurements, Environ. Sci. Technol., 44, 4089–4095, https://doi.org/10.1021/es1001488, 2010. a, b, c
Stanley, K. M., Grant, A., O'Doherty, S., Young, D., Manning, A. J., Stavert, A. R., Spain, T. G., Salameh, P. K., Harth, C. M., Simmonds, P. G., Sturges, W. T., Oram, D. E., and Derwent, R. G.: Greenhouse gas measurements from a UK network of tall towers: technical description and first results, Atmos. Meas. Tech., 11, 1437–1458, https://doi.org/10.5194/amt-11-1437-2018, 2018. a
Stiller, G. P., von Clarmann, T., Haenel, F., Funke, B., Glatthor, N., Grabowski, U., Kellmann, S., Kiefer, M., Linden, A., Lossow, S., and López-Puertas, M.: Observed temporal evolution of global mean age of stratospheric air for the 2002 to 2010 period, Atmos. Chem. Phys., 12, 3311–3331, https://doi.org/10.5194/acp-12-3311-2012, 2012. a
Trudinger, C. M., Fraser, P. J., Etheridge, D. M., Sturges, W. T., Vollmer, M. K., Rigby, M., Martinerie, P., Mühle, J., Worton, D. R., Krummel, P. B., Steele, L. P., Miller, B. R., Laube, J., Mani, F. S., Rayner, P. J., Harth, C. M., Witrant, E., Blunier, T., Schwander, J., O'Doherty, S., and Battle, M.: Atmospheric abundance and global emissions of perfluorocarbons CF4, C2F6 and C3F8 since 1800 inferred from ice core, firn, air archive and in situ measurements, Atmos. Chem. Phys., 16, 11733–11754, https://doi.org/10.5194/acp-16-11733-2016, 2016.  a
Tsai, W.-T., Chen, H.-P., and Hsien, W.-Y.: A review of uses, environmental hazards and recovery/recycle technologies of perfluorocarbons (PFCs) emissions from the semiconductor manufacturing processes, J. Loss Prevent. Proc., 15, 65–75, https://doi.org/10.1016/S0950-4230(01)00067-5, 2002. a
Tuma, P. E. and Tousignant, L.: Reducing emissions of PFC heat transfer fluids, in: SEMI Technical Symposium, 3M Specialty Materials, 16 July 2001, San Francisco, CA, USA, 1–8, 2001. a
Van Vuuren, D. P., Edmonds, J., Kainuma, M., Riahi, K., Thomson, A., Hibbard, K., Hurtt, G. C., Kram, T., Krey, V., Lamarque, J.-F., Masui, T., Meinshausen, M., Nakicenovic, N., Smith, S. J., and Rose, S. K.: The representative concentration pathways: an overview, Climatic Change, 109, 5–31, https://doi.org/10.1007/s10584-011-0148-z, 2011. a
Worton, D. R., Sturges, W. T., Gohar, L. K., Shine, K. P., Martinerie, P., Oram, D. E., Humphrey, S. P., Begley, P., Gunn, L., Barnola, J.-M., Schwander, J., and Mulvaney, R.: Atmospheric trends and radiative forcings of CF4 and C2F6 inferred from firn air, Environ. Sci. Technol., 41, 2184–2189, https://doi.org/10.1021/es061710t, 2007. a
Zhang, G., Yao, B., Vollmer, M. K., Montzka, S. A., Mühle, J., Weiss, R. F., O'Doherty, S., Li, Y., Fang, S., and Reimann, S.: Ambient mixing ratios of atmospheric halogenated compounds at five background stations in China, Atmos. Environ., 160, 55–69, https://doi.org/10.1016/j.atmosenv.2017.04.017, 2017. a
Zhang, H., Wu, J., and Shen, Z.: Radiative forcing and global warming potential of perfluorocarbons and sulfur hexafluoride, Science China Earth Sciences, 54, 764–772, https://doi.org/10.1007/s11430-010-4155-0, 2011. a