Articles | Volume 18, issue 13
https://doi.org/10.5194/acp-18-9617-2018
© Author(s) 2018. This work is distributed under
the Creative Commons Attribution 4.0 License.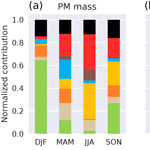 An apportionment method for the oxidative potential of atmospheric particulate matter sources: application to a one-year study in Chamonix, France
Inhaled aerosolized particulate matter (PM) induces cellular oxidative stress in vivo, leading to adverse health outcomes. The oxidative potential (OP) of PM appears to be a more relevant proxy of the health impact of the aerosol rather than the total mass concentration. However, the relative contributions of the aerosol sources to the OP are still poorly known. In order to better quantify the impact of different PM sources, we sampled aerosols in a French city for one year (2014, 115 samples). A coupled analysis with detailed chemical speciation (more than 100 species, including organic and carbonaceous compounds, ions, metals and aethalometer measurements) and two OP assays (ascorbic acid, AA, and dithiothreitiol, DTT) in a simulated lung fluid (SLF) were performed in these samples. We present in this study a statistical framework using a coupled approach with positive matrix factorization (PMF) and multiple linear regression to attribute a redox-activity to PM sources. Our results highlight the importance of the biomass burning and vehicular sources to explain the observed OP for both assays. In general, we see a different contribution of the sources when considering the OP AA, OP DTT or the mass of the PM10. Moreover, significant differences are observed between the DTT and AA tests which emphasized chemical specificities of the two tests and the need of a standardized approach for the future studies on epidemiology or toxicology of the PM.
Received: 09 Nov 2017 – Discussion started: 02 Jan 2018 – Revised: 05 Jun 2018 – Accepted: 06 Jun 2018 – Published: 09 Jul 2018
Exposure of the population to pollution by airborne particles is a growing concern due to its burden on human health, ranking as the 5th greatest risk factor for total deaths from all causes across ages and sexes in 2015 (Cohen et al., 2017). Such an impact is assessed through crossover studies based on health data and particulate matter (PM) mass concentrations (Pope III, 2004; Pope III and Dockery, 1999; WHO, 2016). However, the dominant fraction of the PM mass are ionic species or crustal elements and these contribute little to PM toxicity (Ayres et al., 2008). Therefore, new metrics are currently investigated in order to better quantify the effect of the population exposure. Among the different metrics, oxidative potential (OP) addresses the intrinsic capacity of PM to generate reactive oxygen species (ROS) able to oxidize the lungs. It has been proposed as a unifying factor for quantifying the effects of particulate exposure as it relies on surface area, size and PM composition (Ayres et al., 2008; Sauvain et al., 2009; Kelly and Fussell, 2012; Gehling and Dellinger, 2013; Sauvain et al., 2013; Fang et al., 2016; Crobeddu et al., 2017; Abrams et al., 2017).
Many methodologies to quantify OP exist, and none has become standard so far. As each OP methodology is somewhat specific to the precise type of ROS or ROS-inducer (Yang et al., 2014), a standard methodology should probably include several assays, in order to fully determine the ROS generation propensity (Janssen et al., 2015; Sauvain et al., 2013). Such a combination has not emerged yet, as the link between OP and chemical composition of PM is not fully understood, and OP drivers are not truly supported by evidence.
Investigating the link between OP and chemistry of PM is not simple, as particles chemical composition is unique in every sampling point. Moreover, univariate correlations can lead to false results. For example, strong OP correlation with polycyclic aromatic hydrocarbon (PAH) can be found within dithiothreitol (DTT) assay (Calas et al., 2018). This correlation is chemically impossible as DTT, a reducing agent, needs redox-active compounds to be depleted (Ntziachristos et al., 2007; Shirmohammadi et al., 2016). This correlation is now well explained as PAHs are co-emitted with quinones, oxy-PAH, which are redox-active and able to oxidize DTT (Charrier et al., 2015; Charrier and Anastasio, 2012). Linear multiple regression is not trivial to use in determining OP factors, as extreme outliers need to be removed, normal distributions are needed and negative contributions may be attributed to mathematically explain annual OP variations (Calas et al., 2018).
Another option is to consider the sources contribution instead of the chemical species (Verma et al., 2014; Bates et al., 2015; Fang et al., 2015, 2016). Indeed, working directly with chemical species involves assessing an exhaustive composition characterization. This is impossible, as many species in the complex mixture of aerosols remain unidentified. Moreover, if a detailed composition (which can sometimes include up to 150 species, see; Waked et al., 2014) is provided, at least the same number of samples for OP measurements is needed, otherwise, the system remains underdetermined. Reducing the system by direct truncation is not possible as species contributing to OP could be dropped, inducing some degree of unknown bias. Conversely, if the explanatory variables are the sources contributions, biases are mitigated. However, the sources dynamics need to be determined for a long period of time in order to reflect the climatology of the location. Moreover, the composition of a given named source may vary according to its location (Belis et al., 2013). To mitigate theses issues, we decide to use a PMF approach instead of a CMB model to better render the local specificities of the sources. Indeed, the CMB averages the sources profiles from different studies and is then locally biased. Furthermore, in this study a whole year of analysis is used as input of the PMF. We then have a climatological view of the sources dynamics.
The objective of this study is to present a methodology for the evaluation of the contributions of common sources of particles to the overall OP for a long time series of PM10 sample (PM with a diameter lower than 10 µm). The OP was measured on filter samples collected over a full year in the city of Chamonix (Alpine valley), using two OP protocols: the ascorbic acid (AA) and dithiothreitol (DTT) assays. An inversion procedure of these OP measurements was developed using source apportionment results obtained from an advanced source-receptor model PMF (Chevrier, 2016), in order to attribute both an intrinsic OP to the sources and the evolution of the sources contributions to OPs over the year.
This work takes advantage of an already existing database, based on Particulate Matter (PM10) samples collected during the DECOMBIO program (Chevrier et al., 2016), with the chemical analyses and the source apportionment of PM having already been conducted (Chevrier, 2016), and the OP measurements performed on the same samples (Calas et al., 2018). These are briefly presented below.
First of all, when comparing with previous studies we should note that our PM extraction of samples was done in a SLF and not in water. This induces a difference in OP measurement which is not predictable for the complexes occurring between PM and SLF compounds as when PM enters in contact with the epithelial lung fluid (Calas et al., 2017) and then direct comparison may not be fully accurate.
The method used in this study gives very robust results and is promising for practical application. However, since it has some limitations, we hereafter list some possible improvements. First, as previously discussed, the model is strongly constrained by the explanatory variable, which are the PM sources contributions obtained with a PMF analysis. The PMF model has uncertainties of two different natures, inherent to the model: (1) mathematical uncertainties on the sources contributions and (2) frequent mixing profiles, due to colinearity induced, e.g., by meteorology. In our study, we might encounter such mixing for the biogenic sources. An improvement would be to bootstrap the PMF results and use these uncertainties in the OP inversion in order to see its sensitivity.
Even if it has been shown that mainly the PM2.5 part deposits in lung alveoli (Fang et al., 2017), PM10 are still a public health concern and under regulation in EU and France. PM10 has the advantage of encompassing all parts of PM potentially reaching the lower respiratory tract. However, in doing so, a source of uncertainty probably arises from the mixing, in our measurements systems, of PM populations with different chemical characteristics (i.e., acidity), that can influence the OP (i.e., changing solubility of trace metal, for example).This potential artifact, already existing for PM2.5, may be reinforced with PM10.
Another debatable choice is setting the intrinsic OP to zero for the source with a negative intrinsic OP during the stepwise regression process. Some chemical species may act as anti-oxidants which lead to "negative" intrinsic OP for the associated PM source. Namely, the polyols from the primary biogenic source, that include species like mannitol, are known to present strong anti-oxidant capabilities (Liu et al., 2010) and bacteria can halve the OP of copper-rich PM (Samake et al., 2017). Further studies should focus on this topic in order to better understand this potential effect.
Other choices of targets for optimization, and of penalty functions to promote the positivity of the coefficients, are possible. However, we think that our proposals manage to strike a balance between a satisfactory handling of the uncertainties of the problem and ease of application using existing statistical frameworks.
Based on one-year PM10 sampling at an urban site located in Chamonix (France), associated with chemical speciation and Oxidative Potential (OP) measurements with the DTT and OP AA assays, we successfully established a method to attribute the contribution of the PM sources to the observed OP. The main conclusions of this study are summarized as follows.
The different sources present different OP AA and OP DTT per microgram of PM with intrinsic OP differences between sources up to a factor of 20.

The biomass burning and vehicular sources seem to be the leading sources of the OP AAv and OP DTTv in Chamonix. On an annual basis, they represent together 78 % of the OP AAv and 54 % of the OP DTTv apportionment.

The two OP assays present different views on the PM sources based on their specific chemical selectivity, as illustrated by the salt source that does not contribute to the OP AAv but to the OP DTTv.

The relative mass contributions of the sources to the PM10 differ from their relative OP AAv and OP DTTv contributions. For instance, the vehicular source has a larger contribution to the total OP AA and OP DTT than to the total PM10 mass, whereas the sulfate rich source appears to be a minor source of OP AAv but an important source of PM mass. If OP is a proper metric of health impact of PM on population, the PM mass is not fully appropriate for PM regulations targeting public health.
Finally, even if OP metric is correlated to health outcomes, this study cannot directly attribute toxicity to one source or another. Is sporadic exposure to PM with high OP values or chronic exposure to PM with low OP values sufficient to provoke health damage? As the DTT and AA tests point to different sources as the main ROS-generating source, is one of them more linked to toxicological effects? To answer these questions, more crossover studies involving OP measurements, epidemiology and toxicology are needed.
The chemical, OP and PMF datasets are available on request.
JLJ and GU designed the experiment. AC did the OP measurement while JLB and JLJ conducted the chemical speciation. IJ and GM provided the aethalometer measurements. FC and DS ran the PMF analysis. SW, with the help of AC, developed the OP apportionment model and performed the simulations. SW prepared the manuscript with contributions from all co-authors.
The authors declare that they have no conflict of interest.
This work was funded in part by Primequal (DECOMBIO program in the Arve valley, grant ADEME 1362C0028) and by ANSES (ExPOSURE program, grant 2016-CRD-31). The funding of the PhD for Samuël Weber is provided by the Ecole Normale Supérieure. The Région Auvergne Rhône-Alpes funded the PhD grant for Florie Chevrier. The Université Grenoble Alpes funded the PhD grant of Aude Calas with a Président Award. The funding of the post-doctoral position for Dalia Salameh comes from the SOURCES program (ADEME Grant 1462C0044). This study was also supported by direct funding by IGE and LCME (technician salary), the LEFE CHAT Potentiel oxydant program and the LABEX OSUG@2020 (ANR-10-LABX-56) both for funding analytical instruments. ATMO AuRA conducted all the logistical aspects of the sample collection in the field.
The authors would like to thanks Lisa Fluchaire, Jean-Charles Francony, Coralie Conniès, Vincent Lucaire, and Fanny Masson for their dedicated work for the samples analyses, together with many people from Atmo AuRA for collection of samples in the field. Many thanks also to Jesus Carrete Montaña for improving the ideas in this work.

Edited by: Athanasios Nenes
Reviewed by: two anonymous referees
Abrams, J. Y., Weber, R. J., Klein, M., Samat, S. E., Chang, H. H., Strickland, M. J., Verma, V., Fang, T., Bates, J. T., Mulholland, J. A., Russell, A. G., and Tolbert, P. E.: Associations between Ambient Fine Particulate Oxidative Potential and Cardiorespiratory Emergency Department Visits, Environ. Health Persp., 125, https://doi.org/10.1289/EHP1545, 2017. a
ANSES ExPOSURE: Etude multi-sites des variations du Potentiel Oxydant des PM atmosphériques en France, en liaison avec leur chimie et leurs sources, Tech. rep., ANSES, http://www.ige-grenoble.fr/recherche/equipes/chimie-atmospherique-chianti/projets/article/exposure?lang=en, 2017. a
Aymoz, G., Jaffrezo, J.-L., Jacob, V., Colomb, A., and George, Ch.: Evolution of organic and inorganic components of aerosol during a Saharan dust episode observed in the French Alps, Atmos. Chem. Phys., 4, 2499–2512, https://doi.org/10.5194/acp-4-2499-2004, 2004. a, b
Ayres, J. G., Borm, P., Cassee, F. R., Castranova, V., Donaldson, K., Ghio, A., Harrison, R. M., Hider, R., Kelly, F., Kooter, I. M., Marano, F., Maynard, R. L., Mudway, I., Nel, A., Sioutas, C., Smith, S., Baeza-Squiban, A., Cho, A., Duggan, S., and Froines, J.: Evaluating the Toxicity of Airborne Particulate Matter and Nanoparticles by Measuring Oxidative Stress Potential – A Workshop Report and Consensus Statement, Inhalation Toxicology, 20, 75–99, https://doi.org/10.1080/08958370701665517, 2008. a, b
Bates, J. T., Weber, R. J., Abrams, J., Verma, V., Fang, T., Klein, M., Strickland, M. J., Sarnat, S. E., Chang, H. H., Mulholland, J. A., Tolbert, P. E., and Russell, A. G.: Reactive oxygen species generation linked to sources of atmospheric particulate matter and cardiorespiratory effects, Environ. Sci. Technol., 49, 13605–13612, https://doi.org/10.1021/acs.est.5b02967, 2015. a, b, c, d
Belis, C., Karagulian, F., Larsen, B., and Hopke, P.: Critical review and meta-analysis of ambient particulate matter source apportionment using receptor models in Europe, Atmos. Environ., 69, 94–108, https://doi.org/10.1016/j.atmosenv.2012.11.009, 2013. a
Belis, C. A., Favez, O., Harrison, R. M., Larsen, B. R., Amato, F., El Haddad, I., Hopke, P. K., Nava, S., Paatero, P., Prévôt, A., Quass, U., Vecchi, R., and Viana, M.: European Commission, Joint Research Centre, and Institute for Environment and Sustainability: European guide on air pollution source apportionment with receptor models, Publications Office, Luxembourg, https://doi.org/10.2788/9307, oCLC: 875979269, 2014. a
Calas, A., Uzu, G., Martins, J. M. F., Voisin, D., Spadini, L., Lacroix, T., and Jaffrezo, J.-L.: The importance of simulated lung fluid (SLF) extractions for a more relevant evaluation of the oxidative potential of particulate matter, Sci. Rep.-UK, 7, 11617, https://doi.org/10.1038/s41598-017-11979-3, 2017. a, b, c, d
Calas, A., Uzu, G., Martins, J. M. F., Houdier, S., Thomas, F., Molton, F., Lacroix, T., Charron, A., Jacob, V., Besombes, J.-L., Chevrier, F., Brulfert, G., Dunster, C., Oliete, A., Kelly, F. J., and Jaffrezo, J.-L.: Comparison between five acellular oxidative potential measurement assays performed on a yearly series of PM10 samples from the city of Chamonix (France), with detailed chemistry, in preparation for ACPD, 2018. a, b, c
Cavalli, F., Alastuey, A., Areskoug, H., Ceburnis, D., Čech, J., Genberg, J., Harrison, R., Jaffrezo, J., Kiss, G., Laj, P., Mihalopoulos, N., Perez, N., Quincey, P., Schwarz, J., Sellegri, K., Spindler, G., Swietlicki, E., Theodosi, C., Yttri, K., Aas, W., and Putaud, J.: A European aerosol phenomenology -4: Harmonized concentrations of carbonaceous aerosol at 10 regional background sites across Europe, Atmos. Environ., 144, 133–145, https://doi.org/10.1016/j.atmosenv.2016.07.050, 2016. a, b
Charrier, J. G. and Anastasio, C.: On dithiothreitol (DTT) as a measure of oxidative potential for ambient particles: evidence for the importance of soluble transition metals, Atmos. Chem. Phys., 12, 9321–9333, https://doi.org/10.5194/acp-12-9321-2012, 2012. a
Charrier, J. G., Richards-Henderson, N. K., Bein, K. J., McFall, A. S., Wexler, A. S., and Anastasio, C.: Oxidant production from source-oriented particulate matter – Part 1: Oxidative potential using the dithiothreitol (DTT) assay, Atmos. Chem. Phys., 15, 2327–2340, https://doi.org/10.5194/acp-15-2327-2015, 2015. a, b
Chevrier, F.: Chauffage au bois et qualité de l'air en Vallée de l'Arve : définition d'un système de surveillance et impact d'une politique de rénovation du parc des appareils anciens, Ph.D. thesis, Université Grenoble Alpes, Grenoble, https://tel.archives-ouvertes.fr/tel-01527559 (last access: 28 June 2018), 2016. a, b, c, d, e, f
Chevrier, F., Ježek, I., Brulfert, G., Močnik, G., Marchand, N., Jaffrezo, J.-L., and Besombes, J.-L.: DECOMBIO-Contribution de la combustion de la biomasse aux PM10 en vallée de l'Arve: mise en place et qualification d'un dispositif de suivi, 2268–3798, http://lodel.irevues.inist.fr/pollution-atmospherique/index.php?id=5952, 2016. a
Cohen, A. J., Brauer, M., Burnett, R., Anderson, H. R., Frostad, J., Estep, K., Balakrishnan, K., Brunekreef, B., Dandona, L., and Dandona, R.: Estimates and 25-year trends of the global burden of disease attributable to ambient air pollution: an analysis of data from the Global Burden of Diseases Study 2015, The Lancet, 389, 1907–1918, 2017. a
Crobeddu, B., Aragao-Santiago, L., Bui, L.-C., Boland, S., and Baeza Squiban, A.: Oxidative potential of particulate matter 2.5 as predictive indicator of cellular stress, Environ. Pollut., 230, 125–133, https://doi.org/10.1016/j.envpol.2017.06.051, 2017. a
Drinovec, L., Mocnik, G., Zotter, P., Prévôt, A. S. H., Ruckstuhl, C., Coz, E., Rupakheti, M., Sciare, J., Müller, T., Wiedensohler, A., and Hansen, A. D. A.: The "dual-spot" Aethalometer: an improved measurement of aerosol black carbon with real-time loading compensation, Atmos. Meas. Tech., 8, 1965–1979, https://doi.org/10.5194/amt-8-1965-2015, 2015. a
Fang, T., Guo, H., Verma, V., Peltier, R. E., and Weber, R. J.: PM2.5 water-soluble elements in the southeastern United States: automated analytical method development, spatiotemporal distributions, source apportionment, and implications for heath studies, Atmos. Chem. Phys., 15, 11667–11682, https://doi.org/10.5194/acp-15-11667-2015, 2015. a
Fang, T., Verma, V., Bates, J. T., Abrams, J., Klein, M., Strickland, M. J., Sarnat, S. E., Chang, H. H., Mulholland, J. A., Tolbert, P. E., Russell, A. G., and Weber, R. J.: Oxidative potential of ambient water-soluble PM2.5 in the southeastern United States: contrasts in sources and health associations between ascorbic acid (AA) and dithiothreitol (DTT) assays, Atmos. Chem. Phys., 16, 3865–3879, https://doi.org/10.5194/acp-16-3865-2016, 2016. a, b, c, d, e
Fang, T., Guo, H., Zeng, L., Verma, V., Nenes, A., and Weber, R. J.: Highly Acidic Ambient Particles, Soluble Metals, and Oxidative Potential: A Link between Sulfate and Aerosol Toxicity, Environ. Sci. Technol., 51, 2611–2620, https://doi.org/10.1021/acs.est.6b06151, 2017. a
Gehling, W. and Dellinger, B.: Environmentally Persistent Free Radicals and Their Lifetimes in PM2.5, Environ. Sci. Technol., 47, 8172–8178, https://doi.org/10.1021/es401767m, 2013. a
Gianini, M., Piot, C., Herich, H., Besombes, J.-L., Jaffrezo, J.-L., and Hueglin, C.: Source apportionment of PM10, organic carbon and elemental carbon at Swiss sites: An intercomparison of different approaches, Sci. Total Environ., 454–455, 99–108, https://doi.org/10.1016/j.scitotenv.2013.02.043, 2013. a, b, c
Golly, B.: Étude des sources et de la dynamique atmosphérique de polluants organiques particulaires en vallées alpines: apport de nouveaux traceurs organiques aux modèles récepteurs, Ph.D. thesis, Grenoble, http://www.theses.fr/2014GRENA019, 2014. a, b
Golly, B., Brulfert, G., Berlioux, G., Jaffrezo, J.-L., and Besombes, J.-L.: Large chemical characterisation of PM10 emitted from graphite material production: Application in source apportionment, Sci. Total Environ., 538, 634–643, https://doi.org/10.1016/j.scitotenv.2015.07.115, 2015. a
Jaffrezo, J.-L., Aymoz, G., and Cozic, J.: Size distribution of EC and OC in the aerosol of Alpine valleys during summer and winter, Atmos. Chem. Phys., 5, 2915–2925, https://doi.org/10.5194/acp-5-2915-2005, 2005. a
Janssen, N. A. H., Strak, M., Yang, A., Hellack, B., Kelly, F. J., Kuhlbusch, T. A. J., Harrison, R. M., Brunekreef, B., Cassee, F. R., Steenhof, M., and Hoek, G.: Associations between three specific a-cellular measures of the oxidative potential of particulate matter and markers of acute airway and nasal inflammation in healthy volunteers, Occup. Environ. Med., 72, 49–56, https://doi.org/10.1136/oemed-2014-102303, 2015. a
Kelly, F. J. and Fussell, J. C.: Size, source and chemical composition as determinants of toxicity attributable to ambient particulate matter, Atmos. Environ., 60, 504–526, https://doi.org/10.1016/j.atmosenv.2012.06.039, 2012. a
Kelly, F. J. and Mudway, I. S.: Protein oxidation at the air-lung interface, Amino Acids, 25, 375–396, https://doi.org/10.1007/s00726-003-0024-x, 2003. a
Liu, J.-H., Chen, M.-M., Huang, J.-W., Wann, H., Ho, L.-K., Pan, W. H., Chen, Y.-C., Liu, C.-M., Yeh, M.-Y., Tsai, S.-K., Young, M. S., Ho, L.-T., Kuo, C.-D., Chuang, H.-Y., Chao, F.-P., and Chao, H.-M.: Therapeutic Effects and Mechanisms of Action of Mannitol During H2O2-Induced Oxidative Stress in Human Retinal Pigment Epithelium Cells, J. Ocul. Pharmacol. Th., 26, 249–257, https://doi.org/10.1089/jop.2009.0127, 2010. a, b
Ntziachristos, L., Froines, J. R., Cho, A. K., and Sioutas, C.: Relationship between redox activity and chemical speciation of size-fractionated particulate matter, Part. Fibre Toxicol., 4, 5, https://doi.org/10.1186/1743-8977-4-5, 2007. a
Petit, J.-E., Favez, O., Sciare, J., Crenn, V., Sarda-Estève, R., Bonnaire, N., Močnik, G., Dupont, J.-C., Haeffelin, M., and Leoz-Garziandia, E.: Two years of near real-time chemical composition of submicron aerosols in the region of Paris using an Aerosol Chemical Speciation Monitor (ACSM) and a multi-wavelength Aethalometer, Atmos. Chem. Phys., 15, 2985–3005, https://doi.org/10.5194/acp-15-2985-2015, 2015. a
Pope III, C. A.: Air pollution and health-good news and bad, New Engl. J. Med., 351, 1132–1133, 2004. a
Pope III, C. A. and Dockery, D. W.: Epidemiology of Particle Effects, in: Air Polution and Health, 673–705, Academic Press, https://doi.org/10.1016/B978-012352335-8/50106-X, 1999. a
Salameh, D.: Impacts atmosphériques des activités portuaires et industrielles sur les particules fines (PM2.5) à Marseille, Ph.D. thesis, Aix-Marseille, 2015. a
Samake, A., Uzu, G., Martins, J. M. F., Calas, A., Vince, E., Parat, S., and Jaffrezo, J. L.: The unexpected role of bioaerosols in the Oxidative Potential of PM, Sci. Rep.-UK, 7, 10978, https://doi.org/10.1038/s41598-017-11178-0, 2017. a, b
Sandradewi, J., Prévôt, A. S. H., Szidat, S., Perron, N., Alfarra, M. R., Lanz, V. A., Weingartner, E., and Baltensperger, U.: Using Aerosol Light Absorption Measurements for the Quantitative Determination of Wood Burning and Traffic Emission Contributions to Particulate Matter, Environ. Sci. Technol., 42, 3316–3323, https://doi.org/10.1021/es702253m, 2008. a
Sauvain, J., Sanchez-Sandoval Hohl, M., and Riediker, M.: Differentiated Chemical Reactivity of Nanoparticles toward DTT, in: C105, NANOMATERIALS: LITTLE PARTICLES, BIG IMPACT, p. A5258, Am. Thoracic. Soc., http://www.atsjournals.org/doi/pdf/10.1164/ajrccm-conference.2009.179.1_MeetingAbstracts.A5258, 2009. a
Sauvain, J.-J., Rossi, M. J., and Riediker, M.: Comparison of three acellular tests for assessing the oxidation potential of nanomaterials, Aerosol Sci. Tech., 47, 218–227, https://doi.org/10.1080/02786826.2012.742951, 2013. a, b
Seabold, S. and Perktold, J.: Statsmodels: Econometric and statistical modeling with python, in: Proceedings of the 9th Python in Science Conference, vol. 57, p. 61, https://www.researchgate.net/profile/Josef_Perktold/publication/264891066_Statsmodels_Econometric_and_Statistical_Modeling_with_Python/links/5667ca9308ae34c89a0261a8/Statsmodels-Econometric-and-Statistical-Modeling-with-Python.pdf, 2010. a
Shirmohammadi, F., Hasheminassab, S., Saffari, A., Schauer, J. J., Delfino, R. J., and Sioutas, C.: Fine and ultrafine particulate organic carbon in the Los Angeles basin: Trends in sources and composition, Sci. Total Environ., 541, 1083–1096, https://doi.org/10.1016/j.scitotenv.2015.09.133, 2016. a
Srivastava, D., Tomaz, S., Favez, O., Lanzafame, G. M., Golly, B., Besombes, J.-L., Alleman, L. Y., Jaffrezo, J.-L., Jacob, V., Perraudin, E., Villenave, E., and Albinet, A.: Speciation of organic fraction does matter for source apportionment. Part 1: A one-year campaign in Grenoble (France), Sci. Total Environ., 624, 1598–1611, https://doi.org/10.1016/j.scitotenv.2017.12.135, 2018. a, b
US EPA: Positive Matrix Factorization Model for environmental data analyses, https://www.epa.gov/air-research/positive-matrix-factorization-model-environmental-data-analyses (last access: 28 June 2018), 2017. a, b
Verma, V., Fang, T., Guo, H., King, L., Bates, J. T., Peltier, R. E., Edgerton, E., Russell, A. G., and Weber, R. J.: Reactive oxygen species associated with water-soluble PM2.5 in the southeastern United States: spatiotemporal trends and source apportionment, Atmos. Chem. Phys., 14, 12915–12930, https://doi.org/10.5194/acp-14-12915-2014, 2014. a, b
Verma, V., Fang, T., Xu, L., Peltier, R. E., Russell, A. G., Ng, N. L., and Weber, R. J.: Organic Aerosols Associated with the Generation of Reactive Oxygen Species (ROS) by Water-Soluble PM 2.5, Environ. Sci. Technol., 49, 4646–4656, https://doi.org/10.1021/es505577w, 2015. a
Waked, A., Favez, O., Alleman, L. Y., Piot, C., Petit, J.-E., Delaunay, T., Verlinden, E., Golly, B., Besombes, J.-L., Jaffrezo, J.-L., and Leoz-Garziandia, E.: Source apportionment of PM10 in a north-western Europe regional urban background site (Lens, France) using positive matrix factorization and including primary biogenic emissions, Atmos. Chem. Phys., 14, 3325–3346, https://doi.org/10.5194/acp-14-3325-2014, 2014. a, b, c, d, e
World Health Organization: Ambient air pollution: A global assessment of exposure and burden of disease, Tech. rep., World Health Organization, http://www.who.int/iris/handle/10665/250141 (last access: 29 June 2018), 2016. a
Yang, A., Jedynska, A., Hellack, B., Kooter, I., Hoek, G., Brunekreef, B., Kuhlbusch, T. A., Cassee, F. R., and Janssen, N. A.: Measurement of the oxidative potential of PM2.5 and its constituents: The effect of extraction solvent and filter type, Atmos. Environ., 83, 35–42, https://doi.org/10.1016/j.atmosenv.2013.10.049, 2014. a
Zanatta, M., Gysel, M., Bukowiecki, N., Müller, T., Weingartner, E., Areskoug, H., Fiebig, M., Yttri, K., Mihalopoulos, N., Kouvarakis, G., Beddows, D., Harrison, R., Cavalli, F., Putaud, J., Spindler, G., Wiedensohler, A., Alastuey, A., Pandolfi, M., Sellegri, K., Swietlicki, E., Jaffrezo, J., Baltensperger, U., and Laj, P.: A European aerosol phenomenology-5: Climatology of black carbon optical properties at 9 regional background sites across Europe, Atmos. Environ., 145, 346–364, https://doi.org/10.1016/j.atmosenv.2016.09.035, 2016. a