Articles | Volume 15, issue 15
https://doi.org/10.5194/acp-15-8889-2015
© Author(s) 2015. This work is distributed under
the Creative Commons Attribution 3.0 License.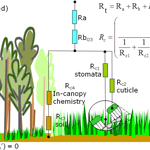 Tropospheric ozone and its precursors from the urban to the global scale from air quality to short-lived climate forcer
Abstract. Ozone holds a certain fascination in atmospheric science. It is ubiquitous in the atmosphere, central to tropospheric oxidation chemistry, yet harmful to human and ecosystem health as well as being an important greenhouse gas. It is not emitted into the atmosphere but is a byproduct of the very oxidation chemistry it largely initiates. Much effort is focused on the reduction of surface levels of ozone owing to its health and vegetation impacts, but recent efforts to achieve reductions in exposure at a country scale have proved difficult to achieve owing to increases in background ozone at the zonal hemispheric scale. There is also a growing realisation that the role of ozone as a short-lived climate pollutant could be important in integrated air quality climate change mitigation. This review examines current understanding of the processes regulating tropospheric ozone at global to local scales from both measurements and models. It takes the view that knowledge across the scales is important for dealing with air quality and climate change in a synergistic manner. The review shows that there remain a number of clear challenges for ozone such as explaining surface trends, incorporating new chemical understanding, ozone–climate coupling, and a better assessment of impacts. There is a clear and present need to treat ozone across the range of scales, a transboundary issue, but with an emphasis on the hemispheric scales. New observational opportunities are offered both by satellites and small sensors that bridge the scales.
Received: 07 Nov 2014 – Discussion started: 23 Dec 2014 – Revised: 22 May 2015 – Accepted: 22 Jun 2015 – Published: 13 Aug 2015